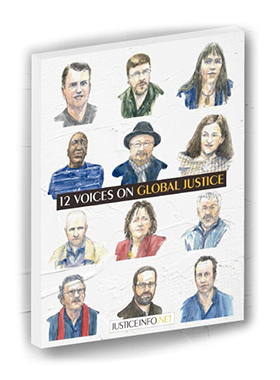 Although international criminal justice is going through a profound crisis of functioning, credibility and political legitimacy, it is at the same time showing a surprising creativity and dynamism. It is this tumultuous and bourgeoning environment that Justice Info's book, "12 voices on Global Justice", intends to reveal and to question. It brings together interviews with twelve prominent experts - institutional actors, activists, scholars, journalists, filmmakers - published by JusticeInfo.net.
JusticeInfo.net is the only global media on transitional justice, run by specialized journalists. It was created in 2015 by Fondation Hirondelle, a Swiss non-profit organization providing information to populations facing crisis.
Make a donation to support our team of independent and dedicated journalists at Justice Info, and we will send you our book!