"I've been harvesting mushrooms for 50 years, and back in 2010, with a friend who now lives in Germany, we looked at that map. Since 2010, they have been indicating that there were some military buildings there. Since 2010, for 12 years, this has been in the open. How can this harm the Yavoriv training facility if this is public information? My friend asked me to tell his friends where I pick mushrooms, and I sent [the map] to him," Oleksandr Kostornyi told reporters after one of the hearings before the Galician District Court of Lviv, Western Ukraine.
On March 13, 2022, Russia fired missiles at the Yavoriv military training facility, 50km west of Lviv, near the border of Ukraine with Poland, killing 61 people and injuring 160 others.
72-year-old Kostornyi is now accused of coordinating the missile strikes on the Yavoriv military facility by passing information to representatives of the Russian Federation. On February 8, prosecutor Andriy Nikerui presented the indictment to him. He is charged with high treason. According to the prosecution, Kostornyi began helping Russia on March 4, 2022. He allegedly sent a map of the International Center for Peacekeeping and Security [known as the Yavoriv military training facility] via Telegram with marked places for missile strikes (barracks, dormitories).
Kostornyi's friends
Kostornyi's friend whom he sent the map to turned out to be a former Lviv resident, Oleksandr Svystunov, who is now holding Russian citizenship and has been living in the annexed Crimea since 2014. Svystunov is one of the founders of the currently sanctioned party "Russian Bloc" and the Ukrainian public organization "Russian Movement of Ukraine". According to the prosecution, Kostornyi also sent a map of the training facility with information about the location of military personnel and equipment of the Armed Forces of Ukraine to a current FSB [Russian intelligence services] operative Yuriy Vodolazkyi, who signs as "Igor Vodolazov". "He provided Vodolazkyi with information about the possible location of foreigners at school No. 52 in Lviv, and on the same day he passed on information about the accommodations for the refugees on the territory of the SKA stadium, at 39a Kleparivska Street," the indictment reads.
Until 1990, Kostornyi served as a major in the Department of External Surveillance in the State Security Committee of the former USSR. He graduated from the KGB Higher Red Banner School in Moscow. In 2002-2010, he campaigned for the Verkhovna Rada of Ukraine as a member of the pro-Russian Progressive Socialist Party of Ukraine, Natalia Vitrenko's People's Opposition Party, and the Communist Party of Ukraine.
Kostornyi was also an avid user of the Russian social network Moi Mir. His page suggested that he was very nostalgic for the Soviet Union and sympathetic to Russia: he would regularly put likes under images of Russian landscapes and Russian symbols. After the full-scale Russian invasion began on February 24, 2022, Kostornyi supported posts containing Russian propaganda and denigration of the Ukrainian army.
"What am I suffering for?"
Outside court though, Kostornyi explained to journalists that he had only sent a friend a map of the fishing and hunting grounds to show him where he was picking mushrooms. He said that he did not know the FSB officer Vodolazhskiy and that he had sent the information to him because his friend Svystunov asked him to send the map to a backup e-mail address.
"I was given an address, and I backed up onto it. Look, I didn't know and don't know this person [Vodolazkyi]. [Svystunov] said, if there is no connection or any problem, here is a backup email address. My guilt has not been proven, but I am being taunted now. I was accused of something I did not do. It's a taunting, 8 months. What am I suffering for? I am an elderly man. You can even see it in my voice when I speak now, my voice is trembling. I'm being driven up the wall. What for? Because I have been working for Ukraine for almost 30 years? I was working to ensure the rule of law here," Kostornyi complained.
His lawyer believes that Kostornyi's guilt is not confirmed by any evidence provided by the prosecutor. The defense has repeatedly asked the court to change the custody measure to a house arrest – in vain.
"Where would I escape to? I have four daughters and six grandchildren who need my help. My wife nearly died twice, an ambulance had to be called," the accused said.
"There were a lot of KGB officers, should we blame them all?"
Kostornyi repeatedly emphasizes that he has been fighting for human rights in Ukraine for three decades. He wears the badge of the International Society for Human Rights on his jacket lapel.
Andriy Sukhorukov is the 80-year-old vice-president of this organization and he attended the court hearing as a visitor. He told Sudovyi Reporter that he had known the accused for about 30 years and that they had founded the organization in 1993.
"I am the head of the human rights organization International Society for Human Rights, and Oleksandr Kostornyi still works on the board of this organization. It is beyond comprehension that he would hate people so much that he would want to destroy them. Didn't he realize what these actions would lead to? He did. Therefore, I believe that this is some kind of fake, something like that. They had to put someone in jail, and they found a scapegoat. There was no such thing. He was a KGB officer, as we say, but so what? There were a lot of KGB officers. There was a whole army of KGB. So what, should we blame them all for any events? I would not do that," Sukhorukov said.
Kostornyi is still listed as the head of the Pushkin Russian Society, that has founded the Lviv Russian Drama Theater. He tells journalists that he has not met with his former KGB colleagues since the end of USSR. He has ambivalent recollections of the end of his KGB service: "I didn't end it, I wrote a kind of resignation letter. But in fact, my superiors gave me the task to create an association of detective services in the USSR and prepare the relevant legislation. Lviv University was halfway through preparing the documents, which were called the Law on Non-State Detective and Search Activities. But you know the events of 1990, the Soviet Union collapsed and the law was not adopted, although it was supposed to be reviewed by the Supreme Council of the USSR. Due to the collapse of the Soviet Union, after 24 years of service, I became unemployed at the age of 42. But I continued to work in the field of detective work. In Russia, this law was passed, but in Ukraine, unfortunately, it still does not exist."
"Grandma, it's over, Romka is gone"
Ms. Maria, mother of the 52-year-old soldier Roman Pyuryk, comes to court hearings as a visitor. Her son Pyuryk served as a sanitary instructor in the military town of Nemyriv. He joined Ukraine's Armed Forces as a volunteer on February 28, 2022. It wasn't the first time, as he had already fought for Ukraine in 2014. Two days before the shelling of the Yavoriv training facility, Pyuryk let his mother know that he was fine. He called his brother and sent photos. Ms. Maria recalls how she learned about the shelling: "My granddaughter called, she lives not far from there. She said: "Grandma, it's over, Romka is gone". She said that a missile struck and that they all died."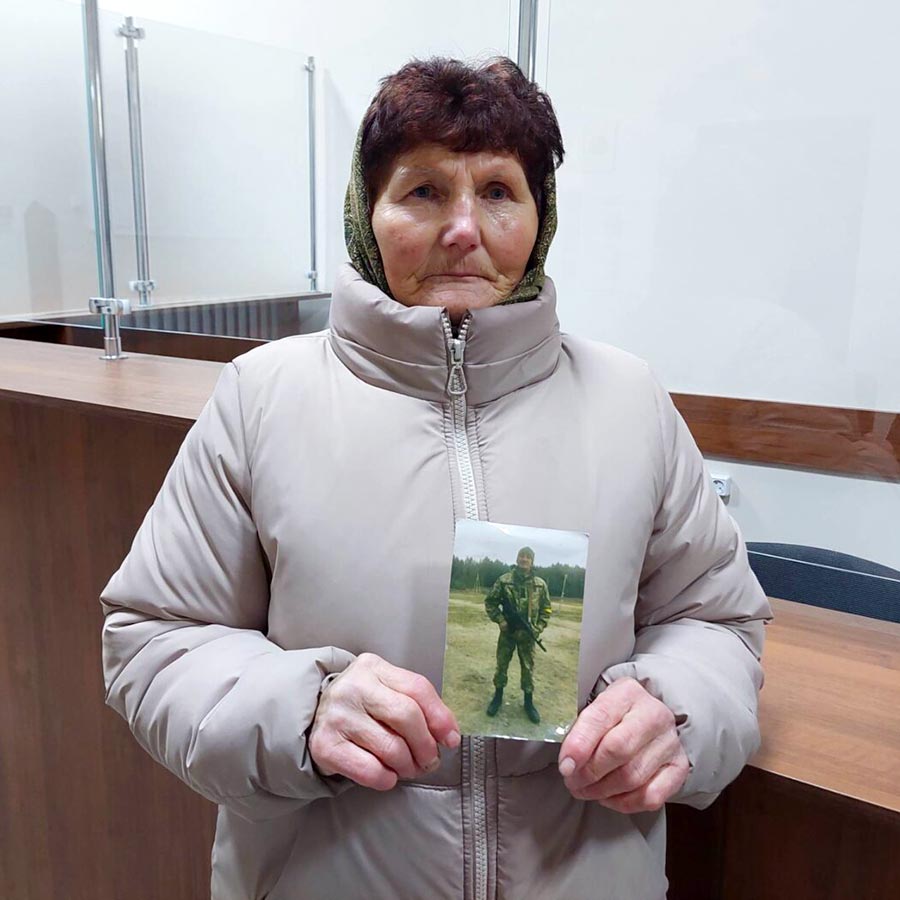 Ms. Maria went to the training facility twice, but she was not allowed to enter the grounds. "The boys, the ones who went there [to] collect those bones, they said to me: "Aunty Maria, there was blood there, the bricks were all covered in blood." Her son leaves behind two children. Officially, he is still considered a missing person.
The woman says she comes to court to find out whether Kostornyi will be punished. She repeatedly appealed to the accused, telling him about the deaths of the soldiers at the training facility. Kostornyi replied that he had nothing to do with it.
On February 8, Ms. Maria was anxiously showing a photo of her son to him. On February 14, the court will start examining physical evidence in the case. Kostornyi faces up to 15 years in prison.
---
This report is part of our coverage of war crimes justice produced in partnership with Ukrainian journalists. A first version of this article was published on the "Sudovyi Reporter" website.