A week after a court in Kyiv, Ukraine's capital city, released its first verdict for war crimes committed during Russia's invasion, a second verdict was issued by a court in Kotelva, some 370 kilometers east of Kyiv, north of Poltava city. On May 31, in the big hall of the courthouse, judge Yevhen Bolybok sentenced two Russian servicemen of the 200th Separate Motor Rifle Brigade to 11 years and 6 month in prison. The prosecution had asked for a 12-year sentence.
Aleksandr Bobykin is a contract serviceman of the armed forces of the Russian Federation. He served as driver-loader of a combat vehicle "Grad", a rocket-launcher. Aleksandr Ivanov was a gunner in the same squad.
Both troopers explained that they took part in so-called military exercises in Kursk, in Western Russia. On January 22, they were transferred to Novoaleksandrovka, in Belgorod region, close to the northeastern border of Ukraine. That was the time their brigade was made aware of the forthcoming invasion of Ukraine, they said. On January 23, the brigade of six fully-loaded "Grad" vehicles, each carrying 40 projectiles, moved to the village Malinovka. On February 24, the Russian military were ordered to open fire.
The arrest
Elements of critical infrastructure and residential buildings in the Ukrainian village of Kozacha Lopan were damaged. Also, an educational establishment of Derhachiv town council was destroyed.
Once reloaded, the "Grad" convoy commenced movement towards the territory of Ukraine. One kilometer away from the state border, the servicemen fired another three projectiles.
Around 9 o'clock in the morning, the military unit of Bobykin and Ivanov was 25 kilometers deep into Ukrainian territory. Around 2 p.m., their military convoy was destroyed by the Armed Forces of Ukraine. A total of ten vehicles, including six "Grad" vehicles and three trucks carrying ammo, were annihilated. Bobykin was injured. He was able to hide in a recovery camp for ten days before he decided to surrender.
Volodymyr Kovalchuk, Ivanov's lawyer, commented on the capture of his client: "Servicemen tried to sit it out for a while. They were stopped at the checkpoint on their way back to the Russian Federation territory. They couldn't spell out "palianytsia" [a traditional Ukrainian bread also used as a common word to define infiltrators] correctly, and were arrested."
"The understanding comes later"
The prosecution accused the Russian troopers of violation of laws and customs of war, alleging they were fully aware that weapons at their disposal would hit indiscriminately, and that most certainly civil infrastructure, residential buildings, and civilians would be hit.
Prior to the hearings, blogger Volodymyr Zolkin conducted a filmed interview with the two Russian servicemen. Bobykin, in particular, confirmed that he understood that it was volley fire although he did not witness the consequences with his own eyes.
"What did you feel when mass killing people?" asked the blogger.
"The understanding comes later. Do you know how BM-21 fires? People only see the numbers. Aims are not adjusted, they are not coordinated. The commander gets a number via radio transmission, and he tells this number to the gunner. The first launch, honestly, I had no idea where it hit – manpower or not. The second launch, I can say with a 100% certainty that it was aimed at manpower."
An officer of Security Service of Ukraine (SBU) asked Bobykin:
"How can you sleep?"
"I could tell you that I can't sleep. But I don't see what happens after the "Grad" launch. It does not make its way to my memory. The division chief officer is the one who sees it."
"Did you understand that you were firing at people? What were you thinking about?" asked the blogger.
"What was I thinking about? I refused to aim the first launch. They said we'd fire at night, I refused, I said I wouldn't fire," replied Ivanov.
"Did someone aim instead of you?"
"The commander did," replied Ivanov and Bobykin in unison.
"I did not partake in the second launch. I was in the medic's vehicle, I got sick after the first shelling," added Ivanov.
"Did we know we were going to Ukraine? Yes and no. The jokes were circling around but the chief officers put a stop to it, they said we were not going anywhere. There were groups of people who refused to go, they refused to go to war," said Bobykin.
"We were not told about Ukraine… We were reminded that we were servicemen, and there's an order which is to be followed first, and discussed later," continued Ivanov.
"Nobody tried to say 'Ukraine' out loud," said Bobykin. "One day, under the tent, we were joking and someone said we were going to Ukraine. Some said they wouldn't go. An officer overheard, burst into the tent and shouted: 'What kind of nonsense are you talking about? Nobody's going anywhere; we are at military training, we only do a controlled march, and return to places of permanent deployment'. Only one guy said he wouldn't go to Ukraine, he had the guts to say 'you can drag me if you like but I'm not going.'"
Under duress
In court, the defense attorney insisted to consider the fact that his client acted under duress and military duty: "My client Ivanov was born in Olenegorsk of Murmansk region. He grew up and is registered in a village Revda. It is a small and depressed village in Murmansk region. The population is around 7,000 people; there are no life prospects, and a job is hard to find. Meanwhile, law enforcement officers and military personnel get social guarantees, housing, and ample financial reward, which attracted an inexperienced, 18-year-old, Aleksandr Ivanov. My client's part in the incriminated offence was minimal. Therefore, I believe that the maximum sentence is too harsh."
Minutes before the sentencing, Bobykin and Ivanov are escorted into the courtroom, handcuffed. The policemen take a stand next to a glass "box" where the accused are, while guards on duty remain next to the judge. The defense lawyers are absent. The handcuffs are taken off the accused. Both men ignore questions from journalists, and pretend to not see the cameras. A few pictures of the defendants are taken before judge Bolybok enters the courtroom.
It takes 45 minutes for the judge to read out the verdict:
"Aleksandr Bobykin is found guilty of charges of the crime committed according to part 2 of the article 28, part 1 of the article 428 of the Criminal Code of Ukraine, and sentenced to 11 years and 6 months in prison."
An identical verdict is handed to Aleksandr Ivanov. Their time in prison starts on April 6, when the Russian soldiers were put in a detention facility.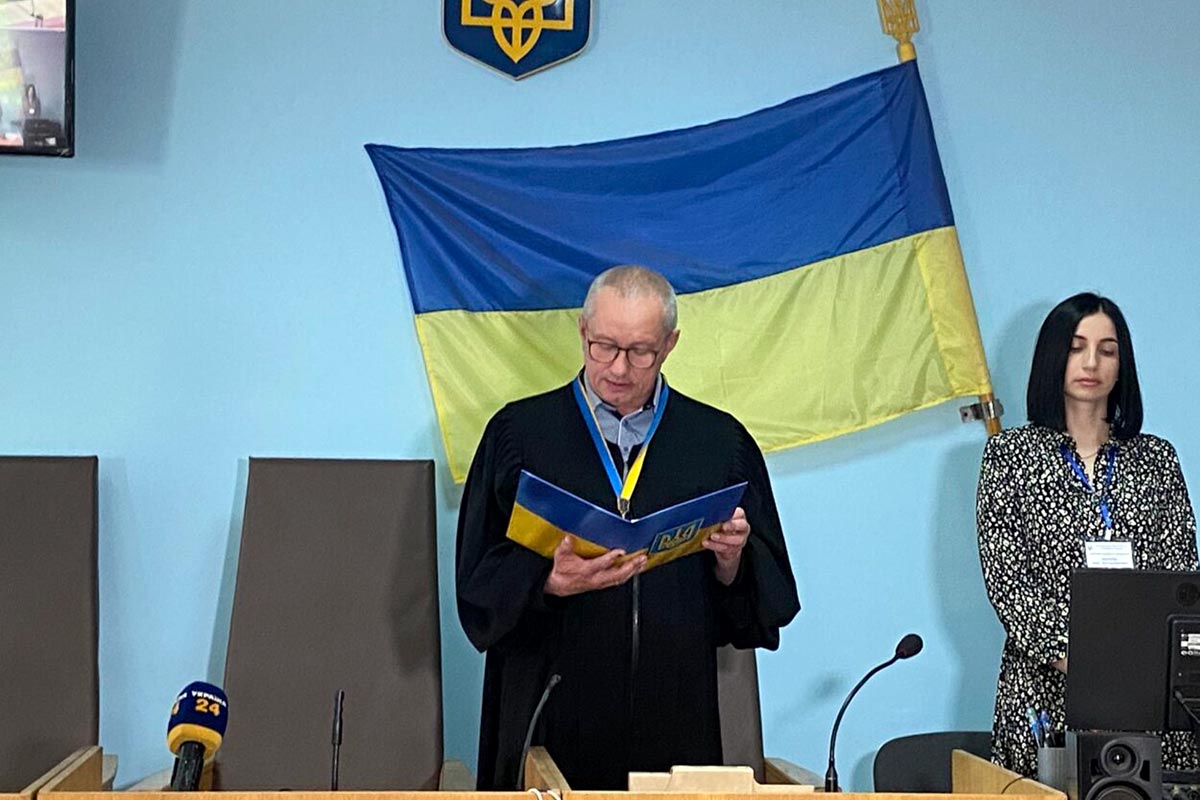 A short dialogue with journalists
Once the verdict was announced, journalists approached the glass cage. Ivanov listens to the interpreter whilst sitting on a bench. Bobykin answers the questions from the media, yet limits his answers to "yes", "no" or "hard to say". He answers with a loud voice, as if in the army.
"Will you appeal?"
"No."
"Do you believe the verdict is fair?"
"Yes."
"Would you like to be exchanged?"
"Yes."
"Has your attitude towards Russian government changed?"
"It has."
"Will you return to Ukraine to fight once you've been exchanged?"
"No."
"Do you believe the war in Ukraine is a mistake?"
"Yes."
"Do you believe Putin needs to stop the war and retreat?"
"Yes."
"Do you agree that Vladimir Putin is sick, and is a monster to humanity and Ukraine?"
"It's a difficult question. I cannot answer."
The conversation ends in abrupt fashion. The police and courtroom security handcuff the Russian servicemen, and escort them out.
The verdict can be appealed within 30 days. "As far as I understand, there are mitigating circumstances, namely their sincere repentance, and pleading guilty to all charges," prosecutor Oleh Maksiuk said. He adds that victims among the civilians are yet to be identified, since the territory is under constant shelling and occupation.
---
This report is part of a series on war crimes, produced in partnership with Ukrainian journalists. It was originally published on the Sudovyi Reporter website.