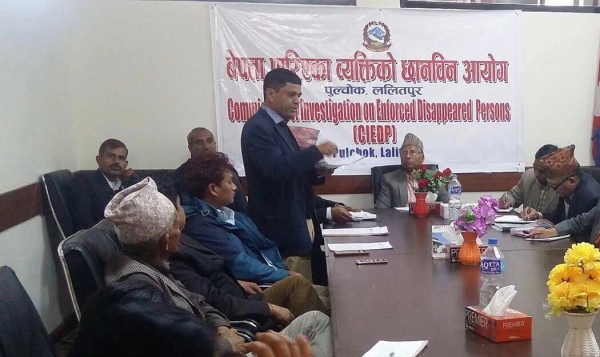 Nepal's Commission on Enforced Disappeared Persons (CIEDP) and victims' group NEFAD agreed a common platform on March 17.
©NEFAD
Nepal's Commission on Enforced Disappeared Persons (CIEDP) and victims' group NEFAD have agreed a common platform, including action on ratifying international instruments on enforced disappearances, effective victims' protection, integral support to families for their livelihood, security and memorialization, and introducing legal protection for the future by framing a disappearance law soon. This offers some hope for the country's flawed transitional justice (TJ) process. 
After three years of failed implementation and no results, the mandates of the two TJ commissions – the CIEDP and the Truth Commission -- were extended for another year in February 2018. The previous transitional government extended their terms through an ordinance that has to be registered in the new parliament and approved within 60 days, by the end of April 2018. Newly appointed Attorney General Agni Kharel has started some limited discussions in the capital to amend the Act. A strong political will is needed to change attitudes to the transitional justice bodies and the way they work. This is a crucial time for amendment.
At the same time, governing parties at the top level are preparing to create a protective environment for rights abusers who hold powerful positions in both politics and security institutions through conditional amnesties. Human rights activists and victims' leaders fear that the new government coalition may further weaken the role of TJ bodies to defend their own political interests and forget the past, as seen for example in the re-election of the Maoist former military chief as a vice-president and the promotion of senior security officers allegedly involved in abuses without a vetting process.
This is the time to act jointly and create strong pressure on the government, lobbying with major political parties in the parliament to amend the Act. If it fails again to amend the commissions Act, to criminalize disappearance and torture, families' long wait for justice will die, and the commissions will fail to deliver a result that is satisfactory to the victims. 
A flawed process 
Hundreds of families in Nepal that suffered the loss of their loved ones during the civil war continue to demand answers from the authorities about the fate of their loved ones. These families continue to fight injustice and step up their grassroots struggle for social reintegration and sustainable livelihoods.
The Comprehensive Peace Agreement (CPA) signed in 2006 aimed to address the families' issues and transform the social conflict through a social justice approach such that these incidents would not be repeated. Sadly the CPA failed to address the issues of families of the disappeared and other victims. Instead, political mainstreaming has not so far guaranteed non-repetition nor brought reparation for those who suffer from past State abuses. 
Without creating an inclusive structure to handle these crucial transitional justice issues, transitional authorities created two transitional justice bodies to deal with past abuses that had a weak legal mandate and not enough resources. Ignoring several Supreme Court rulings, parliament failed to criminalize disappearance and agreed to forget the past. This has resulted in big disappointment for families who are losing hope of finding the truth.
JusticeInfo.net Charter on Moderation