Members of the armed units of unrecognized statelets in Eastern Ukraine, the so-called Luhansk People's Republic (known as LPR) and Donetsk People's Republic (known as c), who decided to fight against Ukraine's government troops and were captured after February 24, are being tried before Shevchenkivskyi District Court in Kyiv. According to court material from one of the proceedings, there are at least 40 such citizens of Ukraine who joined the army of the Russian Federation, participated in the invasion of Ukraine under Russian command, and are now prisoners of war (POWs).
In proceedings we attended at the end of June, the defendants took part in the process via video link from "POW Detention Camp 'West-1'", a state institution. They were invited one by one before a judge. Only one and a half months ago POWs from the so-called DPR who faced the same situation were tried in person in Vinnytsia Region courtroom. It was explained to the "Sudovyi Reporter" that at the time, the camp for the POWs was not properly equipped, and there was no understanding where these men could be kept. Now the situation has become clearer, and all of them could attend remotely. But the camp can connect only up to two prisoners at a time as it has only two equipped courtrooms for such proceedings. On video, we can hear the officer calling one by one the defendants who are waiting in the corridor.
The accused are always accompanied by a lawyer provided by the state, because they can't afford one of their own. Interestingly, all defendants insist on a quick trial by one judge instead of the usual panel of three, and without a jury, as is provided for in cases with the prospect of life imprisonment. The reason is simple: they expect to be exchanged with POWs from the other side and quickly return home. A member of the Law Enforcement Agency told us that natives of Donetsk, Luhansk and Crimea [another part of Ukraine occupied by Russia since 2014] previously convicted under similar circumstances may already have been exchanged or are about to be.
Judges take different approaches
On June 27, judge Yevhenii Sydorov held four preliminary hearings one after another. The defendants and their attorneys wanted to conduct the trial the same day as the preliminary hearing. But it was impossible, as the judge had to retire to the judge's chambers, and could not consider other cases until a verdict was passed. This was the reason why judge Sydorov scheduled the hearings of these cases over the course of three days.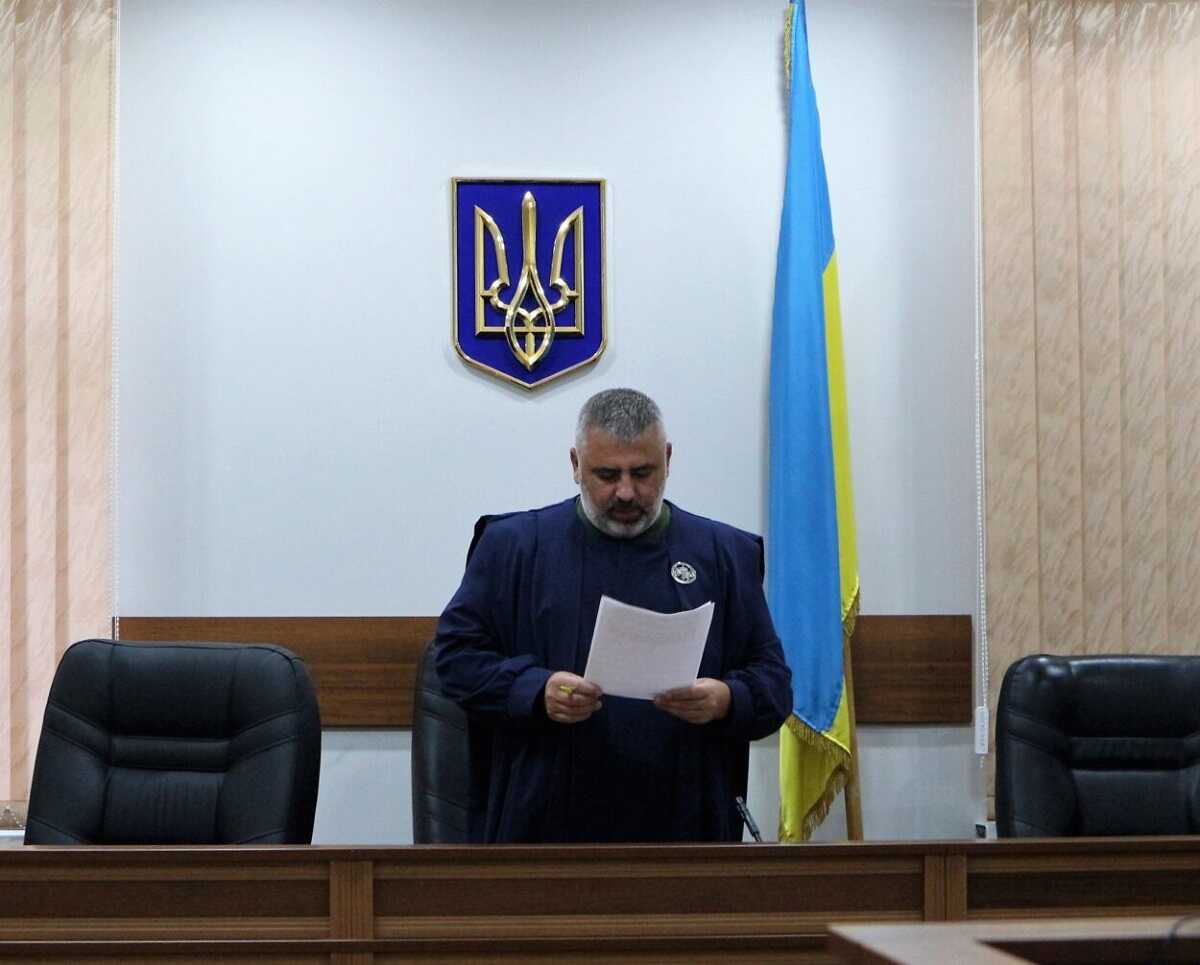 The next day, judges Ovsepian, Buhil, and Slobodianiuk ruled on similar cases. The judges had slightly different approaches. For example, judge Sydorov considered it necessary to examine two or three volumes of written evidence, although the defence was in favour of a simplified examination, meaning without going through this evidence, since the accusation was not disputed. Other judges preferred the simplified procedure and only questioned the defendants and examined evidence on their character.
The explanation of judge Sydorov's particular meticulousness in considering these cases can be found in his background. He is a former judge of the Military Court of Khmelnytskyi Garrison, and prior to that an investigator and prosecutor at the Military Prosecutor's Office. At the end of 2010, military courts were abolished and Sydorov became a judge of Shevchenkivskyi District Court of Kyiv. He has publicly argued the need for military courts in Ukraine.
Early convictions
Defence attorneys faced difficulties trying to get some of the documents regarding the family status or the place of work from the defendants' relatives in the occupied territories. But all of the defendants had at least character evidence from the POW camp. These documents could shed some light on their habits there. At all the hearings that we could attend, one could hear only positive feedback from the POW camp authorities: the prisoner followed the sanitary rules, kept the bedside cabinet tidy, participated in the improvement of living conditions in the camp, maintained friendly relations with inmates.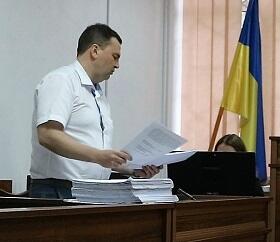 According to the documents, the men had arrived in the camp in May. Prior to this, some of them were kept in pre-trial detention centres or correctional facilities in different regions of Ukraine. In fact, many of the defendants have already appeared before a court. On May 20 and 24 this year, the Pavlohradskyi District Court and Petropavlovskyi District Court in Dnipropetrovsk Region tried such prisoners for their participation in illegal armed units, and for violation of the territorial integrity of Ukraine, sentencing them to 8-10 years of imprisonment. It was only afterwards that part of the materials on treason and terrorist activity were sent to Kyiv. It is still not clear why it happened in this way. According to Prosecutor Yurii Ushatyi, who presented the cases in the Kyiv court, this is due to the fact that different crimes were investigated by different law enforcement agencies. In any case, the Kyiv Prosecutor's Office received these cases when the accused had already been convicted in Dnipropetrovsk region.
Most judges would announce the verdict for the next morning. However, on June 28, Judge Buhil held both preliminary and merits hearings in about one hour, briefly interrogated DPR combatant Leonid Huseinov, and 15 minutes later announced a 12-year imprisonment against him with confiscation of assets.
The story of Oleksandr Shpak
Defendants could be divided into at least two groups: those who more or less voluntarily signed a contract on military service with the self-appointed authorities in occupied territories; and those who said they were mobilized forcibly.
Oleksandr Shpak, Yurii Smelik and Serhii Derkachov signed a contract. In January 2022, they became part of the Separate Maintenance Company of the 2nd Separate Rifle Brigade of the 2nd Army Corps of People's Police of the so-called LPR. On March 30, they encountered Ukrainian soldiers and surrendered without a fight near Makiivka village, Kremenets District, Luhansk Region.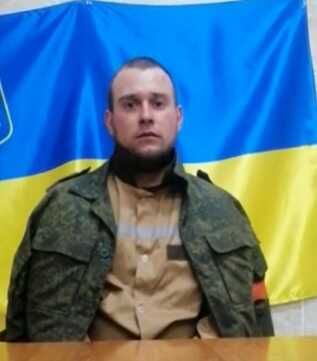 Shpak, 29, considers himself a citizen of Ukraine and has a valid passport. Under his contract he was employed to help tow away broken down military vehicles. On February 9, 2022, Shpak's partner gave birth to twins. The family is also raising two children from the woman's first marriage, 8 and 12 years old.
"There were rumors about mobilization. I was afraid of being mobilized. We don't have anyone to take care of the children if I'm mobilized. So I signed the contract," the defendant explained, switching between Russian and Ukrainian. "I was assigned to Maintenance Company. It was like normal work: two days working, two days at home. I was trying to spend more time with the children… According to the contract, I would stay in Luhansk and was able to be home every day. Had I been mobilized, I wouldn't know where they would send me…"
The man says he was paid up to 10,000 Russian rubles (about 160 US dollars). This money was given to him in cash on February 8-9, 2022. The process of payment was also recorded on camera. On February 24, at 5-6 in the morning, Shpak, by order of a senior officer, received a Kalashnikov assault rifle with four cartridge magazines, and left with the Russian troops in the Triokhizbenka direction.
- Why did you get the weapon exactly on February 24? asked the prosecutor.
- The senior officer said that we were going somewhere for three days. They gave out weapons, ammunition, body armour, helmets. No one knew where we were going."
"Why did you sign the contract?"
"I did not partake in armed clashes with the Armed Forces of Ukraine," Shpak continued. "When we left on February 24, I was listed as working for an evacuation platoon transporting military vehicles that are out of order. We came and towed them. There were wheeled light vehicles and heavy armoured vehicles. They were towed and transported, before others repaired them."
When he and his comrades were captured, there was no exchange of fire.
- Why did you have a weapon?
- I have never used it. When they apprehended me, when we were captured, we gave up our weapons. I never shot it.
- What documents did you have on you? asked the judge.
- None.
- Passport?
- There was nothing on me.
- And where were your documents?
- At home.
- Was there a battle in the area where you were captured?
- No, it was quiet there.
The defendant said he was sent in the area to pick up a vehicle that had broken down.
- What kind of vehicle was this? What was wrong with it?
- It seems they simply couldn't get it started.
- Broken or what?
- I cannot explain. They said that it simply did not start, and that it was necessary to come and pick it up."
The judge asked whether such testimony was supported by any evidence. The prosecutor replied that the other two detainees told similar stories: the men were asked to evacuate some vehicle from a particular place. They said they engaged in a dialogue with soldiers they considered as being from LPR or the Russian Federation, but while talking found out that the servicemen were from the Armed Forces of Ukraine and so there were no armed clashes, the prosecutor said they had told.
The judge resumed the interrogation of the accused.
- Are you aware that Ukraine has implemented martial law?
- I am now, yes.
- Why did you sign the contract then? You said it yourself, that you signed the contract to avoid mobilization.
- I couldn't leave this republic because my wife was at the hospital. It was impossible for me to avoid that.
- Nonetheless, Shpak, what was the reason behind signing the contract?
- To pass checkpoint safely and peacefully when coming home, to avoid mobilization. There's a checkpoint on the outskirts of Luhansk. They stop and scare everybody there.
- But you didn't have any papers. You said it yourself that you were not given any papers.
- Are you asking why exactly I signed the contract?
- Yes. What was the reason for you to sign the contract?
- To be home with the children. And to pass [checkpoint] safely.
High treason
During the debates, prosecutor Ushatyi said that it had been established in the court proceedings that the accused was a contract serviceman of a military unit of a terrorist organization; he was first employed to guard duty, and from February 24onwards, he was involved in repairing equipment used in warfare against Ukraine. Therefore, his actions constitute high treason, namely siding with the enemy during armed conflict, and involvement with a terrorist organization.
Defence attorney Vira Karpinets tried to alleviate the attitude of the court towards her defendant.
"He lived on the territory of this terrorist organization. Birth certificates of his children were issued by this terrorist organization. The only valuable thing on the territory of this terrorist organization is his family… I have no doubts that the only way for him was to sign the contract, and join the maintenance company. His job was limited to evacuation of damaged equipment. He did not take part in combat. He was even arrested without a shoot-out. I insist on not resorting to confiscation of assets… He'd like to see his children as soon as possible," the lawyer argued.
"I beg of you to understand, to forgive me; I repent. I never planned anything like this, never used a weapon," said Shpak in his closing statement. "I even helped the locals when they moved, because there was no electricity in the settlements; we were giving out food, diesel fuel, gasoline for generators. We did what we could."
Judge Sydorov sentenced Shpak to 12 years in prison. Combined with the prior verdict of the Pavlohradskyi District court of Dnipropetrovsk region, the final sentence was 12 years and six months behind bars.
While the judge was deliberating, the prosecutor relocated to another courtroom where one of Shpak's accomplices was facing trial.
Yurii Smelik was born in 1972. He had not completed secondary school, had several criminal convictions to his name – in the early '90s and in 2001. On May 20, 2022, the Pavlohradskyi District court sentenced him to ten years in prison for encroachment on territorial integrity of Ukraine and involvement with an illegal armed formation. In occupied territory, the accused has a wife, three teenage children, and a 22-year-old disabled son who stepped on an anti-personnel mine in 2015 and lost a leg.
Smelik used to be a BMP-1 driver-mechanic in the military unit of the LPR army. On the day of his arrest alongside Shpak, it was he who knew the location of damaged military equipment to tow back.
Smelik pleaded guilty. Judge Tetiana Ovsepian warned that in this case, he would not be able to appeal the verdict on the merits, only the sentence.
- When you signed the contract, did you realize the consequences? the judge asked.
- That we would go to war? I never thought there would be war.
Ruslan Mykhaliov, the forcibly enlisted "ordinary working man"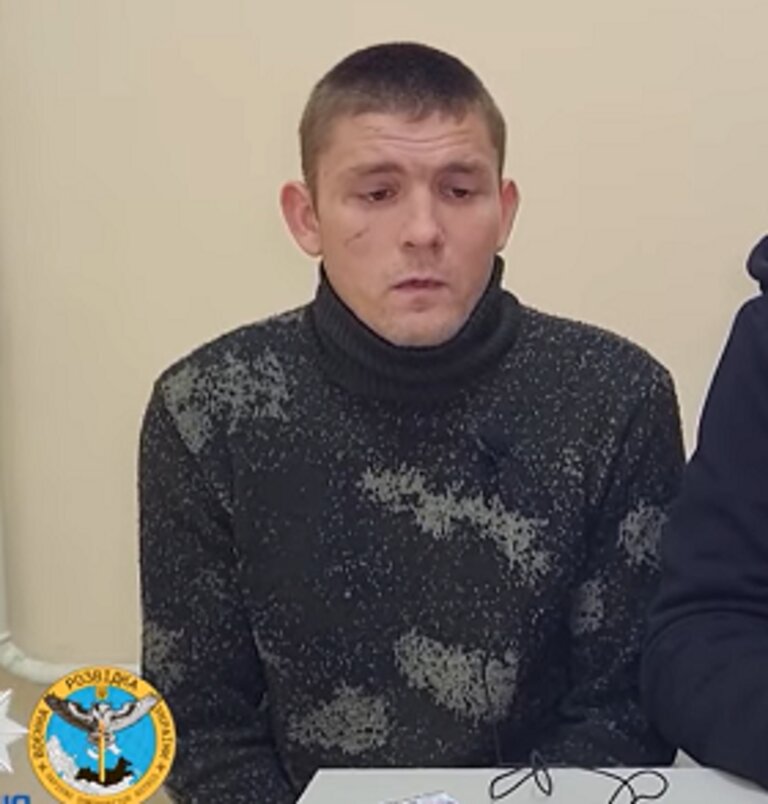 Ruslan Mykhaliov was born in 1990. A resident of Donetsk, he became a miner. According to him, he was forcibly mobilized on February 24 at the Ploshcha Svoboby public transport stop when he was on his way home. "I was standing at the stop, on my way home from work. Two people drove over and put me in the car; they were from the commandant's office. They took me to the military recruitment office, didn't let anyone out, filled in the paperwork. Then they put me on the bus and took me to the meat processing plant," he said in an interview several weeks prior to the trial.
With a congenital eyesight defect and a certificate of unfitness for military service, he was nonetheless enlisted in the DPR army as a marksman.
"We went to the Russian Federation, to the city of Belgorod. On the next day, we were put on a bus and driven to the village of Vesioloie. We spent around two weeks in Vesioloie, doing basically nothing, forming ranks. After that, we were taken to the village of Kutuzivka in Kharkiv region. Two of my associates escaped there. We also managed to flee and hide in the basement. On the 27th, we surrendered to the Armed Forces of Ukraine."
Another three men surrendered alongside Mykhaliov.
- Do you have a passport as a citizen of the Russian Federation? judge Sydorov asked whilst flicking through the case materials.
- Yes.
- When did you receive it?
- October last year. They said at my work place that I needed to have it. I got it so they wouldn't fire me.
- Did you renounce the citizenship of Ukraine? Did you file a statement? Did you address the president?
- No.
- So you are a citizen of Ukraine, and can confirm it?
- Yes.
- Were you handed a weapon, and what was it? the prosecutor asked.
- Assault rifle.
Mykhaliov confirmed that he and other mobilized men were transported to Ukraine in vehicles driven by the Russian military.
- What were your objectives in Kharkiv region?
- We were not given any. We were told to dig trenches and stand ground.
The defendant said that for around a month they had been checking the papers of people passing through their positions. He claims that they did not detain anyone, since all the passers-by were locals. He also claims he never fired a single shot.
- Did your superiors explain to you the reason behind your stay in Kharkiv region?
- No. We tried to be taken back home. We were told that if we go back, it means ten years [of imprisonment for escape].
- So, if it was to serve in Donetsk region, you would not mind at all?
- I just wanted to go home. I wasn't a draftee. I was just going to my place of work. I never held a weapon in my life. We were just screwed up. We asked to be taken back home. I have a certificate that my eyes are no good. But it was pointless. Nobody wanted to hear me out.
"Betraying my motherland"
Defence attorney Denys Chekhov asked his client if he'd been drafted into active duty. The latter repeatedly claimed that he hadn't, since he was not fit for military service and had a so-called "white ticket".
- Did you get salary whilst on active duty in the DPR? the prosecutor asked.
- No.
- Were you promised to get paid?
- They promised to pay something.
- So, you didn't require money? Were you fed there? the judge inquired.
- The food was cooked in the field kitchen.
- Did you partake in looting on the occupied Ukrainian territories?
- No.
- [What about] to feed yourself? There's plenty of footage of stealing chickens…
- No, we did not partake in that.
- When you were in Kharkiv region, did any combat actions and shelling take place?
- Combat actions – yes. We were under shelling, and we heard shooting somewhere far. Don't know who that was.
- You claim that you never even fired your weapon.
- I didn't, we were only digging the trenches.
- Have you communicated with the locals during the period of your stay in Kharkiv region?
- People didn't want to speak to us.
- So, you understood that you were the invaders?
- Yes (unintelligibly).
- Have you tried undertaking any actions, as a citizen of Ukraine, to leave that area? To prevent the armed conflict?
- Two of our guys escaped and… I don't know what happened to them.
- Did your unit suffer casualties?
- Yes.
- Can you disclose how many casualties in your platoon and your company?
- I can't say about the platoon, but we lost three men in the company, directly hit.
- How did the replenishment go?
- Replenishment of personnel? There was none.
- Was there any firing on the civilian population, citizens of Ukraine?
- No.
- Are you familiar with such instances in your unit?
- No.
- Are you speaking the truth, defendant?
- I am. I have never…I am a miner, an ordinary man working at the mine. I am an ordinary working man.
- You said you repent wholeheartedly. What do you repent for?
- For betraying my motherland.
- Do you understand it? Do you realize it?
- Yes, I realize it.
- Did you have an opportunity to leave the occupied territory?
- No, no.
- If you are sentenced, will you go back to the Russian Federation-controlled territory [DPR] or stay in Ukraine?
- My wife is in Donetsk.
- Do you understand that you will be sent back to the front lines?
- No, I won't go. I'm 100% sure.
- What actions can you undertake so you won't be mobilized? the judge asked.
- I will break my leg.
- Are you familiar with instances of self-harm among your fellow servicemen? Did it happen?
- I heard of [people] shooting themselves in the legs.
- What do people in Donetsk and Luhansk regions feel about the war?
- Nobody wants the war. I know I didn't. I've been working in the mine since 2010. I just wanted to work."
The prosecution asked for a sentence of 12 years imprisonment for Mykhaliov.
---
This report is part of a series on war crimes, produced in partnership with Ukrainian journalists. A longer version of this article was published on the "Sudovyi Reporter" website.