On December 9 the Halytskyi District Court of Lviv in western Ukraine found guilty Ruslan Glotov, a 30-year-old native of the eastern, Russia-controlled region of Luhansk, in Donbas. Back in 2014, when Ukrainian separatist combatants backed by Russia took control of the Donbas region and self-proclaimed their independence as the Luhansk People's Republic (LPR) and Donetsk People's Republic (DPR), Glotov was on duty at the checkpoints of the LPR for several months.
In early March 2022, Glotov was registered in Lviv as an internally displaced person after Russia began its full invasion of Ukraine on February 24. Glotov's native village of Toshkivka, Luhansk region, was occupied by Russian troops. He registered in Drohobych military enlistment office and was supposedly going to fight for Ukraine this time. But after a thorough check, it was found that he had been involved in the activities of the LPR. Glotov was placed in a detention center, where he remained throughout his trial without the possibility of bail.
The defendant pleaded guilty to participation in illegal armed groups, but not to assisting a terrorist organization, as armies from LPR and DPR are considered in Ukraine. "Your Honor, I ask you to treat my case dispassionately in this difficult time for the state," Glotov appealed to the court.
Evidence from "Vkontakte" social network
According to the prosecution, in 2014 Glotov was on duty with a Kalashnikov rifle at one of the checkpoints on the district road in Lysychansk. He checked the documents of citizens, inspected their belongings and vehicles on the road Toshkivka-Bila Hora and in the direction of Lysychansk. He also patrolled and watched for vehicles with weapons and ammunition.
"The guilt is confirmed by his personal testimony," said the prosecutor. "He gave a confession about his participation in the period, as far as he remembers, from August to September 2014 in an illegal armed group."
The prosecutor submitted the personal page of Glotov and his friends on the social network "Vkontakte". In a photo, the accused is wearing a T-shirt with the inscription "fair Russia", boasting about his stay in Moscow after the outbreak of the war in eastern Ukraine in 2014.
In other photos, Glotov stands next to armed men in military uniforms with Russian chevrons. "He is wearing camouflage pants, a green T-shirt, a military unloading vest, with a bandana tied on his head and holding a Kalashnikov rifle. These photographs, according to Glotov's description, were taken around 2014," the case file states.
During the court hearing, the accused explained that he had just taken a photo near the military vehicle that was moving by, and the assault rifle was given to him only for the period of duty.
"Illegal groups came to the mine [Donbas is a mining area], they told us to be on duty at the checkpoint. If you refuse, you will be taken away from the mines and you will live there without anything. They came and took us away from home. We were on duty for 4-5 hours at the checkpoint, checking documents," Glotov said.
"During what period were you on duty at the checkpoint?" the prosecutor asked.
- Well, I don't remember the exact time. August, September [2014].
- What is the name of the illegal armed group where you were on duty at the checkpoint? What did it belong to?
- I do not know.
- What duties did you perform at the checkpoint?
- Checking cars.
- What were you looking for in those cars?
- I don't know what they were looking for. They were checking.
- Were you wearing camouflage uniform while on duty at the checkpoint?
- Well, a regular uniform, yes. The one that is sold in any store.
- Were you aware that this illegal armed group was a part of the "LPR" when you took part in it at the checkpoint?
- To be honest, I did not know what was going on... No.
- Did you have a Kalashnikov rifle while on duty at the checkpoint?
- Yes, I did.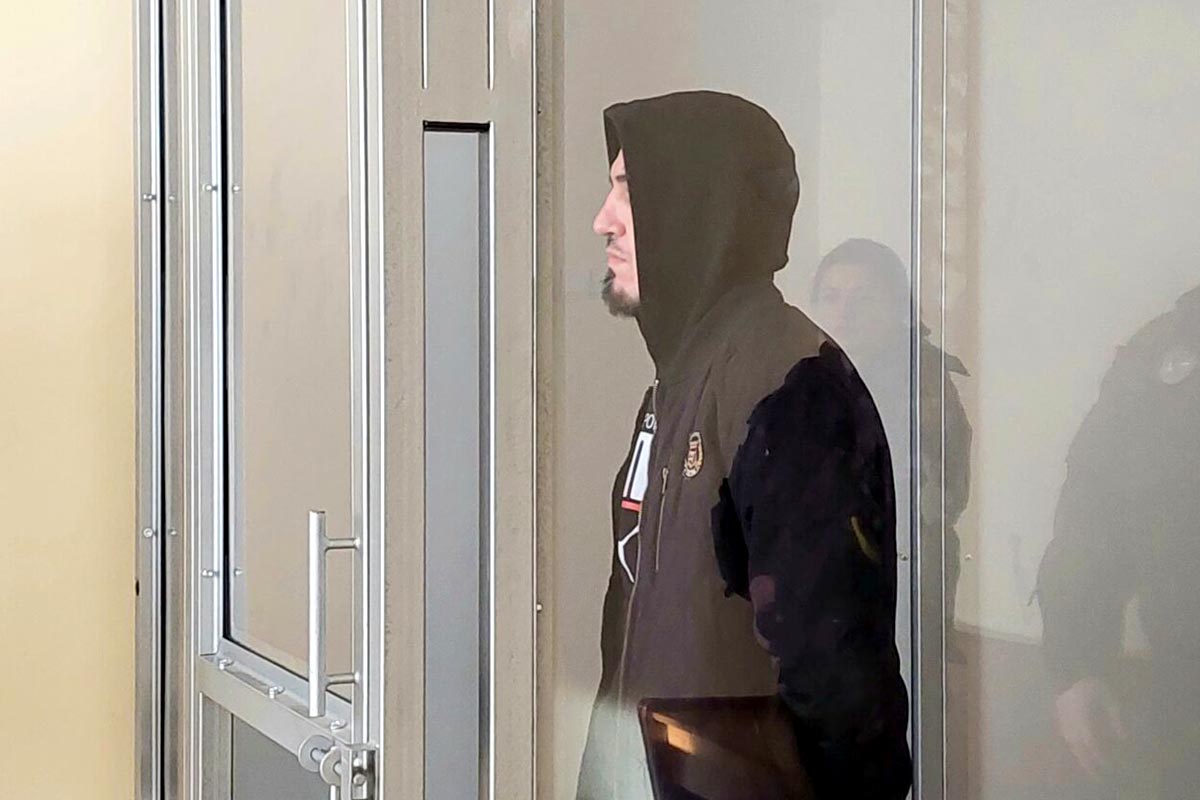 Rehabilitated under the "Come back home" program?
Glotov repeatedly stressed that he had previously appealed to law enforcement officers and reported his service in the LPR and was allegedly rehabilitated.
"Until 2016 I considered myself guilty, then I appealed to the SBU [Ukraine's intelligence services] officers in 2016 in Severodonetsk. When I turned to them, I explained everything, passed polygraphs. They checked everything about me, held me under the "Come back home" programme. I was acquitted," he said. "Since 2016, I was registered with the military commissariat, passed a medical examination, I was not drafted to the war."
Glotov complained that the prosecution does not want to verify the information that he provided to SBU in 2016, including the polygraph. "In 2018-2019, I officially worked at the DTEK mine of Rinat Akhmetov and was checked by the security service of one of the most powerful enterprises in Ukraine. Also in 2018, I replaced the state passport of a citizen of Ukraine after I lost it. In no case did the state have any questions to me. "I am being judged for what is already in the past. I went to serve in the army to protect Ukraine and those who remained in the occupied territory," Glotov said.
In court, the accused was defended by a lawyer from the Center for Free Legal Aid, Yuriy Prozhuhan. In a conversation with Sudovyi Reporter outside court, Prozhuhan admits that "there is no information about his rehabilitation in 2016. Yes, indeed, there was such a programme 'Come back home'. There is no information whether he was in this programme. He also did not provide any information - these are only his words. When he was in the occupied territory and was in the LDNR [Luhansk and Donetsk separatist republics], he allegedly went towards Ukraine and in Severodonetsk appealed to the SBU, where he gave incriminating testimony, according to him, against the leaders he had in the LDNR. However, there is no evidence to refute it, and no evidence to confirm it."
Prisoner exchange refused
Prozhuhan also said that Glotov did not agree to an exchange of prisoners between the Ukrainian government and the authorities of LPR. "As far as I know, he was offered the exchange. However, he is worried about his life and health, and did not want to be included in the lists of those who will be sent for exchange. He also repeatedly told me that he wants to fight for Ukraine."
Indeed Glotov still insists that he wants to fight for his country. "On February 24, when the large-scale Russian offensive began, I evacuated my mother to the city of Pavlohrad in Dnipropetrovsk region. I returned to Lysychansk, we had no home, nothing. I helped people to leave. Then I went to the military registration and enlistment office, it was closed because of the Russian offensive. I managed to get from the city of Lysychansk to the city of Lviv, then to the city of Drohobych, where I went straight to the military commissariat," the accused said in court.
Before the verdict was announced, Glotov expressed a desire to talk to us.
"Why did you want to fight on the side of Ukraine?" we asked.
- Because I lived all this time near the front line. I saw how it all happens. I was born in Ukraine, and I will die here. I did not run to the other side, as many did. I stayed here. Those who wanted to secede [from Ukraine] live there and let them live, but I stayed in Ukraine.
- Why were you in the 'LPR' in 2014?
- I did not serve there, I did not fight. They came to the mine and took it away, illegally.
- You were holding a weapon, right?
- I held it, but I did not shoot it. I don't even know if it works or not.
- In 2014, did you understand that Russia had already attacked Ukraine?
- I understood it all and I immediately turned to the SBU officers. I explained everything to them. And I was admitted to the programme "Come back home". After that, I went to the Dnipropetrovsk region and worked at Akhmet's mine until 2021. I returned home to Lysychansk because my mother was sick [the city of Lysychansk was close to the demarcation line with territories occupied by LPR. It was controlled by the Ukrainian government until July 2022 when it was occupied by Russia]. I stayed to work at the mine there. When the war started, I was left without a home, without anything, on the street. What could I do if they come and throw you in a car, put a gun to your head?"
Prosecutor Serhiy Yesypchuk asked for the maximum punishment of 15 years in prison. On December 12, the court granted it.
---
This report is part of a series on war crimes, produced in partnership with Ukrainian journalists. A first version of this article was published on the "Sudovyi Reporter" website.