For only 17.000 Ukrainian Hryvnia [435 euros], according to what the investigation has found… Sergei Govorukha, a 32-year-old SBU counter-intelligence officer has betrayed his country, Ukraine, while it was under threat of a full-scale invasion. On 15 February, a court in the western city of Lviv found him guilty of state treason and sentenced him to 14 years and 6 months in prison. A first conviction, which should be followed by more, as the clean-up of the military intelligence agency is reportedly a priority for the Ukrainian state.
He was arrested in Kropyvnytskyi – the capital city of Kirovohrad region, central Ukraine – almost a year before on February 28, 2022, during the first days of the full-scale military invasion by the Russian Federation. According to the investigation, on the day of the invasion, he disclosed the location of the Ukrainian SU-25 military aircraft. The SBU officer has allegedly been passing on defence-related internal and classified information to Russian special services since December 2021.
"Suppose I know the entire secret staff of Kherson…"
Govorukha was born in the Kirovohrad region. Since 2019, he has worked as an operative of the SBU Military Counterintelligence Department, stationed in Kherson. But in late September 2021, he was transferred to Kropyvnytskyi, where he became a senior operative.
According to the prosecution, as early as December 28, 2021, Govorukha started to use his own mailbox "mamangogo...@rambler.ru" to write to "viktor...@yandex.ru", an address belonging to a representative of the Russian special services going by the nickname "Viktor Suvorov", offering secret information that he had acquired in the course of his service.
- "I know you are interested in the SBU Counterintelligence Department in Kherson. There is a lot of interesting information if you are of course interested," started Govorukha.
- "Very interested, but there will be no conversation until you explain how you got my contacts," the Russian representative replied.
- "It depends on what you are interested in and what benefit I can get from it... Suppose I know the entire secret staff of Kherson, the State Department of Military Counterintelligence, their ranks, full names, current phone numbers, who is supervising what. What can you offer me for this information?" Govorukha asked.
- "For my part, I confirm preparedness to pay for your services, the amount of which will depend on the importance, accuracy, and relevance of the material," replied the representative of the special services of the Russian Federation.
- "I can provide the current list for Kherson, full names, ranks, number, current phone number, potentially dangerous facilities, and also one warehouse in Kherson where ammunition is stored."
According to the investigation, on January 4, 2022, Govorukha informed the Russians about the formation of a 43-person territory defence unit in Kropyvnytskyi. Two days later, he sent the list of the persons along with background information and characteristics of the SBU officers in Kherson.
"The gift will be delivered within two hours"
On January 12, Govorukha communicated a bank account number to be paid for the work he had done and asked about further collaboration.
- "The gift will be delivered within two hours, work goes on. Expect further instructions," the Russian special services representative answered.
On January 13, while in Kyiv, Govorukha communicated that he was heading to Kropyvnytskyi. The next day, he wrote that there were four potentially dangerous facilities in the city (warehouses with ammunition, aircraft missiles and tactic Bayraktars drones). On January 24, Govorukha sent data on the number of employees, with personal backgrounds and characteristics of the SBU officers in Kropyvnytskyi. On the same day, he allegedly sent the numbers of military divisions located in Kropyvnytskyi. On January 25, he wrote that military divisions had been put on high alert and that lists of families to be evacuated in the event of a Russian invasion were being drafted. On January 26, prior to the outbreak of the war, he sent information about military bases in the Kirovohrad region and their supervisors.
"Birds sleep on site"
In the first days of Russia's full-scale invasion of Ukraine, Govorukha, according to the prosecution, continued to work for Russian special services. On February 24, while at a military airfield in the Kirovohrad region, he sent the Russians information that 25 military aircraft were there and that they would remain at the airfield overnight - "birds sleep on site", he wrote. The last information Govorukha reported to the Russians was that missiles for military aircraft were being delivered to the military base and that all the aircraft were located there. On March 1, 2022, Russians shelled the airfield in the Kirovohrad region, states the prosecution case.
Between the end of December 2021 and February 24, 2022, the accused allegedly received 17, 000 Ukrainian Hryvnia [435 euros] in reward for his work – an amount presumably less than one month of his salary, given that income declarations of SBU officers are not publicly available for security reasons. To do so, he used the bank account of his under-age nephew. The money was received in four instalments - from 3 to 5 thousand hryvnias.
Govorukha's sister, who managed the account, was interrogated during the court hearing. She claimed that her brother did not have access to the account and only knew the number because he would occasionally send gifts to his nephew.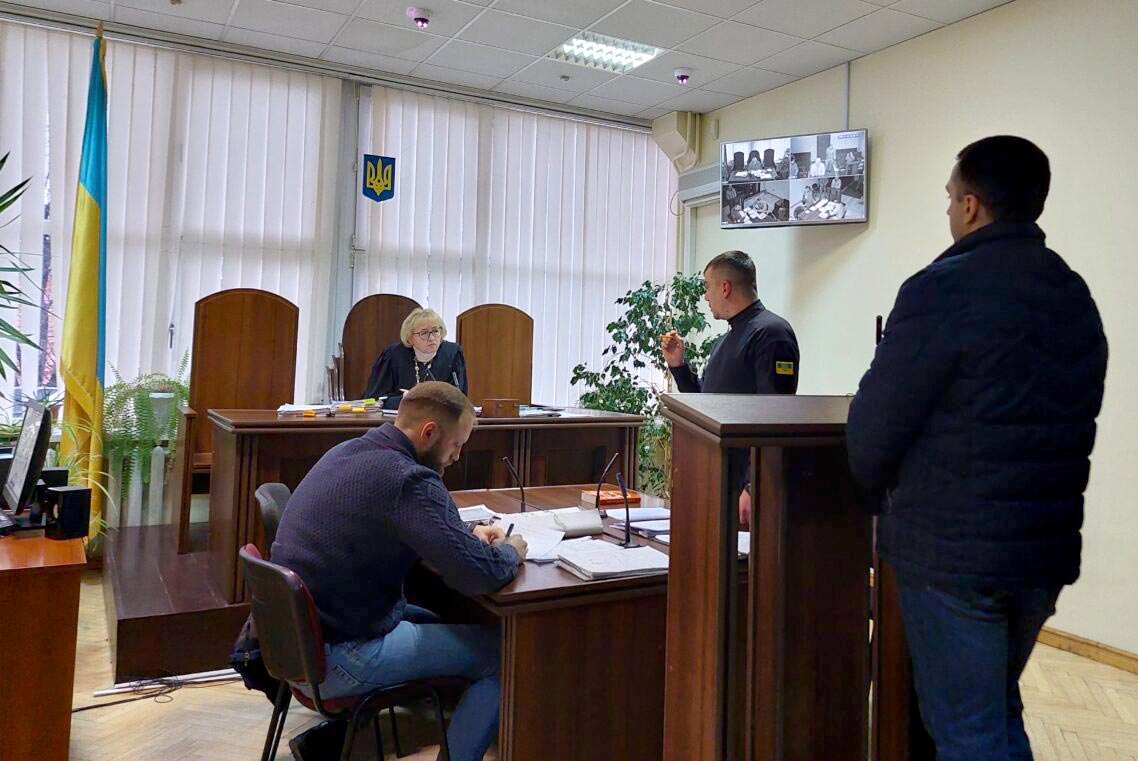 "I was carrying on a conversation to expose traitors"
Shortly after his arrest Govorukha sent on March 24, 2022, a petition to the court, in which he shared the following story of receiving an email address from the Russian special services.
"I was approached by a soldier who said that he was receiving text messages from a Russian phone number, on WhatsApp, and was offered to cooperate. I, on my part, reported it to my superiors. But around September 28, 2021, I got curious about those who were writing, so I wrote a couple of texts from another number, and to catch their attention, I said I was a military officer, and they gave me an email address, "viktor..@yandex.ru". I carried on a conversation with them to expose the traitors - an infiltration network. I wrote them a couple of names and phone numbers, which were all made up, and said that they belonged to high-ranking officials. They wrote that this was great and that I should send them [bank] numbers so that they could reward me. I immediately realized that it was not the Russian special services, as Russian transactions in Ukraine, financial transactions, are forbidden. But I still wanted to know who was doing it. I asked my sister to give me a number of an unused account, and she sent it to me, so I gave it to them and asked for a meeting."
Govorukha then allegedly brought the incident to the attention of his Kherson superiors, but was advised to forget about this matter. Therefore, he claims that he simply logged out of his mail on rambler.ru and never entered it again. Govorukha's immediate superior said during interrogation in court that he did not instruct him to conduct any special operations or document any infiltration networks.
A case fabricated by SBU officers in Kherson (defence)
Before the court, Govorukha pleaded not guilty and claimed that at the time he was allegedly informing the Russian special services he was in fact in Kyiv, studying at the National Academy of the Security Service of Ukraine. According to him, between January 10 and February 10, 2022, he took advanced training courses in counter-intelligence. "We only watched movies... precisely on Article 111 [high treason], and we were given lectures."
Govorukha initially claimed that he was on sick leave from February 24 until February 28, 2022. But when asked by the prosecutor, he said that on the morning of the 24th, his supervisor called him and told him to get an assault rifle at the SBU in Kropyvnytskyi. So he went to the headquarters, received the weapon, and then the supervisor told him to head to the military base, so he did.
Four days later, Govorukha was arrested in Kropyvnytskyi, during a work meeting.
- "Unknown people came in, I stood up to greet them, and they hit me in the face and knocked me down. They started hitting me on the head, handcuffed me, and tied my hands behind my back. They told everyone to leave. Only my supervisor, the head of the internal security of Kropyvnytskyi and one staff member remained," Govorukha told the court.
During the arrest, according to the prosecutor, an opened e-mail account on the Russian service rambler.ru, which is banned in Ukraine, was found on his phone. But he assured the court that he had nothing to do with it, that it did not belong to him, and that all of that was defamatory. He said he only used his phone for his official activity, and that he could not rule out the possibility that SBU officers had forged access to that e-mail account on his phone.
Another text message from a representative of the Russian secret services came to the already confiscated phone on February 28, 2022: "I need the exact geo-location of the Turkish products [Bayraktars], and their quantity". But during the court hearing, that correspondence referred to in the indictment could not be found on the phone.
Defence lawyer Yuriy Panchuk says that the case is based exclusively on assumptions and it has not been proven that this phone was used to access the email address "mamangogo...@rambler.ru" and that it was Govorukha who used it. The Ukrainian defence lawyer underlines that the criminal offence report on Govorukha was submitted and signed by the former head of the SBU in the Kherson region, Serhiy Kryvoruchko, who is now also suspected of treason and has been stripped of his rank of general by a presidential decree.
In court, Govorukha said he was convinced that the case was fabricated by the SBU officers in the Kherson region.
- "I began serving in the internal troops of Ukraine in 2013. From 2014 to 2021, I was in the ATO/JFO zone [the Ukrainian territory of Donetsk and Luhansk regions), defending my land, my people, my country from the invaders. I was wounded, went through two surgeries and then returned to defend my country. I have never compromised or betrayed anyone, nor have I violated the law of Ukraine. The actions of the SBU officers who illegally arrested me in Kropyvnytskyi while I was on duty were aimed at making themselves look good in the service and possibly hiding their illegal departure from Kherson. It is since unknown when these employees left Kherson, and I do not know what they were doing in Kropyvnytskyi," Govorukha said in his closing statement.
High prison sentence and confiscation of property
But the court remained unconvinced. It found the former SBU military counter-intelligence officer guilty, and that his direct intent was evidenced by the content of the emails. The court deemed that Govorukha's initiative to conduct subversive activities against Ukraine was clearly apparent: the offer to transfer information to representatives of the Russian special services in exchange for financial gain came from non-other but himself. In an email dated January 6, 2022, he states that he is in great need of money, which indicates for the court his lucrative motives.
According to the court, the evidence and witness statements refute the allegations of the accused. While working for the SBU, Govorukha could not ignore the consequences of his actions during the armed attack by the Russian Federation, it said. Therefore, the court sentenced him to a prison sentence close to the highest limit, with confiscation of his property.
---
This report is part of our coverage of war crimes justice produced in partnership with Ukrainian journalists. A first version of this article was published on the "Sudovyi Reporter" website. ».