Pavlo Zaporozhets fought for Ukraine in the ATO [the Anti-Terrorist Operation Zone] from 2014 to 2017. When the Russian full-scale invasion began in February 2022, he joined the Ukrainian Armed Forces' Military Intelligence, living and working in Kherson. After Russia's invasion of the Southern city of Ukraine, Zaporozhets was arrested by the FSB, the Russian intelligence service, allegedly with two grenades and bomb-making materials.
"On May 9, 2022, Pavel was abducted and kept until August in one of the torture chambers in Kherson - a basement on Teploenergetkiv Street. He was subjected to brutal methods of violence, including electric shocks, in order to extract confessions," Pavlo's cousin Marina Zaporozhets told Zlochyn.dp.ua. "In August 2022, Russian FSB officers took my cousin to the annexed Crimea, to the pre-trial detention center No. 1 in Simferopol. And in October he was transferred to the pre-trial detention center No. 2," she added.
A criminal case was opened against Zaporozhets. After a pre-trial investigation, an indictment was submitted to the Rostov-on-Don court, and in February 2023 Zaporozhets was transferred to the Russian Federation, she explains. "When he was being transferred in a police van, he had the opportunity to call us by asking a Russian prisoner to borrow his phone. He told us what had happened to him and where he was," she recalls. "Pavlo is currently in Rostov. At first, he was in solitary confinement, now he is held with another Kherson resident."
Tried as a civilian
Zaporozhets' case is currently being reviewed by the Southern District Military Court of Rostov-on-Don. According to the official information available on the court's website, the Ukrainian former serviceman is accused of an attempt to commit an act of international terrorism. He faces a sentence of between 10 years and life imprisonment. According to TASS, Russia's leading news agency, his case is the first criminal case against a Ukrainian prisoner in Russia regarding an act of international terrorism to be reviewed on the merits in court.
Zaporozhets' Russian defense lawyer Oleksiy Ladin, explains that at the time of his detention the accused was a military man who was allegedly carrying out an order to destroy enemy patrols. "The case file includes a copy of a letter from the Coordination Center of Ukraine for the Treatment of Prisoners of War, in which they confirm that Zaporozhets is a soldier and is currently subject to prisoner of war status. However, the Russian side does not recognize that Pavlo is an active serviceman, he is being tried as a civilian," Ladin told Zlochyn.dp.ua. "Zaporozhets was indeed following a combat order, and he was detained on his way to the place where he was supposed to lay the tripwires. There was no explosion. No one was injured," he added. According to the defense lawyer, Zaporozhets' case was sewn with white threads.
Counsel Ladin is known in Ukraine for defending Crimean Tatars accused to overthrow the Russian constitutional system, among them Edem Bekirov. The Russian lawyer also defended Ukrainian journalist Vladyslav Yesypenko. He is currently defending Zhuk Yaroslav Pavlovych, detained in Melitipol and accused of the same charges as Zaporozhets, as well as Gennady Lasynskyi, currently held in Simferopol, accused of possessing weapons and explosives, and many others Ukrainian prisoners.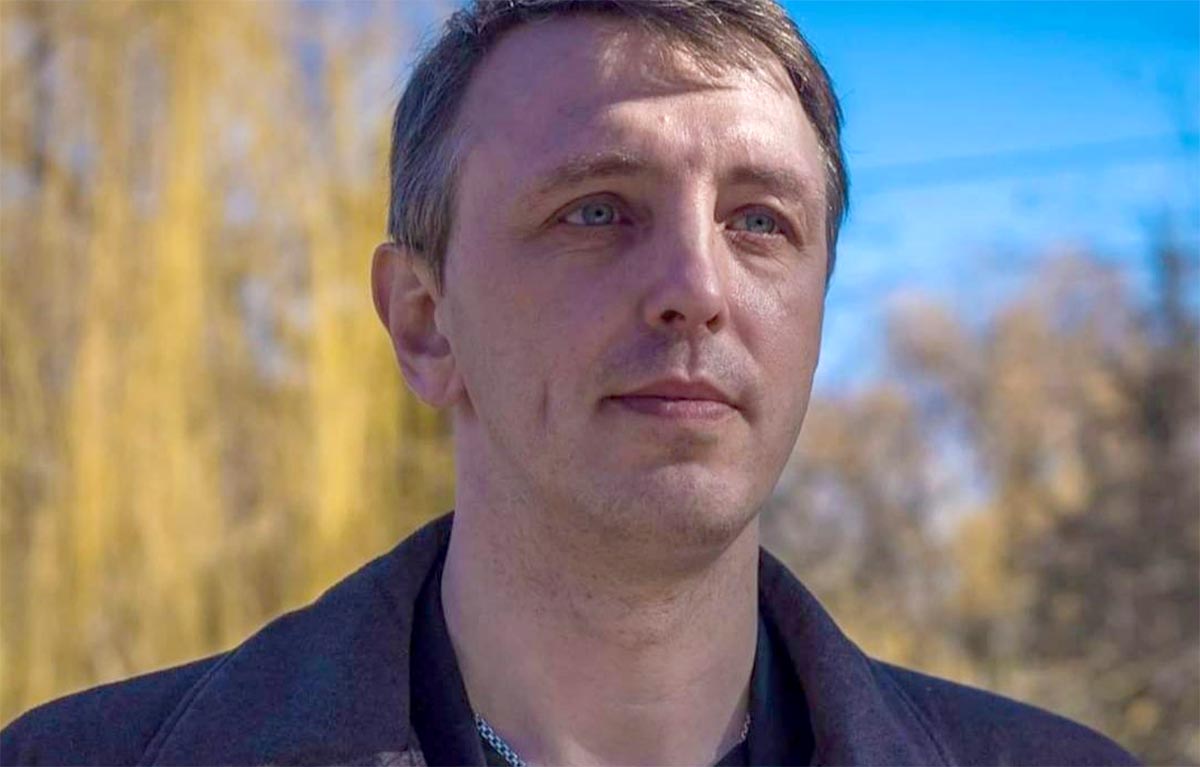 Challenging the evidence
"On May 9, my client was illegally detained, tortured with electric shocks, beaten, he endured so much. And then, on August 2, he supposedly appeared in the office of an FSB investigator in Simferopol, where he was officially detained and arrested," Ladin says. "Several pieces of evidence are illegal. In particular, according to the indictment, Zaporozhets was supposed to have committed, as it is written, a terrorist act, which could have resulted in the deaths of Russian military personnel and civilians of both Ukraine and Russia. But on May 9, 2022, Kherson was neither legally nor factually the territory of the Russian Federation. It was the territory of Ukraine."
During the preliminary hearing, the defense asked for a number of evidence to be declared inadmissible. However, the court denied the request, considering it premature. The court also denied the defense lawyer's motion to dismiss the criminal case.
"Not a hearing, but a real performance"
And eventually, on March 15, 2023, the first court hearing was held. "It was not a hearing, but a real performance, attended by representatives of the propaganda media. They made a sensation about the 'Ukrainian terrorist'," comments Marina Zaporozhets. Then the Russian state-owned media outlet TASS spread information that Zaporozhets had pleaded guilty.
Zaporozhets' cousin provided Zlochyn.dp.ua with an audio recording of his statement in the Military Court of Rostov-on-Don. The following are the words of the accused on the record:
"Your Honor, I ask you to dismiss the prosecutor's motion [to keep him on remand], I fully support the position of my defense. I would also like to draw your attention to the fact that I was illegally detained, or rather abducted, on the territory of a foreign state by Russian law enforcement officers. Then I was illegally detained in Kherson for three months and illegally transferred to the Republic of Crimea, where I was placed in detention. I did not obstruct the investigation by my actions, but rather contributed in every way to establish the truth in the case. I have no intention of hiding from the court, as I consider myself innocent. I do not intend to put pressure on the witnesses in the case, as it makes no sense for an innocent person to do so. Considering all of the above, I ask the court to dismiss the prosecutor's motion and choose a different measure of restraint for me, that does not involve detention. Thank you, your honor."
Looking for prisoner's exchange?
Ladin said that during the court hearing prosecution witness K., an FSB officer, stated that he had examined items at a border checkpoint that had allegedly been seized by law enforcement officers from Pavlo Zaporozhets during operational and search activities in Kherson. But the defense lawyer notes that this, according to witness K., took place on August 8, while Zaporozhets was arrested three months earlier.
"During the preliminary hearing, they failed to provide a single witness. There is an assumption that the remaining witnesses are in Kherson, beyond the reach of the FSB. [Kherson was retaken by Ukrainian forces last November.] Therefore, the prosecution changed the evidence examination procedure and presented a number of written case materials. The prosecution will try to present witnesses again at the next hearing," says Ladin.
During a hearing in April, the court reviewed Zaporozhets' medical examination. Another hearing took place on May 17, but the prosecutor's office could not ensure the attendance of witnesses. It asked to be allowed to present witness statements. The defense objected. The court dismissed the objection. The next hearing is scheduled on May 31.
Ladin says that even if Zaporozhets is not acknowledged as a military man and convicted as a civilian, he intends to seek prisoner's exchange. "Even if there is a verdict that has become final, there is a legal possibility of exchanging him through clemency," he says.
---
This report is part of our coverage of war crimes justice produced in partnership with Ukrainian journalists. A first version of this article was published on the "Zlochyn" website.