"Let justice be done! I appeal to the Head of State for justice and reparation for all victims." With these words, Adrienne Kaseka, a victim of the Kamwina Nsapu conflict that engulfed the DRC's Kasai provinces between 2016 and 2019, ended her testimony at the first-ever official ceremony paying tribute to the victims of the "Congolese genocide". For 17 tearful minutes, young Adrienne recounted her ordeal in September 2016, when she and two other family members were raped by elements of the loyalist forces. Adrienne had already been raped by a group of men from the Alliance des forces démocratiques pour la libération du Congo (AFDL) in the late 1990s. Emotions ran high under the marquee at the Cité de l'Union Africaine on August 2, where, with President Félix Tshisekedi attending, a ceremony was held to commemorate what is known as "the Genocost" – genocide for economic gain.
Adrienne has the same wish as thousands or millions of victims in the DRC. They are scattered across the entire country, "from east to west, north to south", stresses Albert-Fabrice Puela, the minister in charge of human rights. After three decades of violence, the number of victims in the vast country is unverifiable and staggering. Some estimates put the death toll as high as 10 million. There is also talk of tens of thousands of women having been victims of sexual violence at various times during the conflict. Many regions have been the scene of "unimaginable" atrocities - in the Kivus and Kasai, in Tanganyika with the conflict between Twa and Bantu, in Ituri with the tensions between Hema and Lendu, in Central Kongo with the Bundu Dia Kongo, in Yumbi with the violence between Tende and Nunu, or more recently in Kwamouth with the conflict between Yaka and Teke.
The shadow of the Mapping report
On the afternoon of August 2, the Place des évolués in the Congolese capital was in a special mood. Photos of murdered Congolese civilians were on display. A naked woman decapitated, a man with his throat slit and other horrifying sights. The square was set up to commemorate the many victims of Genocost, an initiative of the Plateforme d'actions de jeunes Congolais (Congolese Action Youth Platform, CAYP). This association is based in London. One of its founding members, Mimie Witenkate, came all the way from the British capital to attend the event. "We can't repair without justice," she says. "Women who have been raped are given a little money, but then what? When the same people who harmed them, harmed their family members are still close by, what are they going to do?"
Emotionally moved, Witenkate called on the government to ensure that the recommendations of the UN Mapping Report are applied. This report documented the violence perpetrated in the DRC between 1993 and 2003, pointing the finger in particular at neighbouring countries Burundi, Rwanda and Uganda.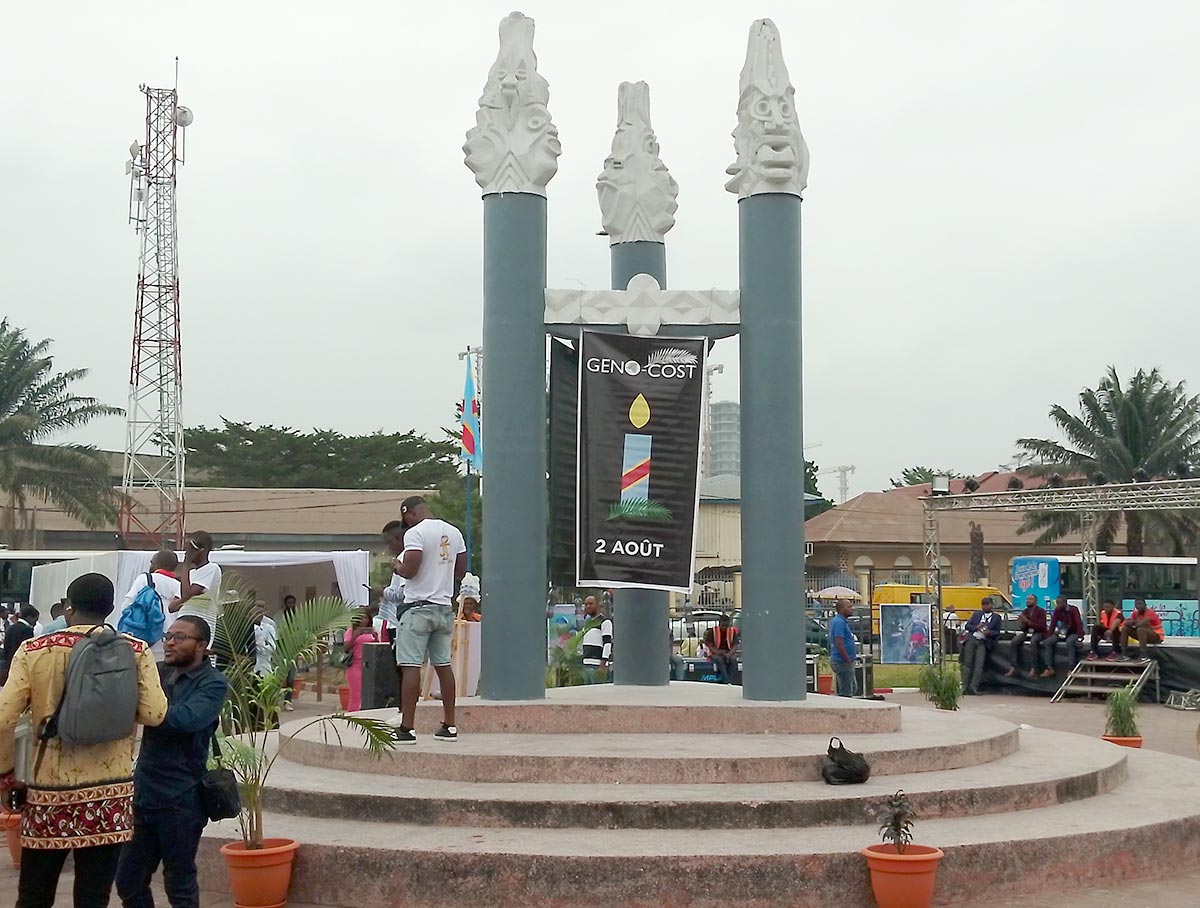 A long wait
"To remedy the heavy legacy of human rights abuses in societies emerging from armed conflict, transitional justice is one of the tools that can help fight impunity for serious crimes and facilitate the recognition and compensation of victims," stated a cabinet meeting chaired by Tshisekedi in August 2020. But three years on, victims are still waiting for the first reparations. And the wait is long, say their representatives.
A few steps have recently been taken. In December 2022, the country got a new law on protection and reparation of victims of conflict-related sexual violence, crimes against peace and the security of humanity. According to Human Rights Minister Albert-Fabrice Puela, this special law covers "reparations for the horrors of war". First Lady Denise Nyakeru Tshisekedi, sponsor of the text, says this law will make it possible to "repress violence and protect our populations against the resurgence of such atrocities".
Above all, the country has set up two public institutions responsible for reparations to victims of serious crimes. These are FRIVAO, the special reparations fund for victims of Uganda's illicit activities in the DRC, and FONAREV, the reparations fund for victims of conflict-related sexual violence and crimes against peace and security.
Two separate reparations funds
FRIVAO, created in May 2023, deals with victims of the six-day war in Kisangani, northeast DRC, in 2000, in which Ugandan forces were involved. FONAREV focuses on victims of other serious crimes committed since 1993.
FRIVAO is a good example of the slowness that characterizes victim compensation. In September 2022, Uganda paid the first instalment of $65 million reparations for damage caused to its Congolese neighbour, in accordance with an International Court of Justice ruling on the dispute between the two countries. Almost a year later, nothing has been paid out. FRIVAO is supposed to be based in Kisangani, but currently has only a small office on the premises of the Kinshasa courthouse. This situation is cause for concern, thinks Lucien Lundula, managing director of the other fund, FONAREV. "This must not remain just on paper," he said at the official Genocost commemoration ceremony.
FRIVAO did not respond to our questions, but sources say the institution has no funds for its operations. "All Ugandan money is earmarked exclusively for victims, so it's impossible to allocate a single cent to anything else," explains one informed source. The fund is not yet operational because it was not budgeted in the 2023 financial year, and steps are underway to find the money for its operation. The minutes of the August 18 cabinet meeting, however, state that "allocation has just been activated" of the first Ugandan payment made in September 2022, which had been put in a "transitional account".
Rachel Eloko is founder and president of Team des concentrés, an association that cares for the destitute and orphans. She is calling "the whole world" to account for the plight of people in eastern DRC. From the government and FONAREV, she expects concrete action. "They must really get involved. It can't just be about slogans. We want the government and the organizers to really get to the heart of the matter," she insists.
Multiple uncertainties
The first reparations should be effective "within a short time", promises Joseph Khasa, transitional justice adviser to the human rights minister, but without giving a precise date. A strategic plan for transitional justice is currently being drawn up in Kongo Central. This document should serve as a roadmap for any transitional justice action, according to Khasa.
FONAREV will not take FRIVAO beneficiaries into account, so as to avoid "the accumulation of reparations", explains Khasa. FONAREV faces a different funding problem. An initial sum of $100 million was proposed for this public establishment, but it has not materialized. According to the law creating FONAREV, its funding is to come from mining royalties (11% of these royalties are to be earmarked for it) or contributions from donors, international and philanthropic organizations. But the Fund is providing no information on these uncertain external contributions, or on its budget in general. Nevertheless, on August 11, 2023, the government issued a decree specifying the procedures for collecting and distributing mining royalties. The text confirms the 11% share allocated to FONAREV. And this could represent a remarkable sum, since these mining royalties generate several hundred million dollars in revenue every year. In 2022, for example, Haut-Katanga, one of the world's major copper reserves and one of its richest mineral provinces, alone brought in almost $400 million in royalties, according to figures from the provincial mining division.
The law establishing FONAREV contains a significant practical measure for survivors and victims' families: the waiving of legal costs and the payment of their lawyers' fees. We do not know, however, what individual reparations scale will be applied, nor details of the collective reparations (medical centres, training centres) and symbolic reparations (memorials) envisaged. FONAREV has initiated consultations and organized meetings with victims' associations, as required by law, but no concrete reparation measures have yet been taken.
Another thorny issue is the list of victims. How can this be established? Mimie Witenkate suggests using local organizations that support victims to better identify the right beneficiaries of the reparations fund.
Finally, the question of how these funds will be managed is on everyone's mind. Some fear misappropriation, which would be even more detrimental to the victims. A source close to FRIVAO explains that drastic control mechanisms exist to prevent fraud and embezzlement. Joseph Khasa affirms that criminal sanctions are foreseen.
"I remain hopeful that the Congolese will see the importance of this initiative and will not fall into corruption and theft," says Joseph Mabiti, lawyer and head of the NGO Jeunes Développons le Congo. "There must be legal mechanisms and tough sanctions for those who fall into this kind of practice."