By a vote of 60 to 12, Armenian Parliament ratified the Rome Statute on October 3 and will soon officially gain a membership in the International Criminal Court (ICC).
The government asked the Constitutional Court to determine whether the Rome Statute conformed to the constitution last December, after Azerbaijani large-scale attack against Armenia in September 2022. This March the court issued a ruling confirming the compatibility of the Rome Statute with the constitution. Previously, in 2004, the court had ruled the Statue did not correspond to several provisions of the 1995 constitution which has been amended since.
The backdrop of Armenia's ratification of the Rome Statute reveals a political landscape marked with the mass exodus of thousands of Armenians from Nagorno-Karabakh (internationally recognized territory of Azerbaijan that has been under de-facto control of unrecognized Armenian government), strained relations with Russia and apparent reluctance of the West to hold Azerbaijan's president Ilham Aliyev accountable for alleged violations of international law.
There is a debate in Armenia, however, whether it was the best time to ratify the Rome Statute.
Armenia's ICC aspirations sparked Russian concerns
After Azerbaijan's lightning offensive on September 19 and takeover of Nagorno-Karabakh, protests swept Yerevan streets with calls for Armenian Prime Minister Nikol Pashinyan to resign. Russian propaganda figures like Russia Today's head Margarita Simonyan and TV presenter Vladimir Solovyov were quick to react. They bawled out on Armenian leadership, implicitly fomenting the anti-government movement, with vice-president of Russia's Security Council Dmitry Medvedev notably reproaching Pashinyan on his Telegram channel.
With tensions rising high, during his latest address to the nation on September 24, Pashinyan essentially put the blame for ethnic cleansing of Nagorno-Karabakh "entirely on Azerbaijan… and on the peacekeeping troops of the Russian Federation," and argued for the ratification of the Rome Statute saying the Collective Security Treaty Organisation (CSTO, an intergovernmental military alliance led by Russia) membership and strategic partnership with Russia were "not enough to ensure Armenia's external security".
Russian Ministry of Foreign Affairs (MFA) issued a harsh statement saying Pashinyan's remarks "elicit repudiation" and rejected the claims that Russian peacekeeping troops failed to protect Nagorno-Karabakh's population against Azerbaijani aggression. Kremlin accused Pashinyan of "shifting responsibility for failures in domestic and foreign policies onto Moscow."
Russian MFA Spokeswoman Maria Zakharova blamed Armenia's foreign policy shift on the West accusing Washington and Brussels of persuading "Armenian leadership to withdraw from the CSTO" and "stepping up cooperation with NATO", the military alliance led by the US and EU. Russian president Putin's spokesman Dmitry Peskov said Russia does not welcome Armenia's intentions to join the ICC, whose decisions are "extremely hostile" and "difficult to comprehend" for Moscow.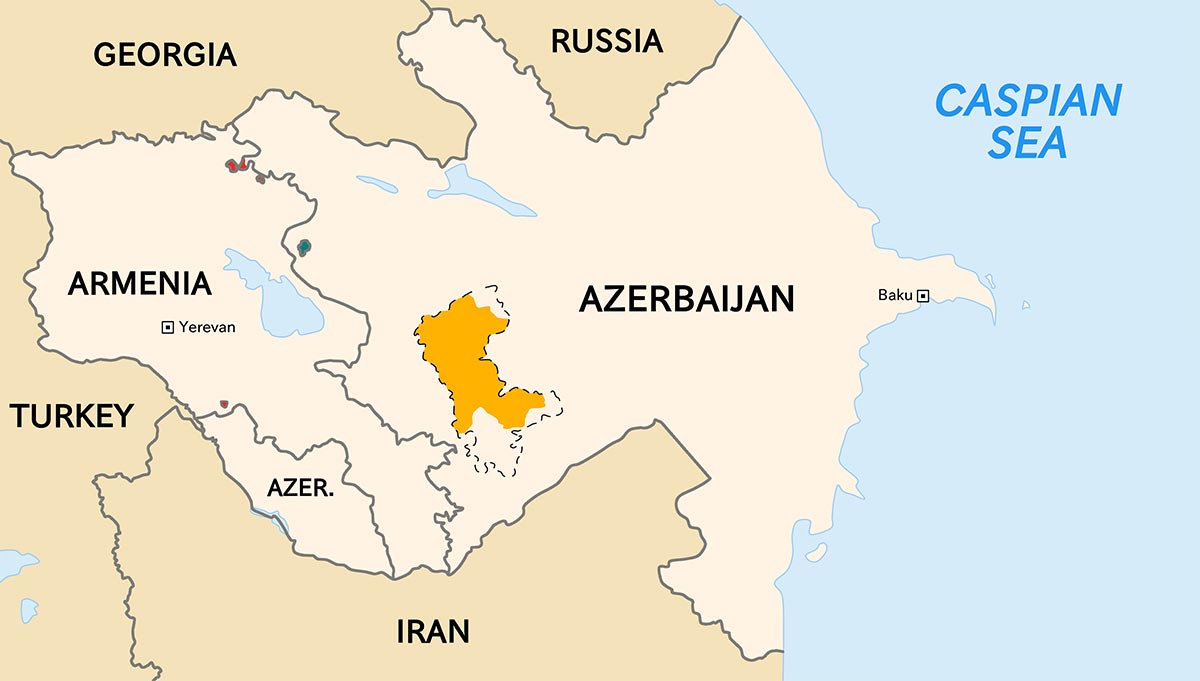 The shadow of Putin's indictment by the ICC
This March the ICC issued arrest warrants against President Putin and Russian Commissioner for Children's Rights Maria Lvova-Belova for "unlawful deportation and transportation of children from occupied areas of Ukraine to Russia". Moscow strongly condemned this decision and called it a provocation. Should Armenia join the ICC, in theory, local law enforcement would be obligated to detain Putin if he visits Armenia.
Benyamin Poghosyan, senior fellow on foreign policy at Applied Policy Research Institute, a Yerevan based think-tank, told Justice Info Putin's potential arrest in Armenia is "beyond science fiction". The real issue, according to Poghosyan, is that Russia perceives the ICC as a Western instrument for advancing geopolitical agendas and exerting pressure on non-compliant nations. Armenia's ratification of the Rome Statute is seen as a "geopolitical signal that it would like to move towards the West and away from Russia". Kremlin is alarmed for "it views the South Caucasus as part of its 'special interests' zone," Poghosyan said.
Yeghishe Kirakosyan, the representative of Armenia on international legal matters, assured that in case Armenia joins the ICC, Putin won't be arrested upon entering Armenia. Kirakosyan said Armenia proposed to sign a bilateral agreement with Russia to undertake guarantees "regarding the most pressing issues" based on Article 96 of the Statute. According to Kirakosyan, Armenia sent the offer to Russia in April, but received no response so far. Peskov said he "was not aware of the details" of Armenia's proposal.
Despite strained diplomatic relations with Russia, both Pashinyan and Armenia's legal team claim Armenia's intention to join the ICC is not directed against the CSTO or Russia.
A deterrence effect?
Armenia's legal team emphasized the ICC as a form of deterrence against possible Azerbaijani assaults directed at Armenia and a means to hold Azerbaijan responsible for the documented war crimes committed by Azerbaijani servicemen in September of 2022. In order to cover these attacks, Armenia backdated the ICC jurisdiction to May 10, 2021.
According to Mischa Gureghian Hall, legal researcher at the Center for Truth and Justice, a nonprofit organization established in November 2020 in response to the Nagorno-Karabakh war, while the ICC would not have jurisdiction over any potential crime of aggression against the sovereignty of Armenia, the threat of ICC investigation of potential crimes committed as part of an Azerbaijani attack on Armenia would in theory "serve as a sword of Damocles of sorts, making Azerbaijan more reluctant to perpetrate acts of aggression against Armenia."
"Given that Azerbaijan's encroachments into Armenia have so consistently been accompanied by violations of international humanitarian law and human rights law, combating the latter, in theory, should serve to deter the former," he said.
Gureghian Hall said becoming a state party to the Rome Statute opens the ICC Office of the Prosecutor up as a new avenue to bring attention to possible international violations by Azerbaijan, "but one with more teeth" than UN bodies which have so far been used to highlighting human rights abuses.
According to Poghosyan, the ratification of the Rome Statute may not play a role of hard deterrence against further Azerbaijani attacks, but could lead to tensions not just with Russia, but also with Iran and possibly China. In an increasingly divided world order, this move will tie Armenia's hands and create "a perception that Armenia chose the Western camp and put itself against Russia, Iran, and China," Poghosyan said. "Iran is clearly against the further expansion of Turkish Azerbaijani influence in the South Caucasus and is ready to support Armenia to resist. Problems with Iran and Russia will decrease Armenia's potential to resist Azerbaijani and Turkish pressure and force Armenia to make additional concessions beyond the loss of Artsakh (the local name for Nagorno-Karabakh)," he said.
Azerbaijan has essentially ignored the February ruling of the International Court of Justice (ICJ) to ensure free movement to Nagorno-Karabakh and kept the lifeline road of Nagorno-Karabakh Armenians - the Lachin corridor - blocked for around 10 months with no significant consequences.
According to Gureghian Hall, given the complex situation around Nagorno-Karabakh, a unique circumstance arises when people are forcibly displaced across borders. Armenians are compelled to leave Nagorno-Karabakh, which falls under Azerbaijani territory, and resettle in Armenia, a potential Rome Statute signatory. And on this basis, Guregian Hall believed the ICC may have the authority to investigate and prosecute this crime in the same way it decided it had jurisdiction over the deportation of the Rohingya from Myanmar. "Rohingya Muslim civilians were forcibly displaced from Myanmar (not a state party to the Rome Statute) to Bangladesh (a state party to the Rome Statute). In the current situation with the mass displacement of ethnic Armenians from Nagorno-Karabakh, the situation is similar," he said. "I believe, particularly in light of the near-constant dehumanizing rhetoric espoused against ethnic Armenians by the highest echelons of the Azerbaijani state, that the establishment of discriminatory intent in relation to the crime against humanity of persecution would not be difficult," Guregian Hall said. However, given that Azerbaijan has no explicit obligation for ICC compliance as it isn't a Rome Statute signatory, many raise concern that Azerbaijan would ignore the ICC rulings just as they ignored those from the ICJ by which they were supposed to abide.