Since the full-scale Russian invasion of Ukraine, the countries have exchanged more than two thousand prisoners from both sides, according to official press releases and news in Russian media. The last exchange communicated to the press happened in early July. According to the latest information provided in October by the head of the so-called Donetsk People's Republic, Denis Pushilin, around 500 Russian military personnel are currently held captive by Ukraine. This figure is impossible to verify, as Ukraine does not report the number of captured Russian soldiers.
The process of exchanging prisoners of war is supervised in Russia by the ombudsman Tatiana Moskalkova. In early October, she stated that her staff communicate with the apparatus of the Ukrainian Parliamentary Commissioner for Human Rights, Dmitry Lubinets, almost every day: "I have an employee who directly interacts, calls, corresponds on specific cases and lists," she said, clarifying that large-scale exchanges are also planned.
Russia rarely discloses the names and ranks of those returning from Ukrainian captivity. Even on the websites of regional administrations, reports usually only mention the return of, for example, "a soldier from the Samara region", without providing further details. The same lack of public information applies to the subsequent fate of Russian prisoners.
Sentenced to exchange
In May of this year, lieutenant colonel and deputy commander of the 47th bombing aviation regiment, Maxim Krishtop, returned to Russia. His plane was shot down in Ukraine on March 6, 2022. According to the Ukrainian investigators, Krishtop was a pilot of one of the aircraft involved in the bombing of a TV tower in Kharkiv, the second largest Ukrainian city. Just five days after being taken captive in Ukraine, a press conference was held in Kyiv with the participation of the downed pilot. Krishtop pleaded guilty and clarified that during the combat mission, he realized that the targets were not military but civilian objects.
Criminal proceedings were initiated in Ukraine. He was accused of violating the laws and customs of war, as well as encroaching upon the territorial integrity and inviolability of Ukraine. In March 2023, a court in Kharkiv sentenced Krishtop to 12 years of imprisonment. Shortly after that, the court received a petition from the prosecutor's office to include Khrishtop in the exchange list - and granted it. Two months later, the pilot returned home.
The new legislation that allows convicted prisoners of war to be exempt from punishment in Ukraine only dates back to July 2022. The criminal code includes the situation of a "person for whom a decision to exchange as a prisoner of war has been made". As part of this process, a court decision to exchange such a person serves as a basis for terminating criminal proceedings or for releasing them from serving their sentence.
"Returning our heroes"
Despite admitting guilt, and having promised in Kyiv to make all efforts to ensure that "this war ends as soon as possible and that all those responsible for the genocide of the Ukrainian people are brought to justice", Krishtop was hailed as a hero in Russia. Lieutenant colonel Sergey Kosik and aviation squadron commander Sergey Malov also returned with him from captivity. "The Ministry of Defence of the Russian Federation is returning our heroes from Ukrainian captivity," commented Shamsail Saraliev, a member of the State Duma and representative of the parliamentary coordination group on the "special military operation".
Russian military blogger "Fighterbomber" (400k subscribers) was pleased with the successful exchange too: "The whole country prayed and worried about them. For their exchange, they [in Ukraine] wanted to get all the wealth of the world, negotiations were tough and complex. (...) Our guys need to be rescued by any means necessary. This is what 'we don't abandon our own' [the popular phrase used by supporters of 'special military operations'] means," he wrote on Telegram in May.
The Krishtop family in Russia were represented by Igor Vagin. The lawyer became known in Russia and abroad after he was appointed by the state to defend three foreigners, Aiden Aslin, Shaun Pinner, and Saadoun Brahim, who were sentenced to death in the Donetsk People's Republic in the summer of 2022 and later exchanged. Vagin did not respond to Justice Info's inquiry about Krishtop's current professional and personal situation.
After the exchange of pilots, the Russian Ministry of Defense declared that those returning from captivity "will be provided with the necessary psychological and medical assistance". In addition, all prisoners of war returning to Russia are usually interrogated by investigators from the Investigative Committee and the Federal Security Service (FSB, the principal security agency of Russia). Both agencies, according to a Telegram channel of the Investigative Committee and soldiers who have returned from captivity confirm this practice. The Investigative Committee said it is interested in whether the Russians were subjected to torture, and based on these testimonies, could initiate criminal cases against Ukrainian military personnel. The FSB said it asks whether the captors attempted to recruit the captured soldiers, and some are subjected to polygraph examinations for this purpose.
Another exchanged convict is the gunner-operator Mikhail Kulikov. He was captured on February 26, 2022, in the Chernihiv region of Ukraine. In August 2022, the local court found Kulikov guilty of a war crime, for shelling a residential building, and sentenced him to ten years in prison. The sergeant admitted his guilt. In court, Kulikov explained that he fired at the upper floors of the building upon the request of the commander, who shouted that there was a person with a grenade launcher there. One year later, in June 2023, Kulikov was exchanged along with 93 other Russian prisoners of war. In the case of Kulikov, the swap went unnoticed, like in most cases of exchange.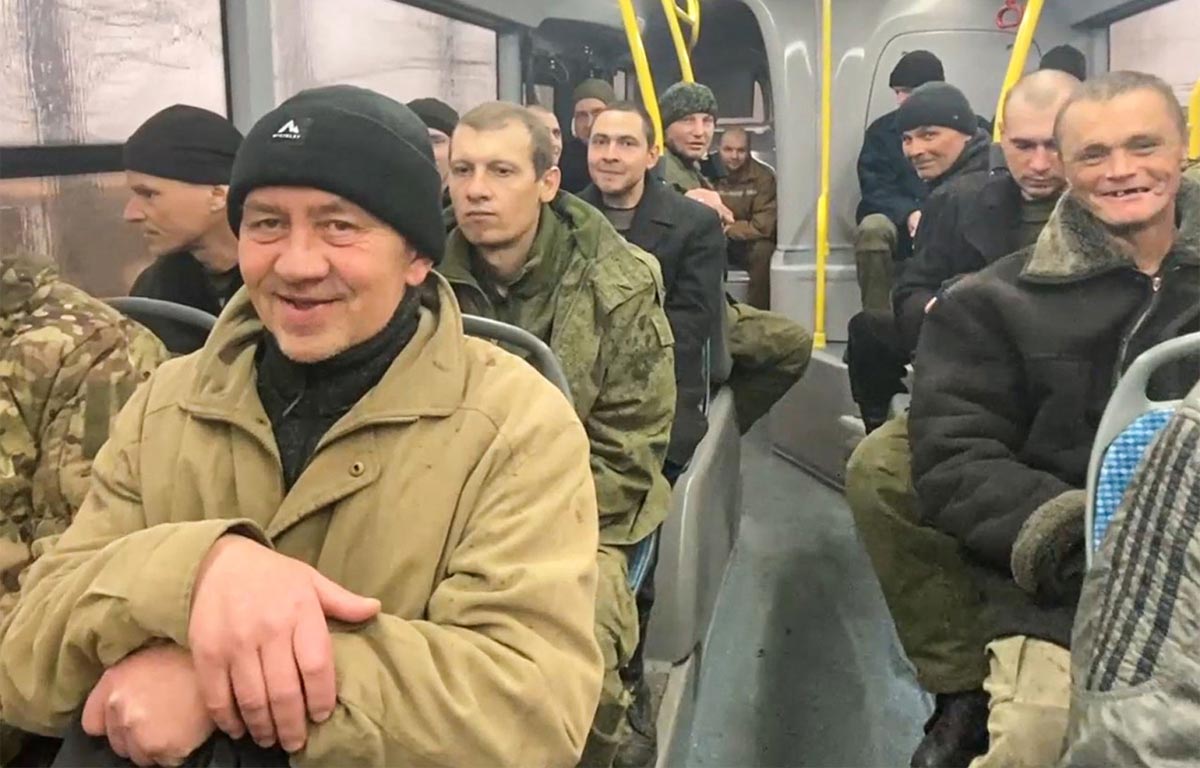 Call to return to the frontlines
In this report from 59.ru, a regional media in Perm, a Russian city located near Ural Mountains, former prisoners of war admit that they want to resign from service because they no longer have the desire to serve. However, according to Russian laws, it is currently impossible to do so. Since the start of the full-scale invasion in Ukraine, there has been a ban on the termination of contracts for military personnel in the country.
In Russia there are more radical ideas about what should be done with Russian soldiers who returned from captivity. The head of Chechnya, Ramzan Kadyrov, has stated that "warriors" should not end up in captivity in the first place. After their return from captivity, Kadyrov called on military personnel to return to the frontlines to prove that they did not shy away from combat and did not seek opportunities to lay down their weapons and escape.
The "Soldiers' Mothers Committee" told Justice Info that they have not received any requests from Russian military personnel who have returned from captivity. They mentioned that they only work on cases of those currently held captive in Ukraine, but did not provide further details about their work. The Office of the Russian Human Rights Commissioner, which oversees the exchange process, also did not respond to our questions.
Still accountable for war crimes
According to lawyers we have contacted, the situation regarding the return of convicted prisoners to Russia is complex: such decisions are based on political considerations rather than legal practice and law. But for Natalya Sekretareva, legal department head at the Memorial Human Rights Center, the exchange does not negate the obligation of a serviceman to be held accountable for war crimes: "The Geneva Conventions oblige Russia to investigate and punish military crimes. This duty also extends to violations committed by its own military personnel. Releasing individuals from responsibility upon their return to Russia is a political step that contradicts Russian obligations," explains the lawyer.
Valeriya Vetoshkina, a lawyer from the Russian human rights project The First Department, says that certain conditions must be met to enforce a court decision from a foreign country, such as the principle of reciprocity. The act for which the person has been convicted must be a crime in both countries: "It would be quite strange to imagine that in the context of a war which Russia calls a 'special military operation', Russia will comply with Ukraine's request to enforce a sentence against its own citizen convicted for violating the laws of war." In any case, Vetoshkina points out that the Russian military are in the first place released from punishment by a Ukrainian court when it decides to exchange them.
"Holding individuals responsible for their actions after being taken prisoner is more of a tactical than a legal matter," says Vetoshkina, suggesting that such servicemen could provide valuable information to their commanders. However, Russia does have criminal liability for voluntarily surrendering or defecting to the enemy. On September 20, 2022, the inclusion of this article in the criminal code was approved by the State Duma, and on September 21, president Vladimir Putin announced the commencement of military mobilization in the country.