On 1 February 2016 Myanmar convened its first democratically elected parliament after five decades of military rule. Given the role that resource control played in the conflict, addressing corporate accountability in transitional justice mechanisms is critical to breaking down impunity, addressing causes of conflict, and achieving sustainable transition and economic development. But both transitional justice and corporate accountability, which comprises measures to hold companies responsible for human rights abuses, are not on the political agenda. As economic growth is set as a priority, anything that could scare investment away, including discussions on corporate accountability, is regarded with great apprehension. But economic development and corporate accountability should not be framed as a trade-off.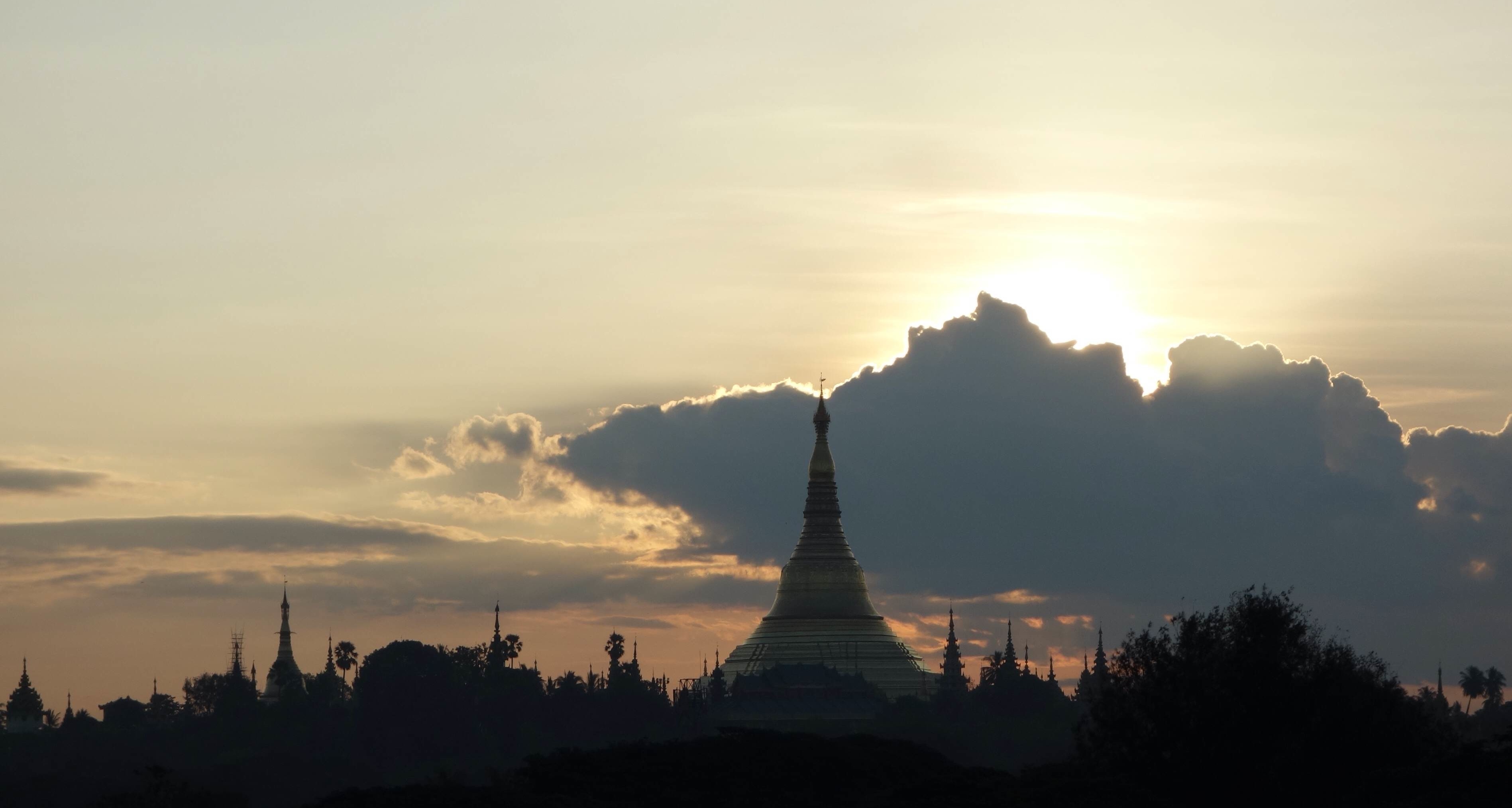 Shwe Dagon Pagoda, Yangon (photo: Irene Pietropaoli)
Corporate Human Rights Violations: The Past and the Present
Since independence in 1948, Myanmar has been engaged in the world's longest civil war between the military government and many of the country's ethnic groups. The conflict claimed an estimated 600,000 lives and displaced more than a million. During the last five decades, the UN and human rights organizations have documented widespread and systematic human rights violations by the junta, including war crimes, crimes against humanity, and allegations of genocide. Ethnic minority groups have been the main target, facing extrajudicial executions, torture, rape, forced displacement, and forced labour.
The armed conflict between ethnic groups and the government is centred on minority groups' demands for autonomy, but fuelled by competition over natural resources, which are primarily located in conflict-afflicted ethnic areas. For example, the most valuable jade in the world is found in Kachin State, where it drives the conflict between the government and the Kachin Independence Army. Hydropower projects are also fuelling conflict between ethnic armed groups and threatening the peace process.
In the past, foreign companies, often in joint ventures with military-owned companies, especially in the extractive sector, have been involved in serious human rights abuses. And the risk continues today. Instances of companies colluding with the government in serious human rights abuses include the Chinese company Wanbao, which operates the Monywa copper mine in partnership with the military-owned Union of Myanmar Economic Holdings. Over the years, state forces have forcibly evicted thousands of people with the companies' knowledge, and in some cases their participation. In particular, the Leptadaung copper mine has been a site of violent confrontations between security forces and local communities. In 2012, a police attack on villagers and monks protesting the negative impacts of the mine resulted in over 100 people injured, with some suffering burns and lifelong disability, due to the use of white phosphorus grenades.
Military-owned and crony companies, accused of serious human rights abuses in the past, still control the economy and human rights violations associated with economic development, such as land confiscation and displacement, continue today.
Transitional Justice and Corporate Accountability: Opportunities and Obstacles
From 2011, the government took initial steps towards transition and accountability. Reforms resulted in the lifting of economic sanctions, and a sharp increase in foreign investment. President U Thein Sein granted a number of amnesties, and thousands of political prisoners have been released since. Parliamentary investigations were held into land confiscations, and the government created a National Human Rights Commission. An 18-month negotiation process with ethnic groups led to a partial Nationwide Ceasefire Agreement signed last October. General elections held in November resulted in the victory of Aung San Suu Kyi's National League for Democracy party.
Both the ceasefire agreement and the elections have limitations, but represent a step toward democracy and peace. However, a legacy of impunity and cronyism risks disrupting Myanmar's transformation. 2015 saw an increased clampdown on dissenting voices and a failure to address raising religious intolerance. The Rohingya, an ethnic Muslim minority to which the government denies citizenship rights, continues to be discriminated and at least 140,000 of them still live in ghetto-like camps. Their plight, the re-arrest of former prisoners of conscience and further charges against others are testaments that Myanmar's transition is not guaranteed. The military refuses to give up its constitutionally mandated 25 percent of parliamentary seats, and business partners still hold significant political power and influence. Their dominant role comes with a reluctance to address both past and present abuses.
On 28 January, on their penultimate sitting day, the outgoing government approved the Presidential Security Bill, which guarantees lifetime personal security and personal immunity to former heads of state and was met by strong criticism by human rights groups. Many politicians in Myanmar are reluctant towards addressing the past due to a misunderstanding that transitional justice only means prosecution and corporate accountability means only legal liability.
Some attempts to seeking justice have brought no results. Last March, for example, a group of monks injured during the crackdown in Letpadaung filed criminal and civil charges against the Home Minister and the police, but the case was rejected. Conscious of the military's fear of retribution and the balance needed to govern effectively, Aung San Suu Kyi has already implied that she would accept leaving the past unaddressed. If retribution is far from the minds of the newly elected politicians, corporate legal accountability is even further away. They fear that exposing the accountability of the military and crony businesses for past violations may escalate existing tensions.
Civil society has advocated truth-telling initiatives. International organizations have called on the UN to establish a commission of inquiry into whether genocide has been committed against the Rohingya. Truth-seeking initiatives should also address corporate accountability issues in Myanmar, as they have done in other countries. The South Africa Truth and Reconciliation Commission, for example, concluded that business was central to the economy that sustained South Africa during the apartheid. Examining the role that corporations played in past abuses would allow Myanmar to look at a missing element of the truth about the past, and to better understand the dynamics that contributed to the conflict.
Previous attempts in Myanmar have had unsatisfactory results. In response to the public outcry for action after the crackdown in Letpadaung, the government formed an inquiry commission, headed by Aung San Suu Kyi, and mandated to assess the environmental and social impacts of the mine. The commission asked Wanbao for restitution of part of the land confiscated, and increased compensation, but recommended that the project continue. Local communities strongly criticized the report findings for failing to hold the police accountable and to protect people from further land grabs. Authorities are yet to investigate either the police or Wanbao, from whose compound another attack in 2014 was launched. In February, Wanbao announced that it will re-start operations in May, presenting an early challenge for the new government.
Another frequent request from civil society organizations is that the government acknowledge and apologize for past abuses. To date, government responses have either ignored or denied allegations of violations. Interestingly, one of the few exceptions is related to the Letpadaung mine, as local police officials apologized for the crackdown on protesters in 2012. But companies involved in this and other abuses have failed to offer any apology or acknowledgment, measures that could be important for reconciliation.
There is also emerging advocacy around reparations. A commission of inquiry in Myanmar would be best placed to recommend reparations addressing corporate abuses. In the past, for example, the South Africa TRC made several recommendations in this sense: a wealth tax, a one-off tax on corporate income, and a flat percentage donation from the leading companies in South Africa's stock exchange. Similar measures in Myanmar could allow group compensation, but would not be without problems. First, such blanket approach to corporate involvement would prevent attempts to make reparations measures proportional to the different levels of corporate involvement in past abuses. In addition, a general tax would only allow for financial compensation while fostering the non-accountability and the lack of acknowledgement for past abuses. A better option could be recommending restitution of confiscated land or compensation, directly benefiting victims and linking reparations with the responsibility of a specific company for a particular violation.
Finally, corporate accountability for future abuses should be a component of the institutional reforms that Myanmar is undertaking - for example, in drafting the new land law – in order to better achieve sustainable transition and rights-based development. Changes in land ownership and use are key issues in Myanmar's political and economic transition. If land disputes remain unresolved they may be detrimental to the peace process. The new National Land Use Policy, released last January, refers to responsible investment, human rights and the protection of the environment, which provides a sound basis for future land law reform. Another key issue is the reform of state-owned companies, especially in the oil, gas and mining sectors, to ensure better transparency over public revenues. Myanmar's first report under the Extractive Industries Transparency Initiative has already provided levels of disclosure on companies' activities "unthinkable" a few years ago. Natural resource revenue sharing should also be a key component of peace-building and decentralization in Myanmar.
The government of South Africa did not implement any of the TRC's recommendations concerning business fearing they could have a negative effect on foreign investment. It also initially opposed the Apartheid reparations lawsuits filed in the United States against several multinationals corporations. The Liberian TRC investigated economic crimes, such as the exploitation of natural resources, which played a major role in the 1979 -2003 civil conflict. But finally neither asset recovery nor judicial accountability was achieved. Between 2006 and 2011, the government lead by Nobel winner Ellen Johnson Sirleaf gave the rights to over one-third of Liberian land to logging, mining and agricultural companies, "sowing the seeds of future conflict". The problematic decisions of the "Liberia's Leading Lady" illustrate the challenges facing "The Lady" of Myanmar in renegotiating power, addressing corporate abuses and allocating control of natural resources.
Transitional justice and corporate accountability do not require immediate large-scale expensive mechanisms. The Myanmar government should implement sustainable policies with regard to future investment, recognise the role of companies in past abuses, and address past land confiscation practices, with the long-term goal of preventing similar abuses from happening again.
Irene Pietropaoli is a PhD candidate at Middlesex University School of Law in London. She is based in Yangon, Myanmar, working as a business and human rights consultant for Amnesty International.