On May 20, 2019, Cameroon celebrates the 47th edition of its "Unity Festival", commemorating when the country went from a federal state to a unitary state. However, this celebration is taking place in a deep state of national upheaval. What is now known as the "Anglophone crisis " has so far caused more than 1,850 deaths in 20 months of conflict, according to a recent report by the International Crisis Group. Now saying they want the dialogue they have so far opposed, Cameroon's political powers are trying to brush under the carpet international crimes that have been and are still being committed in this conflict. And so it is important to stress that there can be no impunity – the crime of the future -- for the atrocities committed in the English-speaking regions of Cameroon.
The Anglophone crisis was born of a series of demands from teachers, lawyers, magistrates and other professional bodies in the two Anglophone regions of the country, calling for better consideration of bilingualism and the legal tradition of these regions in particular. The ultra-repressive response of the central government, as well as kidnappings and detentions of the leaders of this protest, eventually paved the way for an armed conflict between the Cameroonian armed forces and secessionist groups that had hitherto been marginal. Since October 2017, it has been a disaster. Burned villages have transformed inhabitants, including elderly people unable to flee, into human torches, there have been abductions, massacres of civilians, decapitations, dismemberment of bodies and mass rapes. There are hundreds of thousands of internally displaced people, tens of thousands of refugees in neighbouring Nigeria, frightened and disoriented populations, refugees in the forests and survivors living in inhuman conditions. Photos and videos of the horror abound to the point of nausea on social networks.
No re
concili

ation

without

justice

So far, Cameroonian armed forces and separatist groups have committed these crimes with absolute impunity. No legal proceedings on these heinous acts have been opened in Cameroon or elsewhere. The scale of the crimes and their insufferable nature have only recently decided the European Parliament and the United Nations Security Council to take an interest in the situation in these regions of northwest and southwest Cameroon.

Our purpose here is therefore to warn those responsible for international crimes that they will sooner or later be held accountable for their crimes before the Cameroonian courts or international criminal justice. Under no circumstances will dialogue and national reconciliation be to the detriment of justice. There will be no impunity!

The crimes that have been committed since October 2017 in the English-speaking regions of Cameroon are international crimes. The government uses the euphemism "crisis", rather than admit it is a war. Yet the Cameroonian head of state himself declared war on those he called "terrorist gangs". It is in the same vein that he created, on 30 November last, a National Committee for Disarmament, Demobilization and Reintegration. We are indeed in the presence of belligerent forces in an asymmetric war. Cameroon is, at a minimum, in a non-international armed conflict.
N
ational

justice

compromised

The crimes committed in Cameroon can be analysed as war crimes and crimes against humanity. Persons responsible for these crimes, regardless of their position, are liable to prosecution before the Cameroonian courts and, failing that, within the international criminal justice system.

Cameroonian justice would do itself an honour if it investigated the international crimes committed and sought the perpetrators. However, this justice system under the government's thumb has not shown any willingness to take an interest in what is happening in this conflict. On the contrary, it was used to arrest Anglophone protest leaders and send them to Yaoundé for detention. It therefore seems that it is either unwilling or unable to act in the face of the crimes committed.

The inaction of Cameroon's national justice system paves the way for international criminal justice, in accordance with the principles of subsidiarity and complementarity. These principles ensure that a country's inaction does not lead to impunity and that those responsible for crimes do not find a safe haven anywhere.
ICC is not ruled out
Two mechanisms of international criminal justice can be envisaged immediately for the crimes being committed in Cameroon. The first is the International Criminal Court (ICC).
Some people say the ICC cannot intervene in Cameroon because Cameroon has not ratified the Treaty of Rome, but it should be remembered that the ICC can and must initiate proceedings against Cameroon without delay. Several courses of action exist when the country is not a member of the ICC.
First, Cameroon may decide to accept the Court's jurisdiction over crimes committed in English-speaking regions, without being a party to the Treaty of Rome. But this is unlikely, as Cameroonian state officials are among those suspected of being responsible for the crimes committed. Secondly, the United Nations Security Council, which has now taken up the situation at the request of the United States, may decide to refer the situation to the ICC Prosecutor's Office.
The universal jurisdiction option
The second mechanism is that of universal jurisdiction. This allows any State to prosecute any person suspected of having committed international crimes, regardless of the nationality of the perpetrator, victim or place where the crime was committed, so long as the State has ratified the convention providing for the crime. In the case of crimes currently committed in Cameroon that can be prosecuted abroad, these are crimes of torture, war crimes and crimes against humanity. All countries that have ratified the conventions on these crimes can prosecute Cameroonian officials or separatist groups on their territory. Third countries frequented by these officials, particularly in Europe and North America, must therefore be informed and seized, when the time comes, to exercise their jurisdiction if Cameroonian suspects visit them.
Hate speech
As well as government officials and separatist groups, we must also stop all those who are currently using hate speech, calling for massacres or even extermination, and they must know that they will be prosecuted. Here are some examples: "We must liquidate them all," wrote Cameroonian writer Enoh Meyomesse on January 23, 2018 on his Facebook page and on the website Camerounweb; "Paul Biya is even too kind to English speakers. The Constitution gives him the right to kill everyone to preserve Cameroon's unity," Cameroonian politician Banda Kani said on March 17, 2019 on Afrique Media TV's "Ligne Rouge" programme; "Do you know how many times God the Creator had to wipe out the human race to make his people? God razed Sodom and Gomorrah (...) We do not count the dead, we count the active Cameroonians every day who survive in blood and water so that this people can live," said Essomba Begono, a deputy leader of the ruling RDPC party on May 13, 2019 on Equinoxe TV's "Equinoxe soir" programme.
Attacking and burning villages, turning people into human torches, indiscriminate and widespread attacks on civilians, committing large-scale rapes, arresting and executing people portrayed as combatants and subjecting populations to life-threatening conditions is not warfare. These people, thus massacred, are not military objectives! Those who commit these crimes in English-speaking regions cannot, at any price, get away without facing their responsibilities before the courts. It is about the common humanity that we all share with the victims of these horrors. This is about our common dignity as human beings. Sooner or later, here or elsewhere, there must be justice!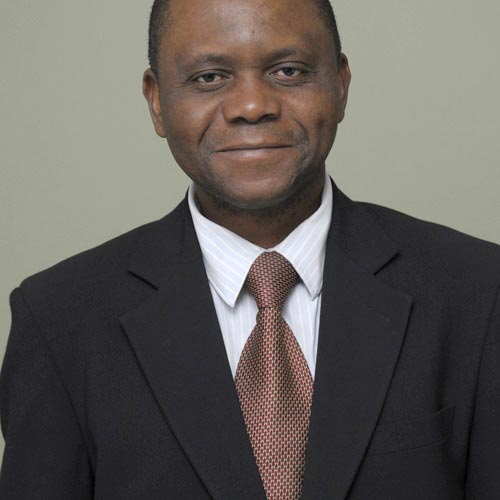 HUGO MOUDIKI JOMBWE

Hugo Moudiki Jombwe is an expert on international criminal law and human rights. He worked for many years in Rwanda, as well as for the Hissène Habré trial in Senegal. He is currently the country director of the NGO RCN-Réseau de citoyens in Rwanda.