Heavy rain beats on their tent. No sooner had they returned to their village, Oum Abdelahrman and her family took a shovel, dug a trench and piled up earth to stop water getting in. After four winters in displacement camps, they seem to know what they are doing. "The main thing is that we've returned home. It's been too long," says Oum, the grandmother, raising her eyes to the sky as if to thank God. The Abdelahrman family, four of whose members were fighters in the Islamic State (IS), was finally allowed to return to Aitha, a village in the north of Salahadin province. "My sons joined Daesh," she confided, without fear.
Her Jihadi husband and sons did not have to face justice. They were in the same area when they were killed by an air strike in 2017. After that, the family lived in Jeddah 5, a camp for displaced persons in the neighbouring province, until the local authorities and village residents agreed to their return. "We thank the village and the authorities for allowing us to return. You can't imagine how happy we are to be accepted again," said Mahdan, an uncle of the Jihadi sons who did not join the terrorist organization.
Reconciliation between inhabitants
After four years of war, the return of IS-affiliated families seems essential for the establishment of a lasting peace. But this return raises the question of reconciliation between authorities and populations as much as between inhabitants of the same area. For this, the government is counting on the local authorities. "The government is playing its role to put an end to Daesh's ideology, and we are participating in this by letting the families return," says Mohamad Barzan, a sheikh and teacher from the same village. "There are families here who have lost relatives because of Daesh, but they are aware that if the children [of the Jihadists] are isolated, they will do the same thing as their father. It is important to create a climate of peace."
So why didn't Oum Abdelahrman and her family return home before? Why is it that some families can return to their village of origin and others cannot? Three main, interdependent conditions determine their return. They must obtain a security clearance, issued by the local authorities, who may or may not conduct an investigation among other inhabitants. The return to normal life also depends on obtaining identity documents, which are essential for the children's enrolment in school or for access to healthcare and hospitals. But tens of thousands of children were born under the IS Caliphate and never had papers, as Oum Abdelahrman testifies with a lump in her throat. "I am very worried about my grandchildren," she says. "They no longer have parents, have no papers and cannot go to school. What will become of them?"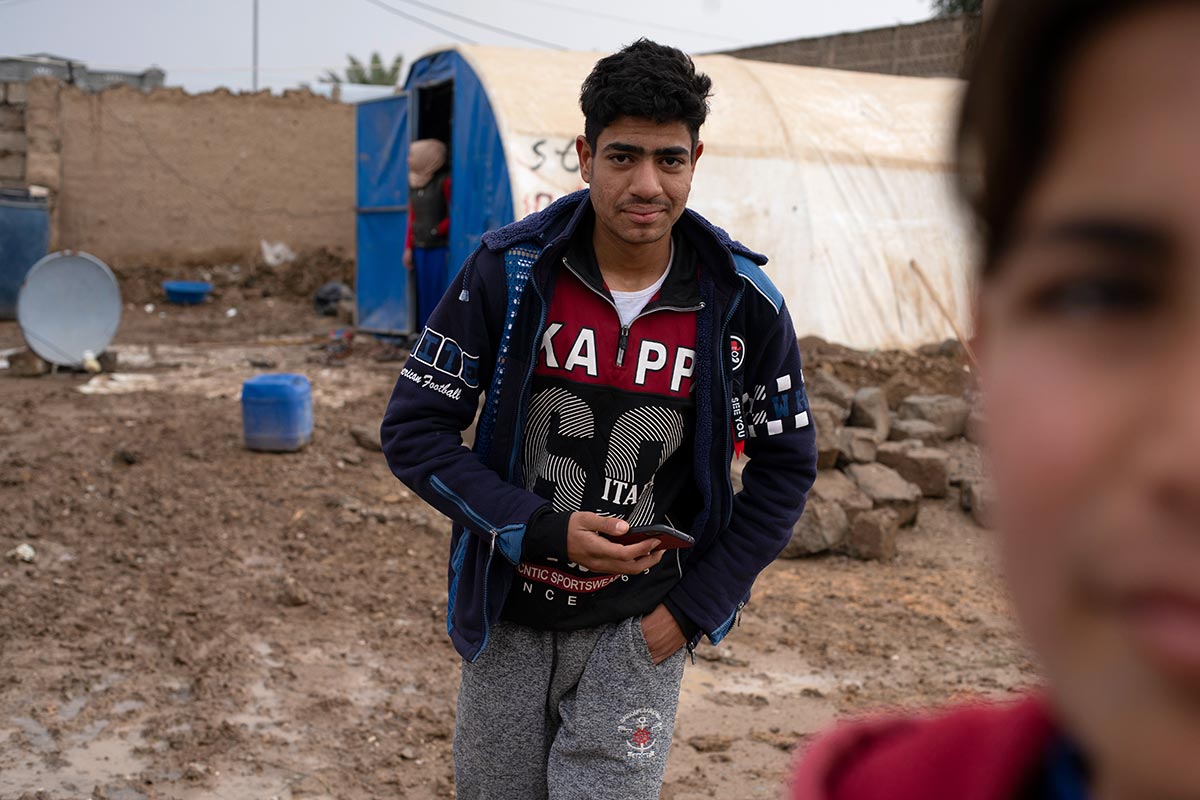 Tribal justice mechanisms
Community representatives such as the sheikhs and mukhtars have introduced different mechanisms specific to tribal justice, as explained by Stanford historian and specialist in Iraqi tribal Mélisande Genat.
First of all, there is the "Tabri'yya", the disavowal: to be accepted again by the community the family must reject the one who joined IS or committed a crime, in principle with no going back. "Before 2014, Tabri'yya was done informally. Today, families are required to sign certificates in order to return home," says Genat. This is the case of Abdelahrman's family, who waited four months before being able to obtain it. "We were still in the camp [in Jeddah 5] when we started the process and finally got the certificate," says the relieved grandmother.
Then there may be "Diyya", monetary compensation to settle a crime, which in some cases must be paid. "Blood money" is in principle not requested from families affiliated to IS, due to lack of evidence for some and lack of money for others. But it often happens that other members of the community demand compensation. Although Diyya has not been applied in Aitha, the sheikh confided, under the gaze of a dozen other men, "we are a tribal society. We all come from the village and everyone knows each other. We solve problems between us. It's not like in the big cities".
Tribal justice in Iraq: "Welcome the children of Daech, rather than let them become enemies"
In this report, inhabitants and families affiliated to the Islamic state talk about the dignified and warm conditions in which their return was made possible, thanks to tribal justice, in the village of Aitha, located in the province of Salahadin in northern Iraq.
Iraqi law and tribal law
Tabri'yya and Diyya clearly engage collective responsibility, whereas under Iraqi law a family cannot be held responsible for crimes committed by one of its members. The use of these mechanisms could suggest that the government wishes to offload an excessive burden by delegating some of it to communities. However, as the historian explains, Iraqi law and tribal law are not hermetic, on the contrary. "For example, if the tribes reach reconciliation between families, agree on compensation and there is a withdrawal of complaint, then the judge can order a reduction in the sentence of the person being tried," says Genat. "There is personal law and state law. When a complaint is withdrawn, personal law is no longer engaged. All this is written in the penal code."
While the combatants themselves routinely go through the criminal justice system, many families are unable to return to their home villages because of the application of tribal law. Since not everyone can or wants to do Tabri'yya, thousands of women and children remain condemned to exile. These different mechanisms serve a punitive function, while protecting some families from possible reprisals. "On February 8, a family that had left the camp a few days earlier returned after being attacked with a grenade by their neighbour," says the head of a humanitarian organization active in Jeddah 5, who wishes to remain anonymous.
The upcoming closure of Iraq's last IDP camp raises fears of further acts of revenge, which the tribes and the state will have to face.