In its report, released on March 16, the Independent International Commission of Inquiry on Ukraine says Ukrainian and Russian officials have declared that thousands of children have been transferred from Ukraine to the Russian Federation since 24 February 2022, "with figures that vary greatly". Ukraine puts the figure at 16,221 by the end of February this year, but the commission says it has not been able to verify these figures.
Russia says this is for humanitarian reasons, but the commission disagrees. "The Commission has concluded that the situations it has examined concerning the transfer and deportation of children, within Ukraine and to the Russian Federation respectively, violate international humanitarian law, and amount to a war crime," says the report.
Russian officials have taken legal and policy measures regarding Ukrainian children transferred to the Russian Federation, the report states. These include the granting of Russian citizenship and the placement of children in foster families, "which appears to create a framework in which some of the children may end up remaining permanently in the Russian Federation". It cites Maria Alekseyevna Lvova-Belova, Russia's Presidential Commissioner for Children's Rights also subject of an ICC arrest warrant with Putin, as saying in a July 22 media interview that "now that the children have become Russian citizens, temporary guardianship can become permanent".
Asked on Thursday in Geneva if the UN inquiry has shared information with the ICC, commission chair Erik Møse of Norway told Justice Info it had not yet received any ICC requests. The commission's mandate includes preserving evidence for "future legal proceedings".
"Children expressed profound fear"
The three-member UN commission says it has identified three main situations in which children are forcibly transferred: children who lost parents or lost contact with them during hostilities; who were separated after a parent was detained at a filtration point; and children in institutions. It says it has reviewed incidents concerning the transfer of 164 children aged from four to 18 years from the Donetsk, Kharkiv and Kherson regions. The commission concludes that these transfers were not justified by medical or security reasons, and that Russian authorities made it difficult for parents and children to re-establish contact. The onus fell, in most cases, on the children and, according to witnesses "many of the smaller children transferred have not been able to establish contact with their families and might, as a consequence, lose contact with them indefinitely".
Parents also told the commission that in some places of transfer children wore dirty clothes, were screamed at, and called names, says the report. "Meals were poor and some children with disabilities did not receive adequate care and medication," it continues. "Children expressed a profound fear of being permanently separated from parents, guardians, or relatives."
Crimes against humanity?
Deportations of children is just one of a litany of war crimes the commission deems Russia has committed in Ukraine, including wilful killing, attacks on civilians, torture and sexual violence. The report cites possible crimes against humanity with regard to attacks on Ukraine's energy structure since October 2022 and patterns of torture, especially in detention centres.
Crimes against humanity are defined in the statutes of international criminal tribunals, including the ICC, as grave crimes "committed as part of a widespread or systematic attack directed against any civilian population, with knowledge of the attack". At a press conference in Geneva on March 16, commissioner Pablo De Greiff of Colombia said that the commission is "now in a much better position to establish patterns" of crimes, compared with its previous report in September. It has extended its investigations from the initial four regions of Ukraine to nine. It says it has conducted both in-person and remote interviews with 595 individuals, 348 of them women. Sites of destruction, graves, and places of detention, among other sites, were inspected by the commission, which also consulted documents, satellite images, and videos.
However, the commission did not go as far as stating that Russia has also committed crimes against humanity in addition to war crimes. It says this needs further investigation.
List of suspects
In addition to its report, the commission says it has drawn up a separate list of individuals and military units suspected of crimes and violations of international humanitarian and human rights law in the Ukraine war. This is a "work in progress", said De Greiff.
This list is confidential and appears, at least for the moment, to concern Russian soldiers on the ground in Ukraine. But chair Møse says the commission is trying to establish a pattern of command.
"When we know the individual perpetrators – we know their names from testimonies of witnesses or other documentation – the next question is whether this is something which goes higher, for instance to a commander of the relevant military entity," he told Justice Info. "And we are then trying to see whether we can identify the leaders of such entities. The next question will then be, is it possible to go even higher?"
The commission says it will submit this list to UN High Commissioner for Human Rights Volker Türk of Austria.
Ukrainian accountability
Accountability for some crimes and abuses on the Ukrainian side is also important, says commissioner Jasminka Džumhur of Bosnia and Herzegovina. The report cites two already known cases of Ukrainians shooting Russian prisoners of war, which it says qualify as war crimes.
The report also expresses concern about alleged torture and ill-treatment of collaborators. Since February 24, 2022, Ukraine has opened thousands of investigations into allegations of collaboration with Moscow and treason. As Justice Info has reported, its courts have already handed down dozens of convictions.
"Individuals suspected for collaborative exercises and activities allege that they have been subjected to ill treatment of various kinds," Møse told Justice Info. "That is something we have not been able to conclude upon, because we have not yet any corroboration of it. But that's something we are concerned about, and that we recommend for further investigations."
Victims' registry and missing persons
As well as criminal accountability, the commission's report also stresses the need for non-judicial forms of justice, including truth and reparation. It recommends that the Ukrainian authorities start a registry of victims now, without waiting for an end to the conflict.
"What we saw in our communication with victims, but also based on our experience from other mandates and my experience from Bosnia Herzegovina, is that it's important in this stage of conflict to provide immediate recognition of victims in law and in practice," Džumhur told Justice Info, "because if you don't do it on time and establish a registry of victims for later criminal accountability, it will be very difficult."
She says Ukraine should create this index "to avoid duplication and repetition of testimonies and to prevent the suffering and trauma of victims. It is a lesson learned from other countries in conflict".
While the commission recognizes that some forms of transitional justice are hard to implement before the end of the conflict, she also thinks there are other things that can be done now. "When we are speaking on truth, we are also talking about paying attention to missing persons," she told Justice Info. "Information can be provided for their relatives now, and both sides can create a registry of missing persons to establish cooperation and provide relatives with information."
The commission was established in March 2022 and given an initial one-year mandate. The UN Human Rights Council will discuss its report on March 20, and may decide to extend the commission's mandate.
Who is Putin's co-accused Maria Lvova-Belova?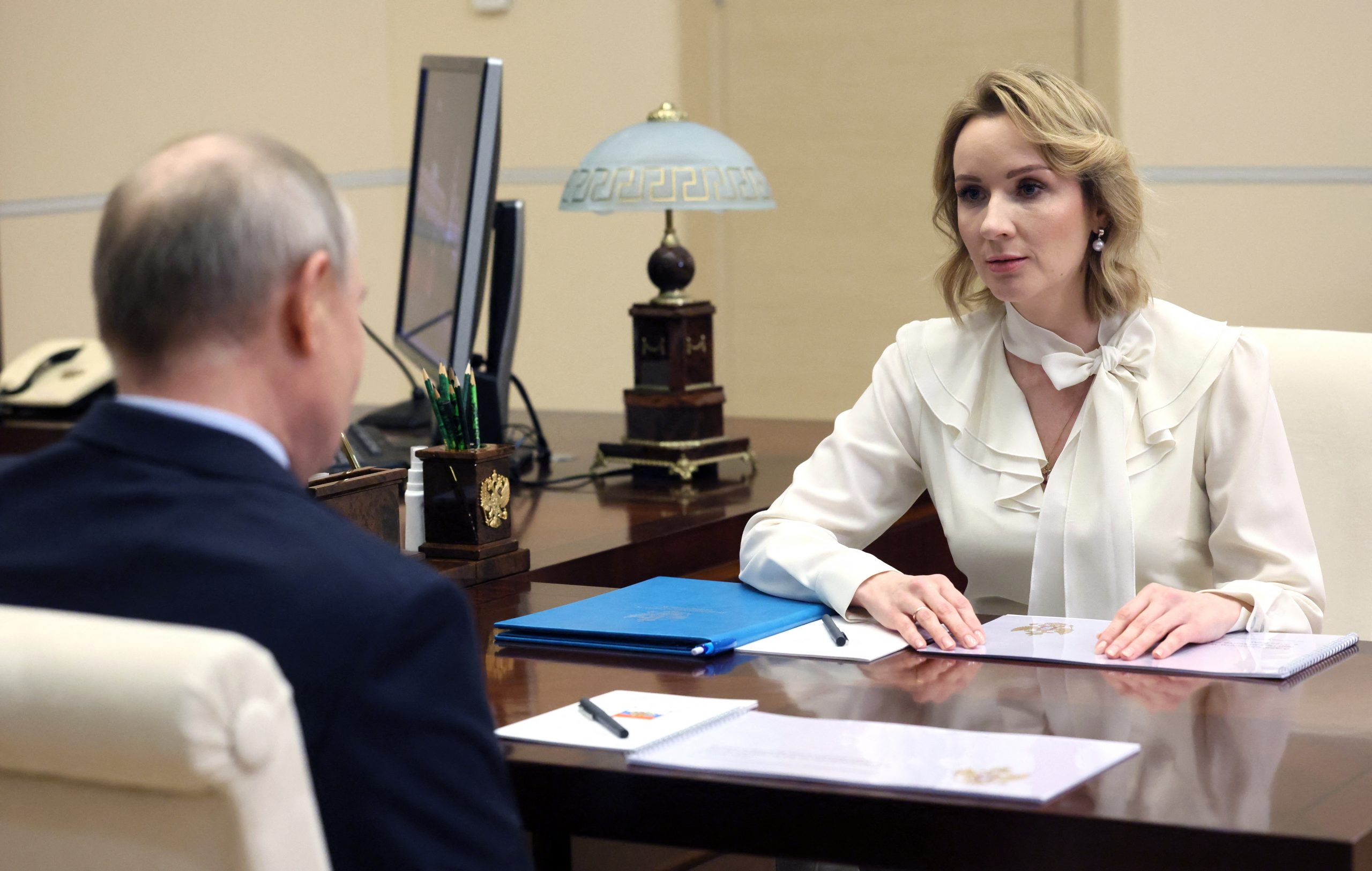 (Crédit: Mikhail METZEL / SPUTNIK / AFP)
Russia's Commissioner for Children's Rights Maria Lvova-Belova is co-accused with Russia's president Vladimir Putin by the International Criminal Court over the deportation of Ukrainian children to Russia. Based on reports from independent Russian outlets, notably a profile published in Verstka, military history author and researcher ChrisO_wiki has summarized an account of Lvova-Belova's background and rise in the Russian state apparatus.
Born in Penza in 1984, she married her husband Pavel Kogelman, then a programmer and now a priest, at the age of 19. She went on to have 5 biological children, adopted another 4 and by 2021 had become the guardian of a further 13 children with disabilities. She co-founded a charity for the adoption of orphans with Anna Kuznetsova, her future predecessor as children's commissioner.
Lvova-Belova joined Putin's All-Russian People's Front in 2014 and soon rose to lead the Mothers of Russia organisation. She continued to work for charitable causes in Penza, but when her friend Kuznetsova became children's commissioner in 2016, her funding surged. With funding from federal and regional grants, companies and oligarchs, she established new projects for children and orphans with disabilities. One project, the "New Banks Art Estate", was reported to have cost 190 million rubles ($2.46 million).
Lvova-Belova was awarded the Order of the Holy Equal-to-the-Apostles Grand Duke Vladimir III by the Russian Orthodox Church and joined the Civic Chamber of the Russian Federation, advising the government. In 2019 she stood for election to the Penza City Duma (council) and won. She subsequently became a senator in Russia's senate, the Federation Council, representing the Penza region. She was appointed Commissioner for Children's Rights in October 2021, replacing Kuznetsova, who had been elected to the State Duma. According to Verstka, her candidacy for the post was supported by powerful figures in the Russian Orthodox Church.
On 11 March 2022, she wrote on her personal Telegram channel that Putin "unconditionally supported the possibility of placing orphans from Donbass in Russian families." She signed an agreement with Eleonora Fedorenko and Yulia Nazarenko, the Commissioners for Children's Rights of the Donetsk and Luhansk 'People's Republics' in occupied eastern Ukraine, to allow for the relocation of children from both regions to Russia. She personally accompanied children being taken from the occupied territories and handed them over to Russian foster families. In August 2022, she adopted a 15-year-old boy named Philip, who had lost his Ukrainian foster family during the Russian attack on Mariupol.
In response to her indictment by the ICC, Lvova-Belova has written: "I am glad that the international community has appreciated our work to protect children. The fact that we surround them with care and loving people. And it's especially nice to be on the same team as Russian President Vladimir Putin. We will continue to work further!"