On a cold day in March 2023, 20-year-old Angelina Dovbnya. was walking in Kremenchuk with a large teddy bear in her hands. She was joyfully recording a video in which she thanked her interlocutor for the gift. As it turned out later, the money for the toy had been sent to her by a Russian special agent. At his request, she was documenting infrastructure and military facilities. While fulfilling one of these "tasks", the girl was apprehended by the Ukrainian intelligence services, the SBU. She was accused of treason.
Angelina is originally from Pavlysh, a town near Svitlovodsk in the Kirovohrad oblast, in Southern Ukraine. She graduated from a secondary school in neighboring Kremenchuk, Poltava oblast, where she lived while studying. She then studied at law school but was expelled after two years. At the time of the full-scale invasion by Russia in February 2022, she wasn't engaged in anything and lived in Kremenchuk and Kyiv, spending her time with friends.
In February 2023, she received a message from an individual who introduced himself as a Russian officer named Igor Ruskikh. He offered money in exchange for videos and coordinates of military and infrastructure facilities. According to the investigation, the young woman agreed. She was not secretive about her pro-Russian views. She had named her profile on TikTok "Russianlady" and stored videos of Russian soldiers and the Russian president.
The investigation classified her actions under two articles: high treason under martial law and justification of Russia's armed aggression. The case was heard by the Svitlovodsk City District Court. Since March of this year, she has been held in a pre-trial detention center by court order. The indictment was filed in August. Between August and October, the court examined the evidence in the case and heard witnesses and the testimony of the accused.
The case may be revealing for understanding how young people who grew up in independent Ukraine and were seemingly unaffected by the "soviet genome" could decide to collaborate with the enemy and betray their homeland. It also reflects a tendency that appears to have emerged in the work of Ukrainian law enforcement agencies. The young woman pleaded guilty and signed a petition to be included in the exchange lists between Ukraine and Russia. This suggestion was apparently given in the pre-trial detention center where it was explained to her that the exchange was only possible after the verdict, while a prompt trial would be held if guilt is admitted. Those accused of treason are often willing to trade a guilty plea for their inclusion on exchange lists in order to leave for Russia after being sentenced. Some consider this procedure as legally dubious, since Ukrainian civilians are not prisoners of war, who are typically exchanged for military personnel.
Filming "sand castles"
On September 12, the court examined the correspondence between the accused and the Russian, as well as the files from her cell phone. In February and March, Angelina's contact requested her to film infrastructure and military facilities in Pavlysh, Svitlovodsk, and Kremenchuk. The investigation documented at least 10 occasions when she took pictures or passed information to the Russian.
She specifically documented a power substation, military units, administrative buildings, checkpoints near a defence facility and a strategic bridge in Kremenchuk. She went to the sites in person and also found information on Telegram channels. In particular, she transferred a file with a fragment of a map showing the location of checkpoints near the Kremenchuk Oil Refinery: an arrow pointed out where it was possible to pass, and a circle indicated where the passage was restricted.
In her native Pavlysh, she documented a railway station and nearby warehouses, and in Svitlovodsk, the building of a defence contractor. This last location may have been recorded by accident. Allegedly, the bus from Kremenchuk that she took on her way home broke down and got stuck in Svitlovodsk. So, she seized the opportunity and took a picture of the facility's facade from the bus window.
The girl said she found the photos of the oil storage site in Oleksandria on the Internet. In order to get money from Igor, she changed the date of the file and sent it to him. She said: "I followed a fraudulent path, I wrote that I was there, but I just found the pictures on the Internet. Yes, he believed me." Igor also asked to verify the local quarries, and for the sake of the conspiracy he called them "sand castles".
The court examined the videos that the accused made. In addition to the recorded facilities that the Russian was interested in, they also contained Angelina's personal thoughts. For example, in March, she recorded a message in which she told him that everyone judged her and that she hated the Ukrainian security services. She told Igor that "everyone knows what is good and what is evil." She also said that she had spent all the money he had sent her, as she had "never been able to live at a low cost." A generator roared in the background. There were long power cuts in March due to Russian strikes.
"A peculiar and silly girl"
Another court file documents Angelina recording a video for Igor near the former "Amstor" shopping center in Kremenchuk saying: "It's not yet clear who shelled it. But they are already making some kind of warehouse here." 22 people were killed in the Russian strike on the shopping center on June 27, 2022.
In addition to the mentioned files, the court examined the woman's page on the social media platform TikTok. She posted videos about the Russian military and Vladimir Putin. According to the court expert's conclusion, the posts justified Russia's armed aggression, which is a criminal offence in Ukraine. Angelina insisted that the videos were not publicly available and were only for her private viewing. However, she confirmed that at the request of two of her friends, she showed them what was on her profile page.
Both friends testified in court. One said that she stopped communicating with Angelina when she saw she had taken selfies in front of Russian soldiers and flags. Another friend testified that according to Angelina, she had some kind of job in Kremenchuk and had traveled to Russia, where she had friends. He described her as a "peculiar and silly girl".
Another witness said that in March Angelina asked him to give her a ride from Kremenchuk to Pavlysh because she had bought a large teddy bear. On the way, he needed to stop by a quarry for a work-related matter. Later he found out that she had taken a picture of the site.
Recruitment in Mariupol
An interrogation of the accused was held on September 27. During the interrogation, Volodymyr Leshchenko, the prosecutor of the Kirovohrad Regional Prosecutor's Office, learned additional information about how Angelina took the path of treason. She said that a month before the full-scale invasion, she went to Crimea – a part of Ukraine annexed by Russia in 2014 – with her friends for a vacation. On her way back home, she ended up in Mariupol, the main Ukrainian city on the Black Sea that got attacked and eventually invaded by Russia at the beginning of the 2022 war. Angelina said she was hiding in basements because of the hostilities. One day, the Russian military found her and took her for further verification. She spent some time in Mariupol, "volunteering". Then she started asking to be allowed to go home. She was released with the requirement to sign a document about confidential cooperation.
According to the accused, when she was already in Pavlysh, she received a call from the above-mentioned Igor, who said that he had seen her in Mariupol. He asked her to cooperate with Russia. At first, she refused. Soon he called again, but from a Ukrainian phone number, reminded her of the signed document, said that she was now a collaborator and had to cooperate.
The woman admitted that she was working to make money. At first, Igor sent her 2 to 3,000 hryvnias (between 50 and 80 euros), and later 20 to 30,000 for each location. In total, she received about 150,000 hryvnias (about 3,900 euros).
"Do you understand the consequences of your actions and what is happening in our country?" asked prosecutor Leshchenko.
"I understand the consequences and understood them then. All I had in mind were these finances. Yes, I was worried that my father might die and I asked him to take days off work since I was doing this job," the accused replied.
She also said that she communicated with Igor via video and he would show her the areas to be checked on maps. She mentioned that most of the locations she filmed did not have any military personnel or equipment, and she was sending "at least some material to get the money." She wanted to "gain his trust so that he liked her and sent more money."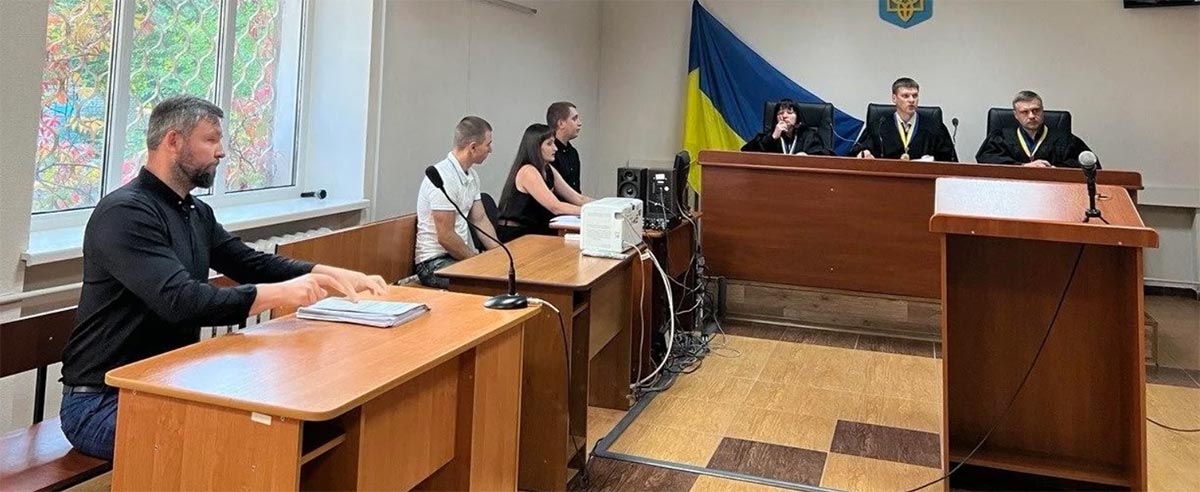 Trying to understand Angelina
The defence lawyer Viktor Pogribnyi, hired under a contract with the Free Legal Aid Center, asked her client about her motives. She repeated that she wanted to make money. The lawyer also wanted to know whether there had been any missile strikes on the locations she had sent the coordinates of. Angelina denied it. However, the prosecutor insisted upon the court's withdrawal of this question, as the accused may not be aware of all the information.
The panel of three judges addressed a number of anthropological questions to find out how the accused ended up in the dock. The court was interested in the girl's education and her mindset. She said that when she was in secondary school in Kremenchuk, everyone spoke Russian and "it was not a problem." She said she often went on vacation with her aunt to the annexed Crimea, as well as to visit friends in St. Petersburg.
"When did you develop the idea that Russia is a blessing and start acting against Ukraine?" Judge Tamara Harmash began the interrogation.
"Well, it just happened that way, I liked it better," Angelina replied.
"Nothing happens by itself. Perhaps there was some influence on you? You are a young girl. We have all kinds of people in such cases. There are those who are nostalgic for the Soviet Union and their youth. What were your reasons?" the judge asked.
"Well, I have some friends in Russia."
"Where and at what age were you in Russia?"
"In St. Petersburg, when I was 18 years old, and I visited it again later."
"Look, when the hostilities in Donbas [Eastern Ukraine, where the war started in 2014] were ongoing, there was still a direct way to get to Russia. Why didn't you leave then if you are such a patriot of Russia?"
"I wanted to be with my mom more. Nothing was stopping me from traveling back and forth."
"You know very well what happened in "Amstor". Perhaps someone you know was there?"
"Yes, my friends died."
"Probably, a strike coordinator just like you was filming there. What if you were there, or your mother, the one you love very much? In the video you made near the place where people died, you explain to Igor that it "got smashed," although you used a different word. You said it with a certain satisfaction. What is happening to your mind, what kind of person are you?" the judge asked.
"No, I can't explain," the accused said.
"Does your mother live in Pavlysh?"
"Yes, with my stepfather. We have a good relationship."
"So, you filmed various sites, but you also filmed Pavlysh, where your mother lives. What were you thinking when you were filming it? That you will not be hit, or did Igor tell you that? Did you realize that there was no way back: you transmit it, and tomorrow death would come. Perhaps it would come for you. Were you ready to die for Russia?"
"No."
Hoping to be part of a prisoners' exchange
"You want to go to Russia in an exchange [of prisoners]. We want it too because we'd rather have our soldiers protecting us. What will you do there? Who needs you there?" the judge continued.
"I don't know how the circumstances will turn out: some are sent to serve, some are released."
"You have just said that Igor paid you money, but you sent him photos from the Internet. In fact, you were committing fraud. Aren't you afraid of being held accountable for this in Russia?"
"No, and how would they know?"
"You are so smart and experienced. Do you think you will go to your beloved man?" (probably meaning Igor).
"No, I have people to go to there, many acquaintances."
"When you were interested in these political events, you must have seen Putin's interview, where he said that he does not forgive treason. So, for him, you are also a traitor."
"Well, so be it. I still want to go ahead with the exchange."
"And you are ready to become a Russian soldier?"
"Yes, I am."
"And go shoot at our soldiers?"
"Well, what if they shoot at me?"
"But you had a choice. You were in Ukraine, yet you continued your activities."
"But I had the terms that I signed for in Mariupol."
"Yes, maybe you were recruited. So, were you afraid to die or did you want the money?"
"I was afraid to die."
"You had no choice?"
"Well, if I have a choice, I'll do things differently."
"I'll shoot at my friends of course"
Judge Yuriy Melnychyk continued the interrogation. Among other things, he asked her how she traveled to Crimea. Angelina told him that shortly before the 2022 invasion, her boyfriend, who served in the Armed Forces, sent her "a large sum of money". She said that he died during training shortly before the full-scale war.
The judge also asked her to explain why she was keeping videos of the Russian military. The accused said it was difficult to explain, claiming that she just likes the servicemen.
"According to the expertise, these videos justify the aggression of the Russian Federation. Do you support this?" the judge asked.
"Yes and no. I cannot not support it and I cannot support it."
"Do you like what is happening in the country now?"
"No, who can like it?"
"Do you repent of your actions? Can you explain?"
"Yes, I do repent. It could have led to consequences for people. I do not repent of the rest of what I did."
"If you were now free and asked to film similar facilities, would you do it?"
"No."
"There is a possibility that after conviction you may not be exchanged, do you realize that?" judge Vitaliy Ivashchenko then asked.
"Yes, I am not afraid of it."
"Are you not afraid of life imprisonment?"
"No, and what should I do, cry? Or deny it? I can't change anything."
"Understand that you are accused not just of recording videos, but of treason. Do you plead guilty to the fact that you do not recognize Ukraine as an entity?"
"Yes."
"So, if I understand you correctly: everything you did, you did it in order to make sure that Ukraine would cease to exist as a state and you would only see Russia in front of you? Plus, you like the Russian servicemen and the money they paid you?"
"I want to see Ukraine as Ukraine and Russia as Russia. And what I did was not for the benefit of Russia, but only for the sake of money. I did not want to destroy Ukraine."
"Did Igor explain to you why he needed the coordinates?"
"He said in order to destroy the factories."
"Isn't that the same thing? You said that if you were sent to the front from Russia and had to shoot, you realize that your friends could be on the battlefield?"
"Well, what if my friends point a gun at me? Should I just watch?"
"So, what choice will you make?"
"[I'll shoot] at my friends, of course..."
Maximum sentence
The closing arguments in the case were heard on October 11. Prosecutor Leshchenko asked to find the accused guilty of both charges and sentence her to life imprisonment with confiscation of property. He noted that in the diaries seized from Angelina in the pre-trial detention center, she wrote that she missed Igor. This, he said, showed that she had not taken the path of redemption.
"Since the end of 2022, there has been massive shelling of infrastructure and of everything that exists. We see what crimes Russia is committing. For this purpose, they employ such agents. Recently, a terrible event happened in the Kharkiv oblast when they started killing entire villages. I believe that good should be done with fists, and the punishment for this kind of people should be severe," said the prosecutor.
Defence lawyer Pogribnyi asked the court to declare a number of evidence and materials of covert investigative actions inadmissible, because, in his opinion, they were prepared improperly. He emphasized that the accused admits committing high treason and denies glorifying the occupier, as the video was private. He requested that his client be sentenced to the lower limit of the sanction stipulated in the law.
During her final speech, Angelina said about the diary mentioned by the prosecutor, that she wrote it during the first weeks of her detention, when she was disoriented.
"I am not a state servant and did not pledge allegiance to this country. I do not have the great honor of posting slogans like "Russian warship" and so on, on posters in Ukrainian cities [a reference to a defying act of resistance by Ukranian Marines on Snake island early in the war that is now the theme of postcards and posters in Ukraine]. I am not a Ukrainian soldier to shout "Glory to Ukraine". I am not a Russian soldier to shout "Glory to Russia." Just glory to God. I'm done," the accused said.
On October 13, the court ruled on life imprisonment and confiscation of property. Angelina's parents came to the sentencing. Everyone accepted the court's decision in silence. According to her lawyer, Angelina objected to her family being present at the trial. When asked why, he suggested that "she was just ashamed".
---
This report is part of our coverage of war crimes justice produced in partnership with Ukrainian journalists. A first version of this article was published on the "Sudovyi Reporter" website.