When the thirteenth witness at Gambia's Truth Commission, Omar Jallow, appeared before the nine commissioners on January 28, he not only gave a compelling testimony but also raised one big question in the minds of Gambians: Who tortured this veteran politician?
Jallow told the Commission that one Bubacarr Bah, a soldier he saw on television recently being promoted to captain, tortured him, breaking his eye socket.
On February 12, the question was answered. Captain Bubacarr Bah appeared before the Commission. He confirmed Jallow's account.
Jallow, an agriculture minister under both presidents Dawda Kairaba Jawara and Adama Barrow, was among 47 people the military arrested in October 1995 and detained at the Fajara barracks, a military encampment about 20 minutes' drive from the Gambian capital Banjul. Inside the barracks is located Gambia's Armed Forces Military School. Bah, then a sergeant, worked there as a military instructor.
"Very regrettable"
"Few of them [the detainees] were isolated and they were already asked to undress and I went close to OJ [Omar Jallow]. I punched him in the stomach and he bent down and I started beating him with my hands," said Bah. "I reached for a truncheon and I was hitting him mercilessly on all parts of his body – his head especially, his feet and the body. And then he fell down and I kicked him also." As he narrated, Bah broke into tears. "Very regrettable," he said after a few seconds of silence.
Bah tortured the veteran politician with a childhood friend called Almamo Manneh. Almamo and Bah went to the same primary school. They both lived in Bunyadou, a village in the North Bank Region of the Gambia. "Almamo Manneh told me that he [Omar Jallow] was the main man, [that] they [were] working on bringing mercenaries into the country and Gambians [would] suffer," Bah testified. Lieutenant Manneh was reportedly a close friend of Gambia's dictator at the time,Yahya Jammeh. He was later killed for allegedly organizing a coup, in January 2000.
Bah said he was young and gullible. He believed his friend. "I was very naïve, really, and I do not have anyone to blame but myself. It was my duty to verify the information I was given. On three occasions I was involved in beating him," he confessed. "In my mind, I feel guilty. Anytime I [see] OJ on television or in newspapers, I feel so bad. What OJ said about me before the Commission is true." He also said that this was the last time he was involved in torturing anyone during the 22 years of Jammeh's dictatorship.
Amnesty for torture?
"I would like to ask one last question before we move on to your victimization, and that is in relation to the issue of amnesty. Is that something you are willing to apply to the Commission for?", the deputy lead counsel of the Commission, Horoja Bala Gaye, asked Bah during the session.
"Indeed, I want to apply…," said Bah.
Bah is the first perpetrator to have confessed to committing a crime before Gambia's Truth, Reconciliation and Reparations Commission since it started its public hearings on January 7. The Commission's communications officer, Essa Jallow, told JusticeInfo.Net that no one has so far applied for amnesty before the Commission. It is not clear though for what crimes the Commission's Amnesty Committee, in charge of reviewing applications, can or can't consider for eligibility.
The humiliation of Mamadou Cham
At the Fajara Barracks where Omar Jallow was tortured by Bah and others, another minister under the former People's Progressive Party government, Mamadou Cham, was stripped naked and whipped. Though the 80-year old man did not mention Bah as among his torturers, he was tortured at the same place and time with Omar Jallow. "My clothes were soaked in blood," Cham said to the Commission. "I felt humiliated and disgraced. I felt very bad. This [treatment] was done to me by people I can [be the] father." (Cham partook in the country's independence negotiations from Britain.)
Also among people tortured alongside Jallow was Sainey Faye. A civilian accused of being part of a group planning a coup, he was arrested and detained for twenty-three months, illegally, without a day in court or legal representation. Faye said he suffered a broken leg during his arrest, and was left untreated for many weeks. He submitted a list to the Commission of twenty-two detained colleagues who died and six others who are currently "bedridden".
SUSPICIOUS RENOVATION AT THE SPY AGENCY

The Truth Commission probing the human rights violations of former dictator Yahya Jammeh has on February 15 visited the headquarters of the notorious National Intelligence Agency (NIA) in Banjul. Now renamed State Intelligence Services (SIS), the agency's main office was used as a torture center under Jammeh, according to witnesses. Nine former officials of the institution, including the former director, are currently on trial for the murder of opposition activist Solo Sandeng.
The TRRC visit included two investigation cells, the staff clinic, an interrogation room, and the most infamous detention cell, called "Banba Dinka", meaning sanctuary or ditch of a crocodile in Mandinka language.
Dozens reportedly met their death or were tortured severely at the NIA. Ironically, the compound shares a fence with the country's Justice Ministry and is opposite to Supreme Court. "Atrocities were carried out here, brutalities, from what the witnesses were saying," said Lamin Sise, chair of the Truth Commission, as he met the director general of SIS, Ousman Sowe.
Tampering with evidence
Since the appointment of General Sowe – who has served the institution for 24 years, including as head of investigations – renovation work has begun within the complex. Some suspect that the renovation could amount to tampering with evidence. Sowe denied it. He showed the Commission pictures of the structures as they have found them to enable the Commission to compare them with the new ones. The Commission nevertheless asked for all renovation work to be stopped. "We have come with a cease and desist letter to request you to stop transforming certain facilities of interest to the TRRC," said Essa Faal, the Commisson's lead counsel. "Has it ever been brought to your attention that this transformation that you embarked upon would have an impact on future investigations?" he asked. "No," replied Sowe.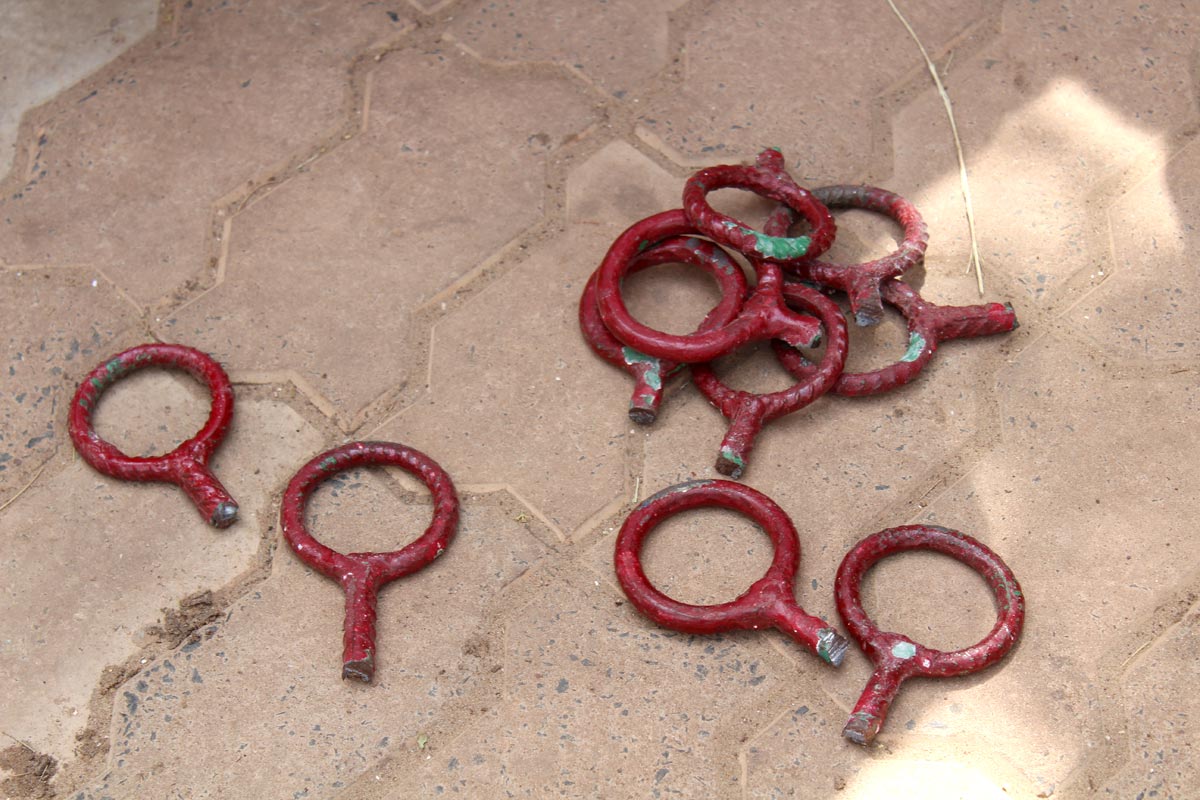 Sowe said that they have not rehabilitated Banba Dinka and two detention cells. However, Commissioner Adelaide Sosseh observed that the floor at Banba Dinka was fairly new while the walls of the building are older, suggesting the floor may have recently been plastered with cement. Some former detainees at the SIS told the Commission of an underground cell and an electrocution machine but by Sowe's account no such things exist. The director showed the Commission ten red hooks that were removed from a wall of one of the buildings. He said that while he did not know what they had been used for, he was nevertheless uncomfortable with them. "I think it is a relic of abuse and torture," Sowe said as he explained why they removed them. "Where it is located, one can only stand or squat. And if one is hooked to this for an extended period of time, it becomes torture," said Faal. All senior officers of the NIA claim no knowledge of how the hooks were used and for what. Sowe said that similar equipment was found in one of their safe houses at Jeshwang, a town about 15 minute drive from Banjul.