For many Gambians, this was going to be a big day. The Truth, Reconciliation and Reparations Commission had announced on its Facebook page that Yankuba Touray, a key member of the Armed Forces Provisional Ruling Council (AFPRC) that took power in Gambia in 1994, was about to testify. The TRRC hall became full to capacity until some people had to be asked to leave due to lack of space. Yankuba Touray, a former Local Government minister, was implicated by several witnesses in the killing of Gambia's former Finance minister Ousman Koro Ceesay as well as a dozen soldiers on November 11, 1994.
Two hours went by. Touray was still not to be seen and the commissioners were yet to take their seat. Online newspapers broke the news that Touray said he was not going to testify because he claimed he had constitutional immunity. Then, amidst confusion and apparent disappoint within the audience, Touray appeared in a long white African robe from a small waiting room where TRRC witnesses relax before giving testimony.
"I invoke my constitutional immunity"
For a moment people thought he was ready to testify. But as the witness usher attempted to hand him over the Quran and put on the microphone so that he could take oath, Touray attempted to speak directly to the Chair of the Commission. Then he suddenly got up and walked back to the waiting room, cameras following him.
He leaned by on a sofa, appearing frustrated. Meanwhile, in the main hearing hall as well as on social media, embitterment was rife. When TRRC Chairman Lamin Sise drew out a one-page white paper, he said: "I have no choice but to order the immediate arrest of Yankuba Touray and to hand him over forthwith to the police station with jurisdiction over this area."
TRRC Lead Counsel Essa Faal agreed that the Commission had to reckon with the offense of defying the Commission. However, he suggested to give Touray "a second chance". Sise initially thought this was not a good idea. He had already ordered his arrest and did not want to appear weak. But he conceded and Touray was brought back into the hall. He initially took oath voluntarily and had no problem answering to the first question about his identity. But when a second question about problems in the army around 1994 was put to him, Touray went back to his defense strategy. "I invoke my constitutional immunity. Anything that is against the 1997 constitution cannot stand," he said. He got up and returned to the waiting room where he would be arrested by the police and taken to Kairaba police station.
Sitting of Yankuba Touray at the the TRRC, June 26 2019

© Eye Africa TV
Mob justice
The atmosphere after the Touray episode was summarized by Faal at an impromptu press conference. "This is a difficult moment. This is the first time the powers of this Commission have been so blatantly challenged," he said. The TRRC had now filed a case for contempt to the judicial authorities, he said.
The police escort that took Touray away arrived at the station by noon and around 1:30 p.m, the place was packed with hundreds of angry people demanding that Touray testified. The tension was such that one boy in his late 20s was aggressively beaten for saying that Touray had a right not to testify. He was eventually saved from the mob.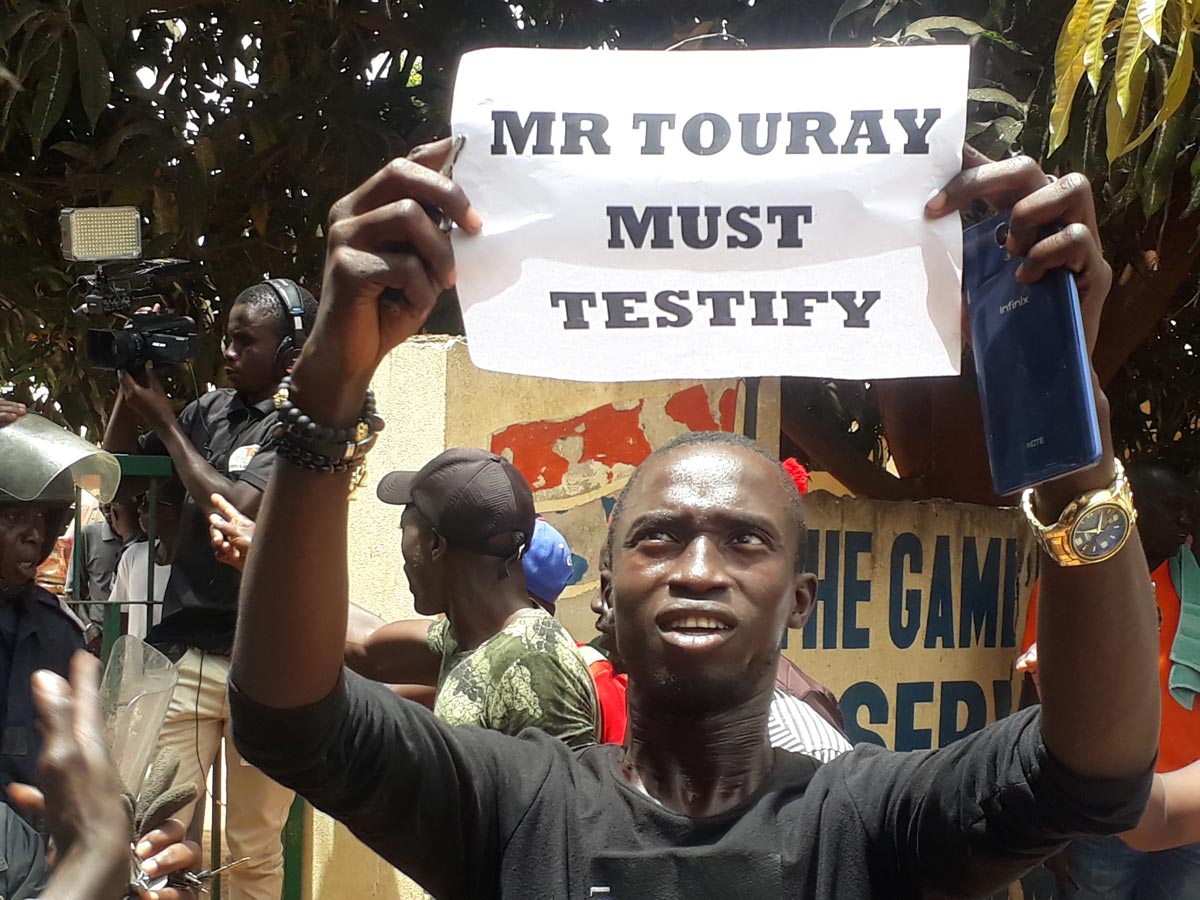 About 30 paramilitary agents were guarding the gate of the police station to prevent the people from lynching Touray. Until they realized that they might not be able to hold the fort. They decided to whisk Touray off in a black armored vehicle. As they drove out, they fired one teargas canister but that could not stop demonstrators. Stones started raining on the vehicle.
"Disrespect to the victims"
They were not the only angry party. Gambia's Justice Minister Abubacarr Tambadou told journalists that he would "throw the book at him", meaning Touray would receive as many charges as can be brought against him.
For now, Touray is charged with contempt and will likely be prosecuted before the High Court. But he could also face prosecution for the murders he has been accused of. "His conduct was really reprehensible and he showed utter disrespect not only to the Commission and the commissioners but also to the victims and the entire country," said Tambadou. "The reaction of the people has shown their hunger for the truth. Koro Ceesay was a father, a brother and a son and if [Touray] had any part in his killing, the least we expect is [for him] to come forward, as many others have done, and tell the truth." He added that "in the next few weeks, Touray will appear in court and be charged with offences".
Can Touray be right about immunity?
As anger subsided, a legal debate among Gambians was happening simultaneously: was Yankuba Touray right about immunity?
Gambian activist Madi Jobarteh believed that Gambia's 1997 Constitution protected members and other persons acting in the name of the notorious AFPRC from accountability. "Section 13(1) clearly protects members of the AFPRC or their ministers or appointees from answering before any 'court or authority or under the Constitution or any other law' for anything they did or failed to do in the 'performance of their official duties' in the name of the junta. While torture and murder are indeed not an official duty, however the drafters of the Constitution smartly covered up this matter with subsection 4 which states that even if such action was taken not in 'accordance with any procedure prescribed by law' it cannot be questioned," he explained.
Essa Faal disagreed. At his impromptu press conference, he said there were several legal problems with Touray's position. While calling for calm, Faal first said that "Touray does not have the right not to answer questions before the TRRC especially questions that do not incriminate him of any crime." He explained that even in the case Touray's immunity claims were right – which the Commission is likely to dispute – his first question was not about a crime. "What he was asked was about problems in the army, and his immunity, if it exist at all, was about acts of the AFPRC, so he cannot refuse to answer those questions," said Faal. "We know in the Constitution there is a schedule arising out of a 2001 amendment which grants immunity for members of the AFPRC for crimes committed during a particular time. There are lots of legal problems that rise out of this by just a cursory look at it. My understanding of immunity under modern law suggests that this immunity can be tossed out of court simply because it is not in line with the norms of customary international law. Some of the crimes [the AFPRC] have been involved in are clearly in my mind crimes against humanity. There is no immunity for crimes against humanity," said Faal.
For now, if Touray decides to push forward with his immunity claims, the case would have to end up at the country's Supreme Court which sits next month. By Gambian law, only the Supreme Court can interpret the laws of the country where dispute arises. As the TRRC's lead counsel, Faal would do the advocacy for the Commission.
Government's support to the TRRC
The TRRC has given several letters of adverse mention to various perpetrators, but Touray was the first to have been summoned to appear. And the first to have refused to talk. Many people, including the victims, see Touray's actions as a threat to the functions of the Commission and a dangerous precedent.
The following day, the government spokesperson urged Gambians to refrain from mob justice. "While The Gambia government takes Mr. Touray's conduct before The Truth Reconciliation and Reparations Commission as seriously provocative, belligerent, cowardly and regrettable, citizens are reminded that the culture of mob justice associated with the past dispensation is not consistent with the democratic values and aspirations of the Gambian people that led to a peaceful democratic change in December 2016. All accused persons are presumed innocent until proven otherwise," stated Ebrima Sankareh on June 27.
Sankareh nevertheless said that Touray's actions are "shameless, an affront to the conscience of the nation and utterly insensitive to his victims and their loved ones". The Government spokesperson said President Adama Barrow gives his "unflinching support to the TRRC, the victims and families of past human rights violations and urges all potential TRRC witnesses to respect the letter and spirit of the Commission and be totally truthful in their testimonies."