"It has become increasingly apparent to the Government, based on revelations at the TRRC [Truth, Reconciliation and Reparations Commission] over the past one year, that former President Yahya Jammeh was a central pillar in the infrastructure of terror and human rights abuses that were unleashed on ordinary Gambians and others under his leadership," said Gambia's Justice minister Abubacarr Tambadou, on October 7. "Consequently, the Government deems it most fitting, and just, that reparations for his victims should be granted directly from his wealth and assets."
Unlike most truth commissions, Gambia's TRRC has the mandate to both grant and pay reparations to the victims of Yahya Jammeh's regime (1994-2017) without consulting any authority. Two months ago, it established a reparations Trust Fund. Tambadou has now announced that an initial payment of 50 million dalasis (more than 1 million dollars), taken from the proceeds of the sales of Jammeh's assets, was made to the TRRC reparations account. This transfer of funds could increase depending on the availability of funds to Government.
Jammeh's stolen millions
Gambia is among the least developed countries in the world with half of its population living below a dollar a day, according to government statistics. With a population of 2 million, the small West African country's gross domestic product was one billion dollars in 2017, the equivalent of the money allegedly stolen by Jammeh, according to the Organized Crime and Corruption Reporting Project, a consortium of investigative journalists. A two-year investigation by Gambia's government revealed that Jammeh stole $362m from the state coffers. The report of the Janneh Commission, as it is called, was published on September 13.
This commission went through hundreds of documents and interviewed 253 witnesses. It established that Jammeh owns 281 properties in the country, as well as assets abroad, including a residence in United States. The investigators also found that the former leader's assets in his home village of Kanilai alone were worth $28.2m. Justice minister said that they are still searching for other assets of the former president and that the government is selling them, in accordance with the recommendations of the Janneh Commission, a process that is still ongoing. "We are selling the assets of the former president as the Commission recommended. That is not going to happen very quickly. It is going to happen over time," Tambadou said.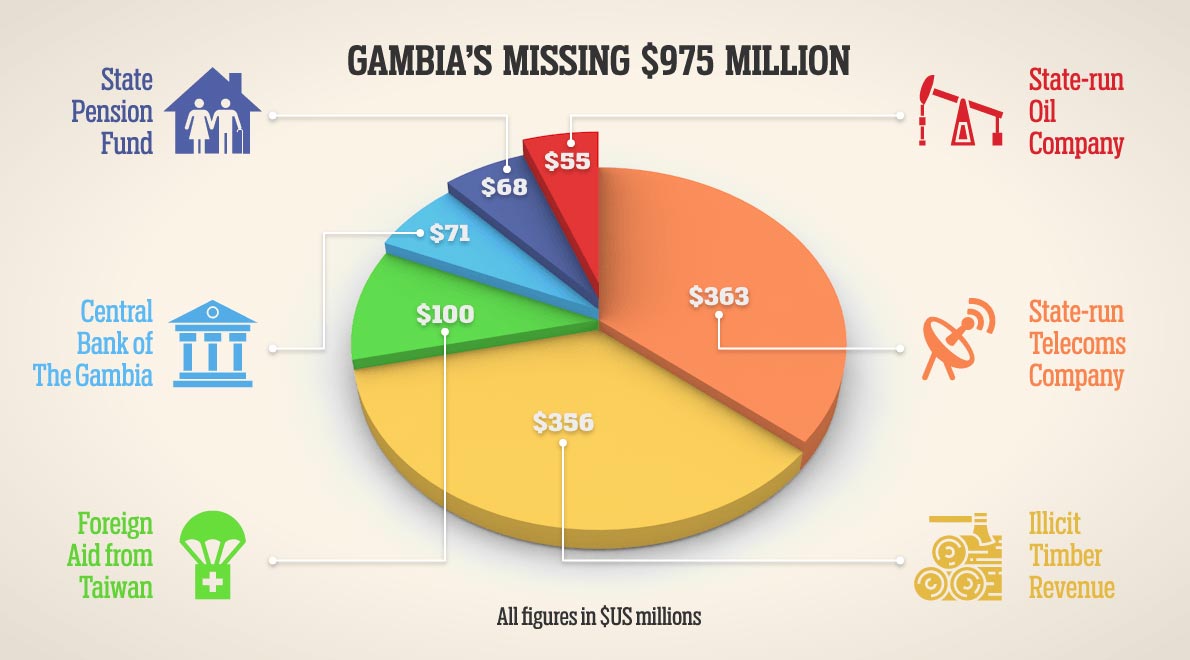 "He caused the harm and from him we treat the harm"
In attendance at the ceremony at which the Justice Minister made the announcement to release the funds was Lamin Sise, the chairman of the TRRC. "50 million dalasi is a splendid contribution to be made by the government to the reparations fund that we have established and announced few weeks ago. This is the first step to bringing about reconciliation and bringing about justice," said Sise.
Victims of the former dictator were also represented at the ceremony. Sheriff Kijera, chairman of the Center for Victims of Human Rights Violations, an organization established to help victims of Jammeh's regime, said the payment to the TRRC reparations fund was "a milestone achievement". Batch Samba Jallow, a victim of torture and illegal detention in 1995 who testified before the TRRC earlier this year, also lost his job as a result of his arrest and forced exile. He now wants his pension paid to him. "The reparations issue is long overdue", he said. "They are slow is helping victims. People are aging. Some struggle with medical conditions."
Madi Jobarteh, a Gambian activist, hailed the decision to pay reparations from monies recovered from Jammeh as a "great initiative". "What is even more remarkable with this gesture is that it is the Terror-In-Chief Yahya Jammeh who is paying for his own crimes out of the people's wealth that he stole. This is what is called justice in its true sense," said Jobarteh. "He caused the harm and from him we treat the harm."
Designing a reparations policy

This is the first major payment to the TRRC reparations fund. Until now, the Commission had no money to pay financial compensation to victims. In the interim, the TRRC has been issuing medical treatments and scholarships to some victims. The Commission is currently working on a policy to determine who would get what amount for which crime, Baba Galleh Jallow, the chief executive secretary of the TRRC, told JusticeInfo. "We are working on rules to determine what amount of money goes to murder victims, torture victims and victims of other types of human rights violations. We are fast-tracking this process so that we can have a clear way of what to do," said Jallow. "How much one gets will be determined by, to a large extent, how many people will need reparations. We don't know yet how many victims there are. There are many families that will need help."
The Truth Commission has begun its public hearings in January this year. It has heard from 128 witnesses so far, including victims and perpetrators, among them former senior members of the military junta.