"Your Honour, we are old, some of us are dead and most of our companions are sick. Please do not let this trial go on too long and may the accused deign to appear in this court. The suspects are known, we know where they live. There is no reason for hearing after hearing, with only the victims attending the trial!" pleaded H'mida Maâmar before the Tunis Transitional Justice Chamber before it rose on 24 February at the end of a long session devoted to the so-called "Perspectivists" case.
Hmida Maâmar, in his seventies, a former political prisoner of the radical left born in the 1960s, is on the brink of despair. He did not testify that day, giving way to two other activists of his Perspectives group, Mohamed Maâli and Tahar Chagrouch, who were imprisoned with him in the inhuman conditions of Bourguiba's worst jails from 1975 to 1980. The two survivors continued the story told by four of the group's other victims, starting on December 16 before the same presiding judge, Ridha Yacoub.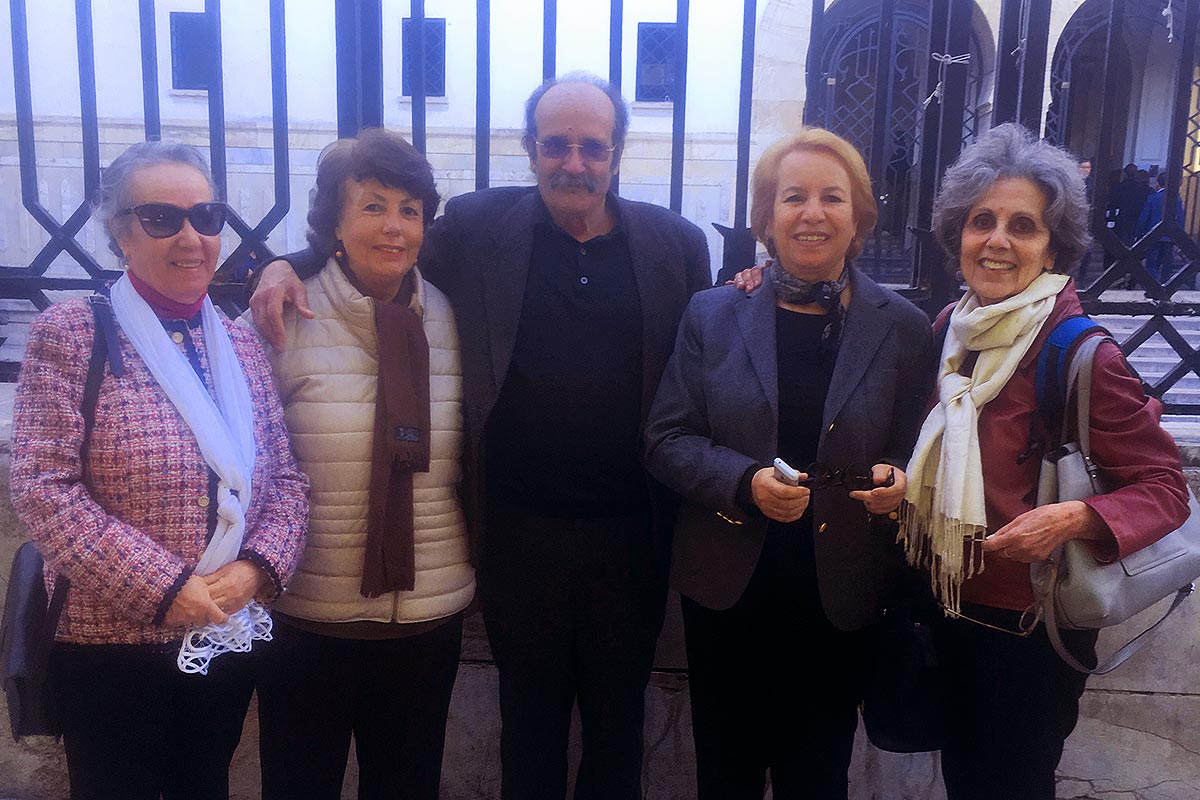 An intellectual elite, with women's participation
At the end of the 1960s, a wind of freedom blew over a student population full of Marxist and Maoist ideals then in vogue in the world. In Tunisia, the wind of freedom first blew behind the Perspectives movement. It was founded in Paris in reaction to the hijacking of a ballot which gave students of the extreme left victory in elections of the General Union of Tunisian Students (UGET), which had previously been held by the single party of former president Bourguiba. This attempt to neutralize one of the last political bastions remaining partially autonomous caused the emergence of the radical left. Perspectives would dominate Tunisian universities in the 1960s and 1970s and would be strengthened by the disproportionate repression that fell on its leaders and activists, both men and women, who suffered violence, torture and unfair trials in 1968, 1972, 1974 and 1975.
Our left-wing organization was patriotic, its values were political pluralism, freedom of expression and social justice
It is that context and its repercussions on the young Tunisian elite that the victims recounted during the two hearings of December 16, 2019 and February 24, 2020. The Perspectivists' testimony began with its activists. Women actively participated alongside men in this movement of dissent, and they paid for it with serious abuses. Zeineb Ben Said, a brilliant student, left for Paris at 17 to pursue her studies in philosophy at the Sorbonne. With the cream of young Tunisian intellectuals supporting the revolutionary ideas of the time, she participated in the foundation of the Perspectives group. In 1974, she returned to Tunisia aged 22 and began, in parallel with her political activities, to teach at the Ecole Normale Supérieure in Kairouan. "We were young people eager for freedom, autonomy from the regime, opposed to imperialism and the autocratic drift of Bourguiba's party. Our left-wing organization was patriotic, its values were political pluralism, freedom of expression and social justice," she told the court.
"Their only God was Bourguiba"
The stories are similar and the memories have the same source: the Tunisian French university of the '60s and '70s, open to the world and to the ideas of the time. There one could meet and discuss with philosophers and teachers of international renown, such as Derrida, Deleuze and Foucault. It was in such an environment that Raoudha Gharbi was nourished by politics. At the age of 22, the young woman, one of the best in her class, obtained her degree in educational sciences at the April 9 Faculty in Tunis. At the same time, she was part of a support group for Perspectivist prisoners jailed following trials in 1968 and 1972. No sooner had she started teaching than she was arrested and taken to the Directorate of Territorial Security (DST) in November 1974, where she was subjected to a brutal interrogation.
Bourguiba, mad with rage, promised to devote his whole life to "eliminating one by one these germs of leftists"
The group secretly published leaflets and a magazine called Perspectives. In one of his speeches, Bourguiba, mad with rage, promised to devote his whole life to "eliminating one by one these germs of leftists". Redoubling their violence, especially on men, the torturers took turns on all the members of the group. Their names were cited several times during the two hearings: Abd Elaziz Tabka, Abd Elkader Tabka, Massoud El Hajji, Hassan Abid, Mohamed Ennaceur, Abd Essalam Dargouth (alias Skapa), Mongi Amara, Mohsen Ben Abdessalam. "Bourguiba was their only God. One of them even threatened to execute me on the spot, putting a gun to my head," Mohamed Maâli recalled at the hearing. "He repeated that no one would call him to account."
"We were treated like a plague"
It seems Zeineb Ben Said has not laid those years of repression to rest. Arrested on 20 November 1974, transferred to the DST, considered one of the leaders of the movement, she was beaten by DST agents, beaten and tortured between one interrogation and another. Half-naked, she was subjected for hours to the "roast chicken" torture position. She was brought before the State Security Court, a special court set up in 1968, and sentenced to several months in prison. In February 1975, she was released. But her ordeal did not stop there. Her husband, also a Perspectivist, and she were both banned from the civil service.
Like her comrade Zeineb Ben Said, Raoudha Gharbi stressed the excessive and disproportionate nature of the repression exerted on this pacifist and modernist youth movement "devoid of explosive belts or suitcases of foreign currency brought from abroad, and with no real desire to take power". It was a movement that adhered to Bourguiba's emancipatory choices while advocating a more liberal climate. "With a baby on our hands, we lived on the margins of society until 1980. No private high school wanted to hire me, no newspaper wanted to give me even a small job, except for "Democracy", where I agreed with the director to sign only with my initials. We were treated like a plague," says Zeineb Charni, a militant Perspectivist and professor of philosophy.
Books and leaflets
"All the police were able to confiscate from searching our houses were books, leaflets and an old typewriter," says Gharbi. For expressing ideas and values, she and her husband Tahar Chagrouch lived in a fragile situation for 30 years, because under the Tunisian dictatorship if you were accused of being a left-wing opponent you were marked for life.
All of this was just for words, words written and words spoken
Bourguiba's threat to annihilate activists from the university ranks was applied mainly against men. Fiercely tortured by State security agents (including "roast chicken", water torture, beatings, sticks forced into the anus, death threats and insults), the 102 victims of the July 1975 trial (just like the 202 activists tried in August 1974) were brought before a special court set up by the government to eliminate its enemies. Tahar Chagrouch, historian and sociologist, was sentenced to seven years in prison. In an unfair trial, he was accused of plotting against the State, spreading false news and defaming the head of state. "All of this was just for words, words written and words spoken," he insisted.
Rats for companions
In his testimony Mohamed Maâli, Tahar Chagrouch's fellow activist and prisoner, related in detail the extreme prison conditions that the whole group suffered. "At the April 9 prison in Tunis, we were thrown handcuffed into a cell block and mixed with the most recalcitrant common law prisoners and those sentenced to death," he recalls. They were then transferred to the Borj Erroumi prison in the north of the country, where they were left for months in caves dug into the mountain rock, with only rats as big as cats as their companions. Stripped and chained like animals, they suffered from the humidity, cold and foul smells of these places where the Protectorate once isolated nationalist leaders like ... Bourguiba. By this degrading treatment, the Head of State wanted to push the prisoners - whose cause was now relayed, Tahar Chagrouch asserted, in newspapers like Le Monde and Le Figaro in France and The New York Times - to ask for a pardon. The majority refused and continued, from their place of detention, the struggle for more rights, dignity and recognition of their status as political prisoners.
"Thanks to our successive hunger strikes, we obtained better prison conditions as well as the right to access books, newspapers and even television," says Tahar Chagrouch. Released in 1980, the young man flew to Paris to continue his studies. Like his wife Raoudha Gharbi and many of his ex-co-detainees, he joined the ranks of the Tunisian League for Human Rights, where the Perspectivists, traumatized, exhausted by internal struggles and scattered, met to fight against torture, for the right to a fair trial and the humanization of Tunisian prisons.