Colombia began redressing victims of its armed conflict several years before the 2016 peace agreement with the Revolutionary Armed Forces of Colombia (FARC) gave these efforts an extra boost. Since a landmark 2011 bill that recognized victims of the armed conflict, the country has worked on a number of ways to redress them, including economic compensation, land restitution and psycho-social rehabilitation. With Colombia just having crossed the threshold of 9 million registered victims – or a fifth of its population – last month, but only having compensated 13,8% of eligible victims so far, there is growing political consensus that more than 10 years will be needed.
This is most evident in regions historically outside the state's radar. Colombia's Amazon is one of the best preserved in South America in part because the 52-year-long conflict kept its rainforests isolated from the rest of the country. But paradoxically, this fed the idea that war never reached its inhabitants. Amid widespread concern over a surge in deforestation, this is being questioned today. As Justice Info told, scientists and lawyers documented war's effects on national parks and park rangers, and are lobbying the transitional justice to open an environmental case.
Colombia's government also spearheaded an ambitious reparations plan for indigenous communities living in the Amazon, which is ready to kick off after four years of negotiations with them. But now Covid-19 has hit the Amazon basin especially hard and threatens to derail those efforts.
An unprecedented conversation with 26 indigenous groups
In 2015, indigenous communities began conversations with officials from the Victims' Unit – the Government institution in charge of redress – on what reparations could look like. They had one bold request though: they wanted a single collective decision-making process that would bring together all the indigenous peoples from a department the size of Bulgaria, some of whom live 580 kilometres away from each other.
An unprecedented conversation began with a core group of 40 leaders from 16 indigenous organisations, including 14 associations of traditional indigenous authorities (a legal figure known as AATIs) and two urban councils in the city of Leticia. In total, they represent 38,000 persons from 26 different indigenous groups. Just getting together was a logistical feat, in a region with no highways and where many had to travel for days by speedboat. Some even had to fly to Bogota, the Colombian capital atop the Andes, to fly back south to Leticia, on the banks of the Amazon river.
To complicate matters further, these communities weren't even registered as victims. Between 2017 and 2018, officials visited all of the indigenous reservations spread out across the Amazon River and its two major tributaries, documenting how they were affected by war. Leaders also reached an agreement with the Interior Ministry to ensure that the legally mandatory prior consultation, in place to protect ethnic minorities, would take place simultaneously. Communities even pitched in 60,000 dollars from their own pockets.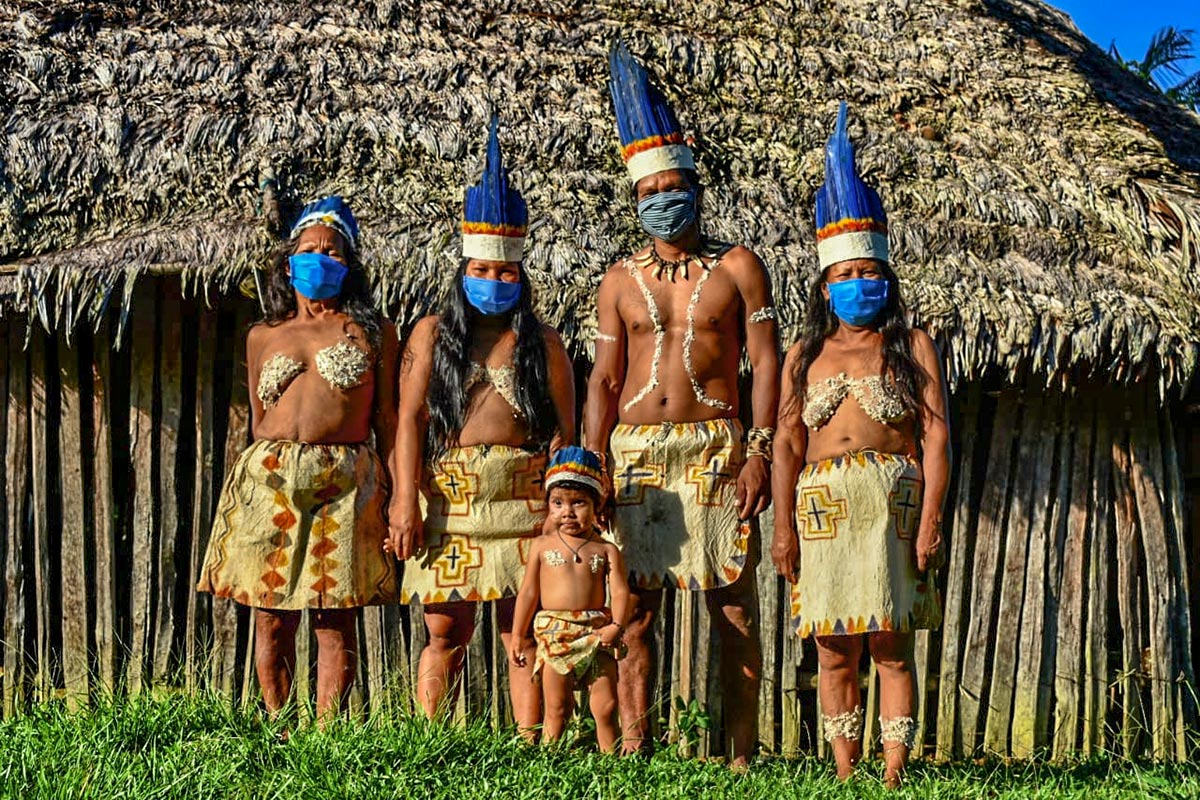 An invisible war in the Amazon
"There was a general idea that these towns received victims who fled from other places, but that none had been victimised directly. Some people still don't understand why we conceived such an ambitious outreach effort, as they still think the armed conflict never arrived there," says Yenny Beltrán, member of the Victims' Unit ethnical team.
Group sessions have revealed that large numbers of youngsters were forcibly recruited by FARC, sexual violence against indigenous women was common, communities living near gold and coltan deposits were attacked, and their radio and health equipment were frequently plundered by rebels.
Their tales are revealing a pattern of violence that had been invisible until now. For most Colombians, violence in the Amazon is a page in history books telling how rubber extraction in the early 1900s – spearheaded by Peruvian tappers but tolerated by Colombian authorities – boomed on the back of human rights violations against thousands of natives. Their plight was famously denounced by Irish diplomat Roger Casement, prompting a parliamentary inquiry in the United Kingdom against the Peruvian Amazon Company – or Arana House – that effectively put it out of business. Although Juan Manuel Santos was the first Colombian president to ask for forgiveness for these events in 2012, few political leaders have acknowledged that much violence against them continued over the next century.
Indigenous forms of redress
Finally, during 2019, each organisation settled on what specific forms of collective redress are meaningful to them, in line with the peace accord's idea of prioritising forms of reparations that can reach entire groups and not just individuals. They included support for traditional medicine and rituals, strengthening native languages and oral transmission of elders' knowledge, repairing the large huts with thatched roofs – known as malokas – at the centre of community life, and aiding territorial governance with boats and radio equipment.
"We looked at which community processes were interrupted by conflict, seeking to continue them and choosing measures that strengthen what we call the pollen of life, or that which can avoid that our thinking and words die," says Rufina Román, a Uitoto indigenous leader from the Araracuara canyon on the Caquetá River. Her organisation Crima, comprising 1.800 persons from the Uitoto, Andoke, Nonuya and Muinane peoples, focused on traditional dances, language weeks and finalising their 'life plan', their community's roadmap.
Many ethnic groups whose numbers have been dwindling focused on reviving their native tongues. "We have nowhere to turn to when a child is investigating our dialect or when an adult has a question. At most, 10% of us here speak either of our two dialects," says Jarvis Bernanza, leader of the Pani organisation grouping five communities further downriver, on the border of Cahuinari National Park. One of their key projects is creating Bora-Spanish and Miraña-Spanish dictionaries.
Although these Amazonian communities are just a fraction of Colombia's collective reparations program (which totals 578 groups, 65% of which belong to ethnic minorities), the entire process is helping rethink what it means to redress indigenous peoples. "It's been a learning curve for both. For them because the Colombian state often comes to us without understanding our context. For us because we see political will and the possibility of reaching agreements," Román says.
A pandemic in the Amazon
Covid-19's arrival in the Amazon has already delayed the beginning of these reparations, and poses an existential threat to many of these communities. Proximity and river connections with Brazil, the regional epicentre of the pandemic, have meant that the Amazon department has seen 2% of nationwide deaths and confirmed cases, albeit being home to less than 0,1% of Colombia's population.
Perhaps most worrisome, it's threatening communities deemed at risk of physical and cultural extinction. Two of the 31 indigenous people who have died from Covid-19 hail from ethnic groups with less than 300 members. One was Antonio Bolívar, an Ocaina elder who became nationally famous for his role in the Oscar-nominated film Embrace of the Serpent, in which he played a shaman who guided scientists Theodor Koch-Grünberg and Richard Evans Schultes in the Amazon. He was one of the last 285 remaining Ocainas in Colombia, although a larger group can still be found in Peru. Another elder who died was one of 197 Colombian Tarianos, although some 1,900 live in Brazil.
At least four other ethnic groups with less than 500 members have also seen confirmed cases, including the Jiw, the Karapana, the Yagua and – of most concern – the 71-member Matapí who live on the Mirití-Paraná and Apaporis rivers. In total, 998 cases had been detected among 40 different peoples as of June 26th.
"An example of how we can work with authorities"
Even though communities on the Amazon River have been the hardest hit, the novel coronavirus has also been detected in remote jungle areas further north. On July 2 three cases were confirmed in La Chorrera, a settlement on the Igará-Paraná river north of the Peruvian border, where another of the 16 organisations is based. Two persons were flown to Pasto for medical care, as there are no critical care units in the region.
As a result of the pandemic, some are already tinkering with their redress priorities. "The disease has not been able to come in because our indigenous guard has been working hard to prevent it, checking that people use masks, making sure the seven persons with symptoms remained in isolation and controlling that no outsiders come near," says Romelio Pinto, whose organisation Azcaita groups 3,700 mainly Tikuna Indians only kilometres away from hard-hit Leticia. In his view, their decision to allocate redress funds to ensure food for non-armed guards' families, allowing them to work on Covid-19 prevention, has paid off.
Crima, in the mid-Caquetá, is lobbying the government to purchase their motorboats, as these can double as ambulances in case a patient has to be ferried from a community six hours away to the airstrip where they can be flown to a hospital in Bogota. This lack of health facilities and personnel underscores how, as Rufina Román says, "the pandemic is showing Amazonian territories' abandonment by the state."
"If Covid arrives in our communities it would be deadly. A group like the Miraña, who only number 280 persons, could be decimated. It could lead them to disappear," says Jarvis Bernanza, before hammering his confidence in the redress program they helped design. "We'd never had a process like this with the Colombian state. This route we built, with all its difficulties and satisfactions, is an example of how we can work with authorities."
DUQUE'S CANDIDATE FOR THE ICC
Without making any public announcements, in mid-May the Colombian government nominated a close political ally of President Iván Duque for one of the six International Criminal Court (ICC) judges' seats to be chosen in December.
Andrés Barreto, currently the head of Colombia's competition regulatory agency and one of eight candidates from Latin America and the Caribbean, is a 40-year-old lawyer with a background in international law but no experience in criminal law. A childhood friend of Duque, he served as his chief of staff in Congress and then as treasurer and legal advisor of his 2018 election campaign. He previously worked in the Colombian Ministry of Foreign Affairs and helped draft Duque's 2017 referral letter to the ICC requesting the prosecution of Venezuelan President Nicolás Maduro.
The timing of Duque's bid is complex. Last month, members of his party announced they will once again seek to modify the Special Jurisdiction for Peace stemming from the 2016 peace deal, arguing that military and policemen investigated for human rights violations should not face the same tribunal judging former FARC rebels. Their political gambit could backfire, as the extra-judicial executions committed by these officers are one of the central issues in the ICC Office of the Prosecutor's ongoing preliminary examination on Colombia. Duque's own attempt last year to modify the transitional justice system resulted, as JusticeInfo told, in a series of political setbacks that undermined his leadership.
It's not the first time Duque proposes a close ally for an international human rights body. In 2019 his candidate Éverth Bustamante, a former Senate colleague and former member of the M-19 guerrilla that signed a peace accord three decades ago, lost the election for a seat on the Inter-American Commission on Human Rights. A high-level expert panel had previously raised concerns about his lack of knowledge in international human rights law and his political connections to the Government.