According to the credits of the film Spotlight, which in 2015 dealt with revelations of sexual crimes in the US diocese of Boston, sexual abuse of minors by members of the clergy has taken place in 206 cities in the world. But this is certainly a big underestimate. The long-hidden magnitude of this phenomenon affecting a Catholic Church with more than 1.2 billion faithful worldwide is today taking on devastating proportions.
The first scandals broke in English-speaking countries in the 1980s. There was the scandal of the residential schools in Canada, where tens of thousands of children were physically and sexually abused in Anglican and Catholic religious communities from 1850 to 1996. A truth commission was established in 2008. Ten years later, Canadian MPs and indigenous victims were still calling for a formal apology from the Pope.
In France, the conviction in 2001 of the Bishop of Bayeux-Lisieux Pierre Pican was a landmark. He was given a three-month suspended prison sentence for failure to report sexual abuse. The direct perpetrator of the abuses, priest René Bissey, was sentenced to 18 years in jail for assault and rape committed on some 15 teenagers between 1985 and 1996. This was the first conviction of a bishop since the French Revolution. It was not until nearly twenty years later that another bishop, André Fort, was also convicted for not denouncing abuse of minors. He was given a suspended 18-month sentence
Use the +/- buttons in the upper left corner of the map below to zoom in (or your fingers on mobile)
×
© JusticeInfo.net

Commissions of inquiry

Criminal cases
2002: the Boston scandal
In 2002 an investigation by the The Boston Globe newspaper broke news of the paedophilia scandal in the United States which shocked the world. More than 200 victims accused 90 priests of sexual abuse committed over 33 years in the diocese of Boston. One priest, John Geoghan, was implicated in particular, as well as Archbishop Bernard Law, who resigned accused of knowing but covering up the facts. In December 2002, John Paul II accepted his resignation and transferred him to Rome, where he escaped American justice.
The same Pope had confirmed in 2001 the authority given in 1988 to the Congregation for the Doctrine of the Faith on matters of paedophilia in the Church, without really tackling the problem head-on. Cardinal Ratzinger, the future Pope Benedict XVI, called for paedophilia cases to be referred to Rome from the dioceses - so that the Bishops would avoid covering up cases. In the 15 years since the story broke, the Catholic Church has pursued various avenues to address the legacy of sexual abuse by members of the clergy. From transferring priests to other parishes, therapy, and out-of-court settlements with the families of victims, the Catholic Church's response has largely focused on the Church itself, while the victims are swept under the rug, says an article by Elisabeth B. Ludwin King, adjunct professor at the University of Denver (USA).
Six Emblematic Cases
From Australia to Ireland, from Canada to Chile, from the United States to France, cases of sexual abuse within the church have made headlines, provoked a shift in public debate, changed the course of justice, or prompted the church to reform and acknowledge the harm done. Here are six cases that have made their mark.
2010: Benoît XVI apologises to Irish Catholics
It was not until 2009 and the publication of two reports in Ireland that the Vatican lifted the cloak of silence. On 20 May 2009, the report of the Ryan Commission, named after the judge who headed it, revealed decades of sexual abuse in 216 institutions run by religious orders, involving 800 priests, brothers, nuns and lay people. The figures are staggering: out of 35,000 children in care, more than 2,000 were physically or sexually abused by priests between 1936 and 1999. On November 26, 2009, the Murphy report, named after another judge, goes further: it points to the responsibility of the Catholic hierarchy. The investigation concerns 46 priests accused of paedophilia on 125 children, acts covered up by four successive archbishops of Dublin between 1975 and 2005. Also victims of the Catholic Church in Ireland between 1922 and 1996, thousands of young girls were exploited in laundries run by nuns. In March 2010, Benedict XVI apologized to Irish Catholics and pointed to the hierarchy for "failing to address these scandalous and criminal acts". This was the first time a Pope had taken up the issue so publicly.
But in July 2011, a new report shook Ireland and its Church again; it revealed the inaction of Church and State authorities on sexual abuse of 40 victims in the diocese of Cloyne between 1996 and 2008 by 19 members of religious orders. "One might legitimately think that after the Ryan and Murphy reports, Ireland could hardly be shocked by child abuse," Irish Prime Minister Enda Kenny said on 20 July 2011. "But Cloyne proved to be of a different order, because for the first time in Ireland a report on child sexual abuse revealed an attempt by the Holy See to thwart an investigation in a sovereign and democratic Republic. The Cloyne report exposes the dysfunction, disconnection, elitism, narcissism... that dominate the culture of the Vatican to this day."
848 priests defrocked
"Once the allegations were made public in 2002, the Church could no longer be passive. Hundreds of priests have been defrocked or demoted, including at least 848 since 2004, with nearly 400 stripped of their position between 2011 and 2012 alone," writes law professor Ludwin King. According to the website bishop.accountability.org which records cases of sexual abuse by Catholic Church officials, US bishops alone reported receiving allegations of abuse of 18,565 children involving 6,721 priests for proven or alleged facts over the period 1950-2016 -- or 5.8 percent of the 116,690 US priests between 1950 and 2016. Regarding Catholic bishops, the site has identified 78 Catholic bishops worldwide publicly accused of sexual crimes against children and 35 publicly accused of sexual misconduct against adults.
Until December 2019 and a "rescript" (decree) by the Pope abolishing papal secrecy for "complaints, procedures and internal Church decisions" on sexual violence committed by clerics, Church laws compelled its officials not to disclose them. This did not apply to the secrecy of confession. "The rule of pontifical secrecy is part of the canonical laws - ordinances that govern the Church and its members. It dates back to the 12th century, when the Church created the Inquisition to punish heresy," writes Christine P. Bartholomew, associate professor of law at the University of Buffalo, New York. But for her, the lifting of papal secrecy "does not clarify the obligations of the head of the Church to comply with requests" about what he knew on cases of abuse or internal Church investigations. To this day, the exclusion or transfer of priests, bishops and cardinals is the measure favoured by the Church. The worst sanction remains reduction to the lay state, first inflicted in February 2019 on 88-year-old American Cardinal Theodore McCarrick, who is accused of sexually abusing at least one teenager.
In 2015, Pope Francis announced the creation of a judicial body within the Congregation for the Doctrine of the Faith to judge bishops guilty of protecting priests who have committed sexual abuse. But this tribunal has not proved itself, and does not make its decisions public. In an email response, an adviser to the Holy See Press Office, the Vatican's information service, said that "in recent years, the Congregation for the Doctrine of the Faith has stopped publishing figures and sentences regarding cases of sexual abuse committed in the Church." A fact confirmed by Belgian theologian Karlijn Demasure, a member of the Commission of Inquiry into Sexual Abuse by the Church in Belgium who was also part of an initiative behind two centres for the protection of minors in Rome and Ottawa. "The Congregation does not regularly publish figures on the number of officials accused or convicted," she deplores.
It was not until May 2019 that the tribunal would deal with sexual abuse and Church leaders' concealment through a criminal judicial process.
The church's response to sex crimes (Timeline)
Commissions as a solution for victims?
"Transitional justice is clearly not a perfect lens through which to examine the Church's response to large-scale abuse, since the Church is not a State; it can nevertheless be used to highlight shortcomings in accountability," writes Ludwin King. One of the main tools used is commissions that lift the veil on the facts and encourage victims to speak out, before making recommendations to prevent the recurrence of abuse. While launched by the State or the judiciary as in Ireland, partly in the Netherlands (2010) and Australia (2012), commissions of inquiry are more often mandated by the Church as in France (2019), Belgium (2009), Germany (2013), Austria (2010) and the UK (2009).
Jean-Pierre Massias, professor of public law and president of the Institut francophone pour la justice et la démocratie considers that "what is interesting in the area of sexual abuse in the Church is precisely that it is the Church that is setting up a commission. It is a way for the Church to clean up the mess, and to do it collectively". "The great advantage of the truth commission," he adds, "is that it allows for a form of open empathy with the victims, and for many of them this is already the start of healing or reparation. It offers solutions and it's a kind of 'never again' form of justice."
Australia's Royal Commission is, according to experts, one of the most exemplary in this respect. Launched by Australian Prime Minister Julia Gillard in January 2013, it found that out of the 3,498 institutions implicated (orphanages, sports clubs, schools, religious institutions), 58 percent are religious institutions, of which 61.4 per cent are Catholic and 14.8 percent Protestant. 7 percent of Australian Catholic priests were accused of sexually abusing children between 1950 and 2010. "This is the most exhaustive, comprehensive and radical work, in every sense of the word, because this commission is, in my opinion, the only one that had the power to compel people to be heard," says Joël Molinario, theologian and professor at the Catholic Institute of Paris and member of the French commission on sexual abuses in the church. The Australian commission covered in a single inquiry sexual abuse in all institutional settings in the country, not just the church.
2018 turning point and Pope Francis's "shame"
There's a before and after the Chilean case. In May 2018, the Pope apologized to the Chilean people for the mishandling of the paedophilia scandals. All the country's bishops had resigned two weeks earlier, following the revelations of a report implicating 158 bishops, lay people and priests suspected of sexual abuse of 266 victims, including 178 minors. Six months later, more than 119 judicial investigations were opened in Chile for assaults committed since the 1960s. During a visit to the World Meeting of Families in Ireland in August 2018, Pope Francis expressed his "shame" in a letter "to the People of God": "The failure of Church authorities - bishops, religious superiors, priests and others - to adequately confront these despicable crimes has justly aroused indignation and remains a cause of suffering and shame for the Catholic community. I myself share these feelings."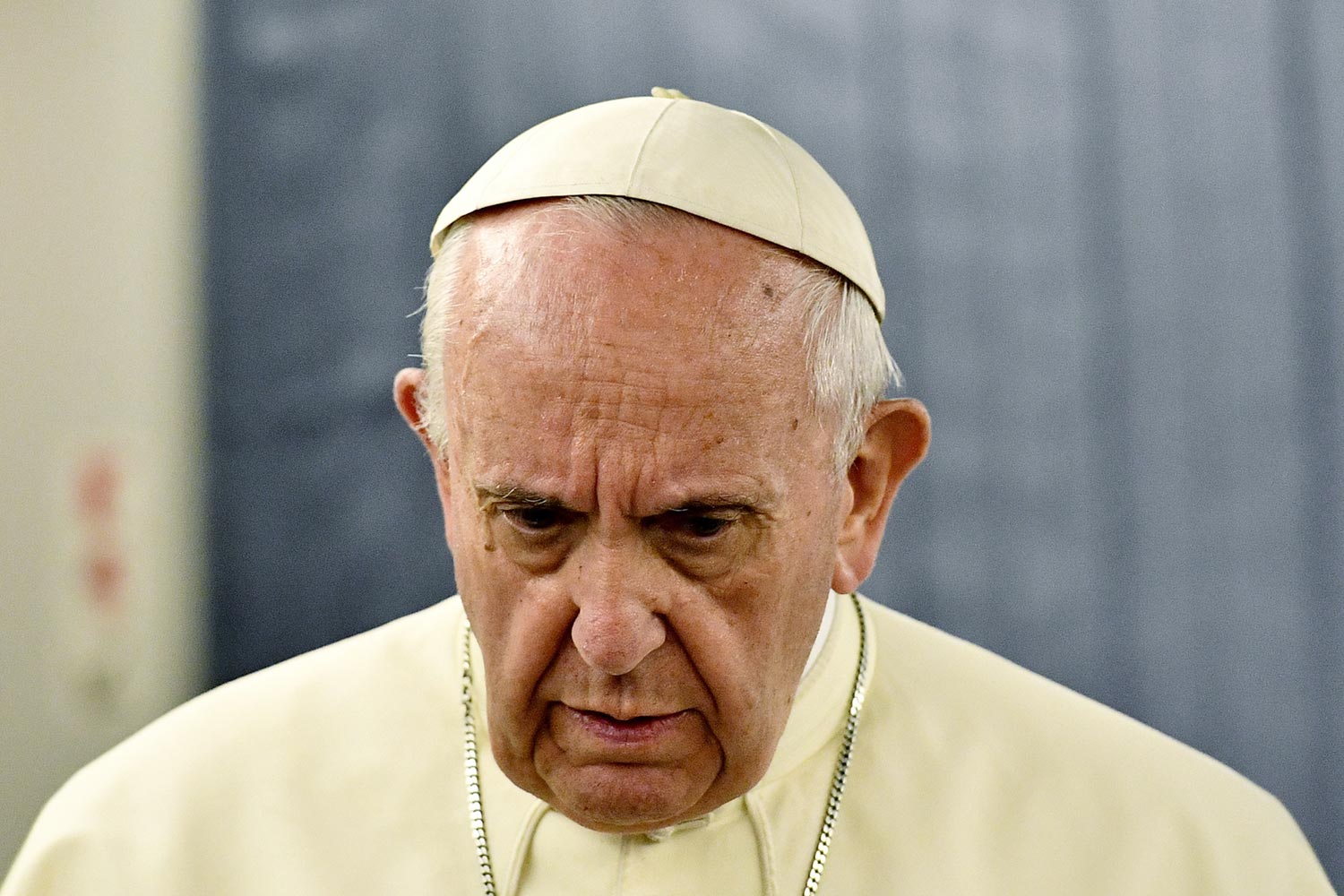 No church is spared from this shame. Looking at our map, it seems the continents of Africa and Asia may be untouched by these sexual abuse scandals. However, many testimonies indicate that while prosecutions are rare on these two continents, they are not spared the crimes.
In September 2018, the report on sexual abuse in the German Church revealed that between 1946 and 2015, 1,670 clergymen abused 3,677 children. In the United States, a new approach is being tested, such as in Pennsylvania, where a "grand jury" was formed in January 2018 of 23 American citizens under the guidance of a prosecutor. Their report is scathing: in the last 70 years, more than 1,000 children have been abused by more than 300 priests across the state. One priest, David Poulson, 65, pleaded guilty to sexual assault and attempted assault on two boys aged 8 and 15. He was sentenced to up to 14 years in prison. Subsequently, more than a dozen other US states launched new investigations by similar grand juries.
French commission initiated by the Church
France is one of the countries that has most recently set up a commission. "Up to now, there has been strong denial on this subject in the French Church, which could no longer bury its head in the sand and ignore the suffering of the people," says Stéphane Joulain, a "White Father" of the Society of African Missions and psychotherapist working with victims of sexual assault. At the instigation of the French Bishops' Conference and the Conference of Monks and Nuns of France, an independent Commission on Sexual Abuse in the Church (Ciase) was charged in February 2019 with the task of shedding light on sexual abuse of minors in the Catholic Church since 1950. It was created after a priest, Bernard Preynat, was sentenced to five years in prison for having sexually abused 70 scouts in the diocese of Lyon between 1986 and 1991. His superior, Cardinal Philippe Barbarin, was accused of not bringing these crimes to the attention of the courts. He was convicted but then acquitted on appeal on 30 January 2020.
A year and a half after its creation, the commission issued its first estimates, saying that at least 1,500 priests were allegedly involved and the number of victims was "at least 3,000". It is the first time that the extent of the crimes has been revealed in France, stressed its president Jean-Marc Sauvé. "I am stunned", he says.
The La parole libérée association (A Freed Voice), set up in late 2015 after the revelations about Preynat, has helped bring the issue to French public attention and encourage other victims to speak out. In 2017 and 2018, says the French Bishops' Conference, 49 priests were suspended from all or part of their ministry, including 9 sentenced to a canonical sentence, 10 indicted and 4 imprisoned. But criminal law is not enough, stresses François Devaux, president of La parole libérée: "In French law, the aim is criminal conviction, but culturally recourse to civil law is very little used, even though it seems essential to me. We must find other means to bring justice, otherwise we will remain victims forever, without authority or legitimacy." In September 2020, the association plans to publish a "White Paper" containing testimonies it has collected, with the aim of alerting public opinion and guiding public authorities so that such crimes will not happen again.
LEARN MORE
Dealing with a global crime: keys to understanding
Is transitional justice a priority tool for dealing with the global phenomenon of sexual crimes within the Church, one of the world's biggest religious institutions? Some experts give us their insight.
Transitional justice as a solution
"Basically, we are facing a mass crime committed over a long historical period, where a complex form of impunity has developed, both organized and admitted, and where victims and perpetrators are often either very elderly or dead," says Jean-Pierre Massias, professor of public law at the University of Pau (France). "Faced with a particular crime - sexual violence - in a particular context - the weight of the churches in contemporary societies -, a special form of justice is needed. And transitional justice is one of them."
Not so revolutionary
"Transitional justice came about largely in response to the human rights abuses carried out by authoritarian regimes in South America in the 1970s and 1980s," recalls Elisabeth B. Ludwin King, a law professor at the University of Denver (USA). "Since then, transitional justice has come to include the myriad responses a government employs in its efforts to seek justice and peace for victims of a prior regime. Yet, assessing the Church's reaction to the legacy of the sexual abuse of minors through the lens of transitional justice is not as revolutionary as it seems."
State responsibility needs clarifying
Anna Myriam Roccatello, Deputy Executive Director of the International Center for Transitional Justice (USA), thinks the responsibility of States, "which host churches and have a responsibility to protect their citizens, especially children", needs to be clarified. Each State has a different relationship with the Church, she says, with some being more secular than others. "Some wonder if the Church and State worked together in covering up the sexual abuse of Irish children," writes Dublin University professor Marie Keenan in an article.
Some European countries still in Omerta
According to Saul Castro Fernandez of the Guernica Center in Madrid, "in Spain the Catholic Church still has enormous power and control; in the previous Conservative government several ministers were linked to Opus Dei or the Legionaries of Christ. The current political will is not at all conducive to engaging in this struggle. And if you look closely, countries that are still basically Catholic like Italy, Poland and Spain have not set up commissions of this kind."
Total Omerta on the African continent?
"The Omerta in Africa on this issue is total and will remain so for a long time," says Paul Samangassou, former director of Caritas Cameroon. "Some people know that child abuse exists, but nobody talks about it because there is too much respect for the clergy, or even fear. It is better to be on their side because they have strong power among the population." Exceptionally, however, in October 2019 proceedings for child abuse were launched in Bangui, Central African Republic, against the Belgian priest Luk Delft. The prelate, who arrived in the country in 2015 to coordinate the activities of the Catholic NGO Caritas, had been convicted of similar acts in 2012 in Belgium.
Anglophone African countries have better record
According to Stéphane Joulain, "in Anglo-Saxon law there is no statute of limitations on such crimes. In Zambia, for example, Children Acts already existed and were renewed after independence. Countries such as Kenya and South Africa addressed sexual abuse in schools at an early stage". However, there are few legal proceedings. In South Africa, there have been 37 known cases of sexual abuse by Catholic priests since 2003, of which only seven have been investigated by the police, according to the French newspaper La Croix.
Parts of the Church clinging to powerful position
"It is very difficult to change this culture of clericalism, especially in developing countries where young people are still educated in the 'old' way that puts the priest on a pedestal. It is this position of power that facilitates abuse," says Belgian theologian Karlijn Demasure. "One part of the Church wants to change and sees the need for it, but another part does not want to lose this position of power. This position enjoyed by the Catholic institution is embodied, among other things, in the culture of secrecy that surrounds canonical justice" (see box).
Vatican still doesn't require reporting to courts
In February 2019, Pope Francis convened in Rome a Summit on Sexual Abuse. He wanted to make the bishops understand the importance of the crisis hitting the Church and putting its credibility at stake. In May 2019, Francis published an Apostolic Letter, "Vos estis lux mundi" (You are the light of the world), which established procedures for reporting cases of sexual abuse and harassment. Each diocese is to set up a commission to support complainants. The Church has lifted the pontifical secrecy on these abuses, but it does not oblige its members to report these cases to the relevant judicial authorities.
No redemption without awareness?
Stéphane Joulain, a priest with the White Fathers and trainer on the prevention of sexual abuse, wonders how effective the Pope's motu proprio and reporting offices set up in the dioceses will be if there is no awareness. "The Sauvé Commission in France thought their existence would be enough to bring people in, but no, we had to reach out to the victims, encourage them to testify. If this is difficult to do in France, imagine in Africa where people don't even talk about these things!" He strongly believes that awareness initiatives need to be carried out in religious congregations, and is working to set them up in different countries despite the cloak of silence weighing on the faithful.
Including victims in the process
Transfer or exclusion of priests, penal sanctions, reform of Church laws and policies, compensation for victims, "none of these responses seem to have been motivated by a desire to right wrongs," laments Elisabeth B. Ludwin King. She believes that victims must be included in the search for solutions. And for Anna Myriam Roccatello, one way forward would be to "create an international platform of families in several countries to pursue together this form of justice, coupled with reparative, restorative justice, compensation and to achieve some form of reconciliation. If the Church really had the will to tell the facts rather than hide them, then we would truly be in a process of transitional justice".
No religion spared
It seems that no church or religion is spared sexual abuse. In February 2019, a scandal hit the Protestant churches in the United States; according to two Texas dailies, 380 members of the Southern Baptist Convention, which has 47,000 evangelical churches and more than 15 million members, are accused of sexual abuse committed on more than 700 victims, mainly minors. According to Stéphane Joulain, "a lot of work has been done in the Catholic Church on this subject that has not been done in other churches, including the Protestant Church". Certainly, he adds, "it represents a very large part of the Christian community, so it is normal that statistically there are more cases in this church. But you know, if you go and look at the Jehova's Witnesses, it's not very pretty either".
CANONICAL JUSTICE
Canonical justice is the internal justice system for the clergy. It is governed by canon law, whose first version was published in 1917. It is independent of secular justice but cohabits with it. At the local level, the bishop is the keystone of this internal justice: he appoints the judges who render justice in the courts of each diocese when a priest is implicated in abuse. Lay people working for the Church are excluded. Diocesan tribunals are often seized before criminal proceedings, but the Church of France argues that the Church's internal justice system must wait until civil judicial proceedings end and a judgment is pronounced before it can render its own verdict.
Since 2002, all cases have been referred from the dioceses to the Congregation for the Doctrine of the Faith in Rome, which judges the most serious cases and refers other cases to the dioceses for judgment. Judgments are handed down, even if they take a long time and some say the rights of the defence are insufficient. These judgments are, however, sometimes the only hope of obtaining reparation when civil justice faces the 20-year statute of limitations.