For a long time, the Trust Fund for Victims (TFV) bolstered its reputation by pointing to the numbers of people it says it has helped in 'situation' countries. The assistance work was set up to ensure victims could get some help, before the first convictions arrived at the International Criminal Court (ICC), transforming the Trust Fund in a programme manager, specialised in the many varieties of possible rehabilitation for conflict crimes.
"Who's the Trust Fund serving? Is it serving just to pay the staff wages?" asked reparations expert Luke Moffett of Queens University Belfast at an online symposium on victims' participation at the International Criminal Court (ICC) earlier this month.
Where does the Fund get its money?
The answer is from states parties to the ICC. Part of the ICC budget - agreed by state members at their annual meeting - goes to run the TFV secretariat [read chart 1, for the period 2004-2019]. As a percentage, that has gone from 0.7 percent in 2006 to 2.1 percent in 2020. Yet, the Trust Fund director Pieter de Baan sometime says they are responsible for "50 percent of the court's impact but only 2 percent of its budget'. A way for him to point out that victims are central to the court's mission, but the TFV is treated as a poor relation in its budget allocation. In total, from 2006 to 2020, the Fund's secretariat has received 24.5 million euros out of the ICC budget. By comparison the court's total budget for the sole year 2020 was 149 million euros.
Additionally, the Fund has been receiving specific "voluntary contributions" since 2004. Between 2004 and 2019, according to financial statements, it has received over 35.8 million euros in voluntary contributions [read chart 1], overwhelmingly from ICC member states. The Fund's own stated goal is to raise 40 million euros in contributions by 2021. Its lack of diversity in its donor base has been pointed out in multiple reports. In 2019, of the almost 2.3 million euros raised, just over 1 percent came from private donors, and a much-needed fundraising and visibility officer was appointed.
De Baan denies that they have not focused on fundraising, but stresses that donors need to see tangible results, which is now happening, he says. "I feel very strongly that if you want to raise funds, you need to have something to demonstrate. Now that we have much broader and more detailed menu, both in terms of reparations and assistance, we have a better story to tell our donors about what they're buying into, both in terms of scope of activities and in terms of results," he told Justice Info.
On paper, the Fund's budget looks healthy, with this year's bank balance standing at 18 million euros. The fund notes that most of that money has "been committed to the funding of on-going reparations awards and assistance programmes, as well as to reserves – such as for reparations - that need to be maintained for regulatory reasons". And the remaining balance of 3.8 million euros of uncommitted resources is saved "in regard of further sustaining multi-annual programmes as well as to anticipate future activities – new reparations awards and new assistance programmes," the fund explained to Justice Info.
In total, the Trust fund has received around 60 million euros in sixteen years, with a little over 40 percent of that going to the running costs of the secretariat and the rest to the assistance and reparations mandates [read chart 2 for period 2004-2019].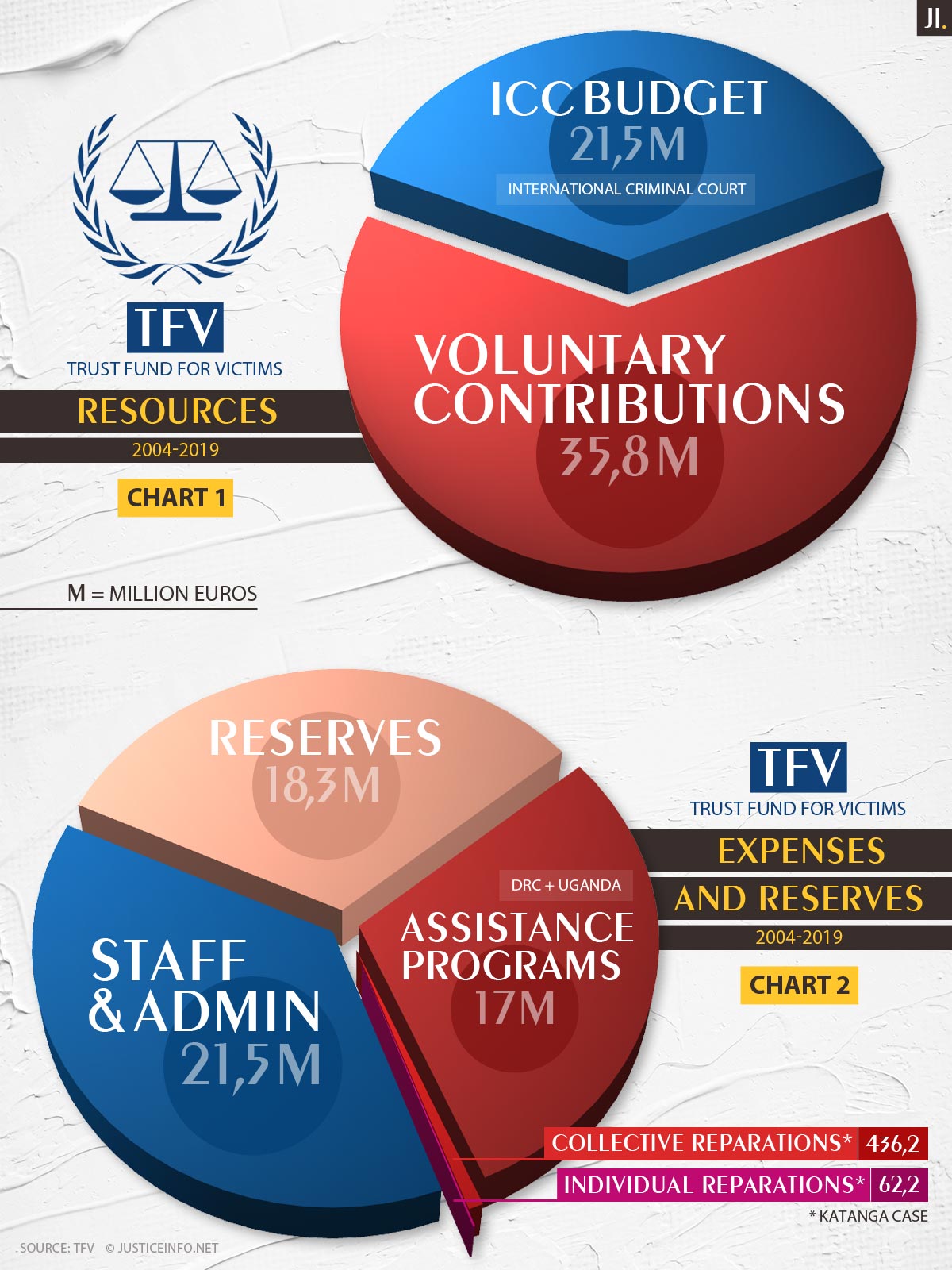 Where has that money gone?
After four years the Fund put its assistance mandate into action in 2008, when it started projects in two countries: Uganda and the Democratic Republic of Congo (DRC). For the next ten years the fund stayed working in those two countries, while several attempts to branch out failed, notably into the Central African Republic.
The assistance mandate is in many ways the success story told by the Fund. Via partner organisations, victims of the worst atrocity crimes receive tangible help like reconstructive surgery, prosthetic limbs, trauma-based counselling, educational support, income-generating activities, and conflict mediation and reconciliation.
Reports the TFV have provided on its work in Uganda show several rounds or cycles of programmes and funding of different partners all through 2008 to 2020. In DRC, the TFV's reports show that projects have not been running regularly. After a 3 year break from June 2017, the assistance mandate was relaunched in July 2020 with a new five year cycle.
How many victims have benefited?
The TFV says that in total 116,159 people are considered "direct benefitiaries' of the assistance programmes in Uganda and the DRC as of 2020. It breaks down into 58,439 people in the DRC and 55,427 people in Uganda.
After it was officially set up, it has directly helped a little over 116,000 people and indirectly some 284,000, in two countries, the Fund indicated to Justice Info. Overall, the Fund continues to use the figure of some 400,000 people who have benefited from the assistance work in both Uganda and DRC. These figures are broken down into approximately 200,000 in DRC and 230,000 in Uganda, both via two five-year programs, and are self-reported numbers from the Fund's partners, adding both direct and indirect beneficiaries.
The indirect beneficiaries are for example family members of victims helped by the Fund with medical interventions or job training which made it possible for them to provide for more people. But it also includes people targeted by group activities "including peace building and reconciliation and community sensitisations" the Fund told Justice Info. "Reporting by TFV implementing partners on numbers of indirect beneficiaries is based on conservative ratios ranging from 3 to 6 persons per targeted household," it added.
The Fund rejected our attempts to make a benefits per capita calculation as "an exercise that does not and should not be presented to reflect reality." "Programme cost/benefit assessment, in particular where individual benefits are concerned, should take into account the different types of intervention and their related costs" the Fund further said. "For instance, medical care is the most extensive service that the TFV is providing through its implementing partners and inside that category there is a widely varying range of medical interventions (plastic surgery, mobility devices, fistula repair, removal of shrapnel and bullets) and associated costs. In psychological rehabilitation, the cost per capita of counselling and psychosocial group support are very different. In the area of material support, again cost per capita varies significantly between vocational training and support to village savings and loans groups".
"There's been a few thousand victims that directly benefited", acknowledges reparations expert Moffett. "Very tiny things that they needed, such as prosthetics and plastic surgery. And there's some great people on the ground doing that sort of work... But this assistance programme, which is tacked on, is self-gratifying. It doesn't benefit victims, because the money being spent is on staff wages and not actually helping victims on the ground."
The Fund says it has spent 17 million on assistance programmes up until 2019, but it does not give a clear aggregate amount for the money that was actually given to local NGOs in that period. Much is in different currencies and for different time periods making those type of calculations complicated, it justified. In that same period, 21.5 million euros were budgeted to run the Secretariat.
The Fund stressed, in response to our questions, that the Secretariat's budget included expenses related to legal activities and filings, victim identification, reporting to the court, states and donors' evaluation, monitoring fund raising and oversight in the field. "In fact, the use of locally based implementing partners for the actual delivery of assistance activities and reparations awards – with the exception of Katanga's case -- is where the actual programme related indirect costs occur, at a level of maximum 15 % of the contract value," the Fund told Justice Info.
This year, after years of delays the CAR assistance program finally started a pilot project. And the Fund has just announced the start of its assistance mandate in Georgia, last week, which marks the first time it will operate outside of the African continent. In Ivory Coast, the assistance programme is planned to start next year, with a pilot project. In Mali, an assistance programme has also been announced and preparations are "at an advanced stage", according to the Trust Fund board.
"You know the situation countries are problematic because when we set up programs, there are a number of factors that have to be taken into account. The first factor is safety ", the chair of the board of directors of the Fund, Mama Koité Doumbia told Justice Info. "The Trust Fund for Victims has started to work in the CAR again. But unfortunately, due to the war our team had to start afresh there. For the Ivory Coast, you saw what also happened when we were trying to set up an assistance program. There was political and security instability", she explained.
What reparations the Fund delivered?
This what the TFV was set up to do. But hopes that speedy trials would lead to reparations paid from fines or seizure of assets of convicted persons have been dashed comprehensively. And so far, all those convicted of the core crimes of the Rome Statute have been declared indigent and cannot contribute to reparations.
Another limitation is that only a relatively small number of the people affected by a conflict can actually legally be considered 'victims' in a particular case. Expectations on the ground can be very high, and the independent experts cautioned the court in their recent report to "avoid creating any expectations on reparations, before the final outcome of appellate criminal proceedings against a conviction".
The court's first case - Congolese militia leader Thomas Lubanga - ended in 2012 with a conviction for recruiting and using child soldiers. After his conviction was confirmed two years after on appeal, the Fund submitted an implementation plan to the judges which took over eight months to draft. It was heavily criticised by the chamber for being insufficient and not giving enough details about how they plan to identify eligible victims. One ICC insider explained the sharply worded back and forth as a clash of cultures, between the TFV's NGO 'perspective' and the legal one.
An "implementation plan" for collective and symbolic reparations was approved in 2016. And in 2017 the judges ordered the fund to identify new potential victims who would have a right to the reparations. That set off another round of delays. In an October 2020 brief, the Fund says it's only now finalizing the contract for collective service-based reparations and is continuing the procurement process for the symbolic reparations.
As a result, no victims have yet benefitted from the reparations order eight years after Lubanga was first convicted and 18 years since the crimes were committed. The former child soldiers who are the beneficiaries of the reparations are now in their late twenties and early thirties. The independent expert report dismissed the length of time taken in the Lubanga case as "plainly excessive". De Baan points to the lengthy judicial process as a reason for the slow implementation: "That [Lubanga case] was the kindergarten experience of the Rome Statute system with reparations," he believes.
Alejanda Vincente of the NGO Redress, who published a 2019 report on ICC reparations called "No time to wait" said there is a "lack of a court wide strategy on reparations, and the absence of comprehensive guiding principles binding on all chambers to foster a coherent and consistent approach". "There were a lot of internal management, structural, logistical, all sorts of challenges, and it did not translate to actual benefit for the victims", adds Lorraine Smith Van Lin, author of the same report. "And then by the time it got to the reparations mandate, the Trust Fund had very little real idea about how to manage a reparation," she told Justice Info.
Reparations: in the Katanga case only
In the second ICC reparations order, that of another Congolese militia leader, Germain Katanga, judgement and sentencing was in 2015 and the first reparations order in 2017. The court issued individual reparations of 250 dollars to 297 victims. Compared to Lubanga's case, the TFV has moved much more quickly to implement the order. The Fund told Justice Info it has completed the payment of the individual reparations and part of the collective reparations. It paid a total of 498,420 euros to date in individual and collective reparations combined [read chart 2]. The collective and symbolic reparations programmes continued are expected to continue in 2021.
One of the reasons the reparations were delivered relatively quickly this time, the Fund explains, was because it sent its staff to organise programmes, without going through implementing partners as they have done in Lubanga. "In Katanga we've adopted a direct implementation role, not so much because we wanted to ourselves, but because the trial chamber nudged us to that," De Baan explained.
The latest reparations case came in after Islamist Ahmad al-Faqi Al-Mahdi pled guilty to destroying holy shrines in Timbuktu during Mali's 2012 conflict. He was sentenced to nine years in prison in 2016, and a reparations order was issued in 2017. In that case as in Lubanga, the judges slammed the Fund's draft implementation plan as "containing vague and entirely unsubstantiated "proposals' or 'ideas'." De Baan pointed out that a subsequent updated plan was commended by the judges for its "high standard". He stated early December that reparations programs could start very soon. "We are signing the contracts as we speak", he announced.
For the Trust Fund director, the coming year looks to be a "booster year" with reparations finally getting under way in Lubanga and Al Mahdi. There are new assistance programs in CAR, Georgia and plans in Mali and Ivory Coast, with possibly a new reparation order likely coming in another Congo case of militia leader Bosco Ntaganda, sentenced to 30 years' imprisonment in 2019. De Baan says the Fund has changed a lot, to meet these challenges. "There is a lot going on the kitchen in the past two years to get to a place in which we can be more confident to play the role that we've been mandated to play by the states".