"There were people with broken arms, they were covered in blood," recalled the first witness in the case against militia leaders Alfred Yekatom and Patrice-Edouard Ngaïssona, who described a 2013 attack in Bangui, on March 16 at the International Criminal Court (ICC). The woman, whose identity was protected and face pixelated, testified in the local language Sango, translated into French and then into English for the court, about the attack allegedly perpetrated against Muslims by Anti-balaka in which her husband was killed.
This case is the second the ICC has tackled in the Central African Republic (CAR). The first concerned events up to 2012 when a Congolese militia entered the country and were accused of raping and murdering civilians. It ended with the acquittal of their commander, Jean-Pierre Bemba, a former vice-president of Congo.
For Thijs Bouwknegt, historian of mass violence at NIOD Institute for Holocaust & Genocide Studies, who is following the trial that opened on 16 February, the prosecutor "wants not to make the same mistakes" and to "avoid some of the grandstanding" that typified the prosecution statements during that first trial. With a US-trained senior trial lawyer in charge of the prosecution case it feels "really hands on", he says. With at least one similarity with the Bemba case: the prosecutor's allegations implicate important political and military players in CAR, such as former president François Bozizé. You end up asking yourself why these big names are "never tried, not prosecuted," Bouwknegt says.
For this trial, the prosecution is focusing on events around the end of 2013 and beginning of 2014, following a referral by CAR authorities of the grave violations that have inflamed the country during the civil war that was reignited after Bozizé was deposed in a coup.
Timely arrest of a Seleka member
The prosecution used the trial's opening to show an even-handed approach, after a commander of the alliance known as the Seleka – which overthrew Bozizé and was subsequently opposed by the Anti-balaka self-defence groups – Mahamat Saïd Abdel Kani, was arrested and transferred in January to the ICC. New "investigations are underway," declared senior trial lawyer Kweku Vanderpuye in his opening address, pointing to the Seleka leader arrest as proof that the ICC is tackling "all sides of the CAR conflict".
A recent report into attitudes to justice in the CAR says that victims of the waves of violence generally "mistrust" all justice institutions. The authors observed that the ICC "is perceived as conducting a witch hunt against the Anti-balaka" and as persecuting those who have "laid down their arms and are in a weak position" in a context of ongoing conflict where prominent warlords are in powerful positions. Bouwknegt agrees that "it's a good thing for prosecution to have other guy in prison. At least for the story it's good," although "it was basically popular mass violence with citizens fighting citizens and some commanders and some leaders higher up". And there are "many steps to go before the Seleka trial also becomes a reality" in The Hague, he cautions.
Ngaïssona, part of a "strategic common plan"
Ngaïssona faces 16 counts of war crimes and 16 counts of crimes against humanity for allegedly using his position as the country's minister of Youth, Sports, Art and Culture to recruit child soldiers and incite hatred against Muslims. Yekatom is charged with 10 counts of war crimes and 11 counts of crimes against humanity for organising and overseeing atrocities committed by militia forces. Both men pled not guilty to all charges.
According to the prosecution, Ngaïssona was a member of the Bozizé "inner circle", who plotted from abroad and who together implemented a 'strategic common plan' to return to power and remove incumbent Seleka regime. This plan, says international criminal law expert Marjolein Cupido from the Dutch Academy for Legislation, was to "regain political control by using criminal means, by instrumentalising self-defence groups that already exist and that are collectively known as the Anti-balaka".
They "sent instructions for weapons purchase and attacks", said prosecutor Vanderpuye. Ngaïssona was influential over youth and became the Anti-balaka national coordinator in January 2014. The youth constitute a large part of the CAR population and he knew they would listen to him, said the prosecution. In April 2014, Ngaïssona is alleged to have said, "when I give an order to these children, I immediately think that it's enough".
The Anti-balaka leaders encouraged a "false narrative" against the Seleka with "inevitable" consequences, added Vanderpuye. He showed the court a video in which Anti-balaka militants said, "when you find them in the bush you kill them because that is what they are doing to us" and "it is our country … it is not the country of the Muslims". Ngaïssona himself signed press releases on behalf of the Anti-balaka movement in which he excused "excesses" and "isolated incidents" by militia. He even advised Anti-balaka elements to be careful because one day they may be prosecuted by the ICC, heard the court.
The prosecution says, "he was in charge, he gave them weapons, he was the big boss," notes Bouwknegt. In many accounts though, Bouwknegt points out, these militias were disparate, in "different villages, with different men, different children who wielded machetes and did awful stuff".
Yekatom, part of an "operational common plan"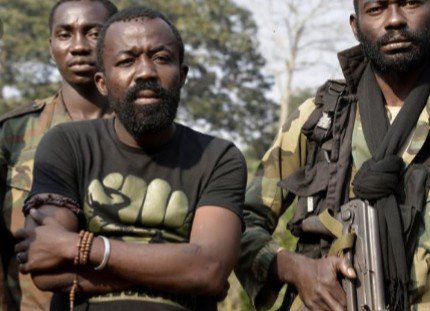 Yekatom is being charged as an Anti-balaka leader on the ground. "He's a really hands-on guy,' says Bouwknegt, 'who takes part in atrocities, according to the prosecution". Cupido explains that the prosecution is also alleging a second, "operational" common plan, "by the Anti-balaka groups to target the Muslim population in the Central African Republic".
Yekatom was a "central figure in carrying out the common plan" said Vanderpuye. He fled to neighbouring Congo, amassed 3.000 fighters and over three months he "organised them into militia-like hierarchy". While Ngaïssona became the national coordinator and de facto political coordinator, Yekatom trained and structured the "elements under his command" who shared same common purpose, says the prosecution. His "hatred of Muslims was well known" and he has shown "no hesitation to kill". Insider prosecution witnesses will tell the court that Yekatom instructed them to kill Muslims, to "tie them up with rope and slit their throats". "Insiders will say: 'I don't remember anyone disobeying him'," said Vanderpuye.
The prosecution is planning to introduce evidence from 150 witnesses including insiders and 6.000 pieces of evidence, including several videos.
For the defence, Ngaïssona "was not a fighter"
Geert-Jan Alexander Knoops, defending Ngaïssona, presented his client as a civilian with no "reference to a military background". His life was "dominated by his football career" and his popularity was due to professionalism, he says, recalling that Ngaïssona was elected to the Confederation of African Football (CAF) executive committee in 2018, which "made the country proud". The CAR rose through the FIFA ranks under Ngaïssona's care, going from low ranking 204 out of 207, up to number 50. "This is the reason why people liked him."
He was approached in January 2014 because the Anti-balaka needed a spokesperson and "because he was not a fighter," says Knoops. Witnesses will say "they wanted someone neutral". A video from august 2014 from Ngaïssona's return from a peace conference to Bangui will show him saying "today we need to find peace". The image presented by the prosecution "cannot be reconciled" with reality, says Knoops. Instead, the defence will attest Ngaïssona's generosity - witnesses will say "his house was like an orphanage".
Mylène Dimitri, who is defending Yekatom, did not yet present her approach to the case.
How to link the "strategy" and the "operations"
Why have the prosecution joined these two cases? It could make sense, suggests Bouwknegt, to build a case around the facts and then argue the links between events and the accused. Cupido is looking forward to seeing "how they are framing the relationship between the leadership level and the perpetrators". That can be problematic, she warns. In a blog piece, Cupido has been critical of the way the judges at the ICC pre-trial chamber formulated the evidence in the "document containing the charges" which did not provide a legal framework to define the elements of co-perpetration. "They just described a situation of a crime scene and then," she says, "concluded in one sentence: 'OK, so this means that there is a reasonable basis to proceed with this case for co-perpetration', rather than explaining what threshold was met, what legal elements were to be established. For the defence, that was very problematic, they were completely left in the dark".
The trial chamber and the appeals chamber have confirmed the prosecution's approach, but Cupido says there is still a risk involved "when maybe a trial chamber will go back to the Thomas Lubanga case law and to the traditional concept of indirect perpetration based on control and then says, no, but wait, this this doesn't really fit, in our view".
Several prosecution witnesses this month have included the UN analyst Lars Bromley, who provided satellite images showing the destruction of buildings, and a former member of the UN panel of experts on CAR, Aurelien Llorca, an expert on armed groups. Yesterday, on March 24, he told the court that he had established that Ngaïssona, based in the capital, was "at the top" of the anti-balaka structure, and that the national coordinators in Bangui sent out people to "structure" the forces in the provinces, providing also money and telephone credits. The witness said he had asked Ngaïssona directly about atrocities committed by Anti-balaka forces. The accused answered that the actions were by false Anti-balaka, or by "elements out of control". When Llorca asked whether he had ever tried to stop them, Ngaïssona had not "indicated he tried," Llorca testified, but rather that "he said he was not able".