There's a been a breath-taking flurry of activity during the last eighteen months of Fatou Bensouda's tenure as prosecutor of the International Criminal Court (ICC). The Palestine investigation has finally kicked off, with all the diplomatic blowback to be expected after she gave room, via a request to judges for a jurisdiction ruling, to states to weigh in on why this investigation was wrongly premised. She was personally battered by the United States over her Afghanistan investigation which may stray into victims of CIA rendition. She's concluded major cases against Bosco Ntaganda and Dominic Ongwen. With the support of the judges she added events in Myanmar – a non-state party – to her list of investigations. She's kicked off new court cases concerning Central African Republic, Mali and – in a remarkable vindication of the Office of the Prosecutor's persistence – has begun a Darfur case more than 15 years since that situation was referred to the ICC by the United Nations Security Council.
Altogether, she's ending her tenure with a straighter back and head held higher than seemed possible part way through her stewardship of the top job, having inherited (and been previously partly responsible for as deputy prosecutor from 2004 to 2012) poor investigations and a disastrous relationship with many African states.
But that very expansion has also left the newcomer Karim Khan with what scholar Kevin Jon Heller has described as "a mess" during a recent online discussion with her decisions to add Georgia, Burundi to the roster of investigations, and with her most recent move to the investigation stage in Ukraine and Nigeria – and at the very last minute, requesting opening The Philippines – with no funding. Plus the failure to wrap up Colombia and Guinea, and one-sided prosecutions in Cote d'Ivoire, Uganda, and the Democratic Republic of Congo (DRC). There, governments have not been held accountable for mass violence. It's not just "unfinished business," says Anni Pues, a lecturer at Glasgow School of Law, but rather that the court leaves now "little chance to leave a positive legacy of justice," especially in Uganda where "the ICC has lost some of its credibility a long time ago".
"The ICC has made so many compromises"
Bensouda also decided not to pursue UK forces for their role in Iraq in 2003-2009. Along with the debacle of the Kenya cases where no-one was held responsible for the 2007-2008 post-election violence, some human rights NGOs are disillusioned. "I don't know what is left of any reason to trust that the ICC still represents what it was created for. It has made so many compromises," says George Kegoro, executive director of Open Society Initiative for East Africa, an NGO. Especially complex will be how Khan navigates the diplomatic complexities of the Palestine investigation "in a way that is convincing to the broader publics and the different audiences, and that at the same time doesn't lose him the support of key states," says Pues.
So what can the new prosecutor do to steady the ship? The court is undergoing extreme pressure following a damming Independent Expert Review last September with many suggested changes that would affect the Office of the Prosecutor. Khan faces internal challenges, external ones, and still has a hill to climb in gaining the confidence of some quarters, especially in East Africa, after a long and chaotic election. How he straddles the variety of expectations without being overwhelmed by the multiple demands on the limited ICC resources will define whether he's seen as a success or not.
Some commentators seem to think that Bensouda should be congratulated for lasting as long as she has at the court, because as one former insider put it, "it's an extraordinarily hard place to work". The Expert Review noted a toxic environment and culture of bullying and fear. This will be one of the many important elements Khan will have to tackle. But there are other internal challenges. If Khan is to make changes, "he's going to need to be able to bring in people that have the same commitment to change that he does," said Heller, "the heads of the various divisions in the Office of the Prosecutor have simply been there too long".
The Expert Review certainly noted that a high percentage of senior court officials had been in the institution for more than a decade. Alex Whiting, formerly with the ICC, says that the current organisational structure "is overly complicated", creating "bottlenecks and impeding swift decision-making". Khan, in a recent interview for the Asymmetrical Haircuts podcast, says he "will always endeavour… to listen but also [not] shirk decisions." His choice as deputy prosecutor – to be approved by member states - will be crucial. He has already committed to picking a woman, providing some needed gender balance – Bensouda's heads and closest advisors were all male.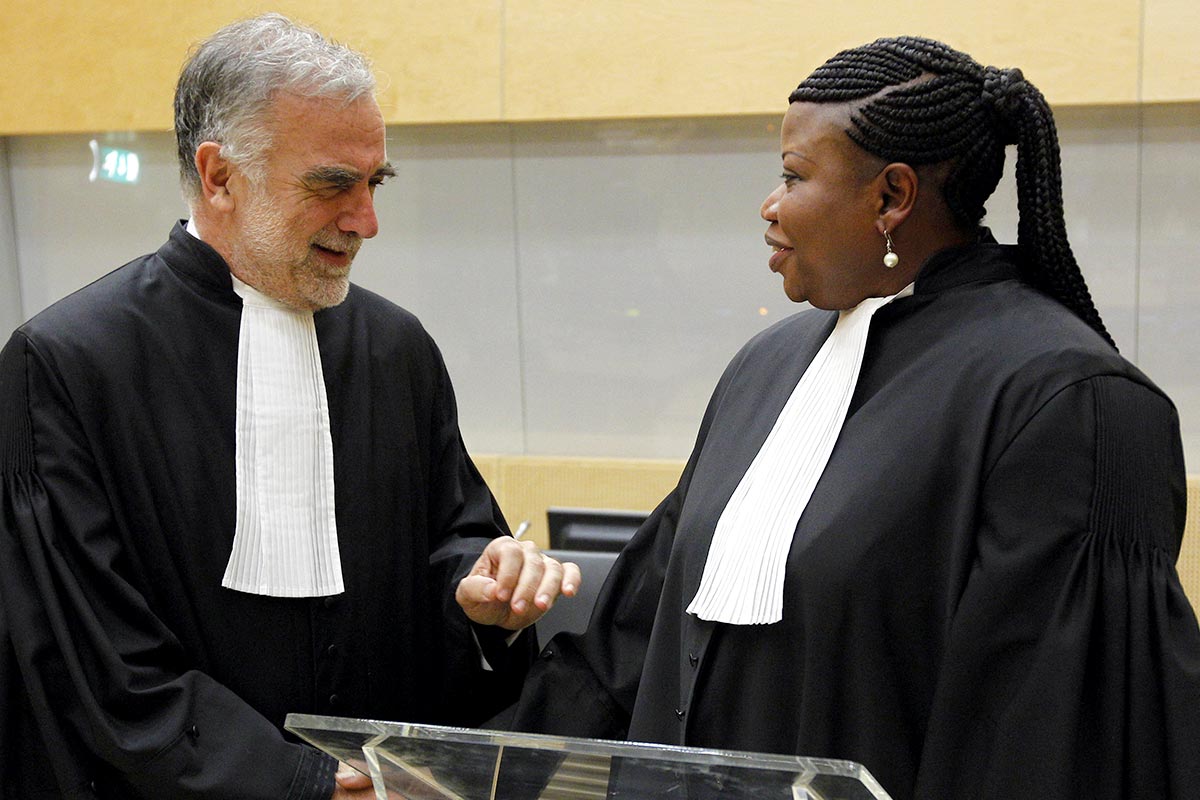 Prioritise viable investigations
One of the highlights of Bensouda's tenure has been the attempt to move out of Africa and into situations in other parts of the world. But investigations in Afghanistan, Palestine and Myanmar all involve non-member states, including the powerful duo of the US and Israel. And with opening the investigation into Ukraine, the court is on a continued clashing course with another powerful non-member, Russia, already not cooperating over Georgia, a situation where no individual case has been brought to fruition by Bensouda five years after she opened a full investigation. Whiting suggests that Khan has been somewhat boxed in by Bensouda's decisions but that he has "plenty of room" to "see which ones are viable and prioritise those". He's "is inheriting an interesting portfolio of situations," says Pues, but "turning those investigations into successful prosecutions would be incredibly difficult and a massive challenge". She says the British lawyer will have to explain why he has prioritized one situation and therefore neglected another "even though it is hugely important as well," and retain credibility. That would require to work out how to communicate his priorities within the court's limited resources so that then "the ball is kicked back into the court of the international community" to task them "with either coming up with more resources or with other forms of [justice] mechanisms that could support the ICC," Pues says.
Khan himself certainly sounds as if he will be pragmatic. "The quest for accountability, we shouldn't be parochial about it. I don't think it matters too much for most victims where justice takes place as long as it takes place," he says, looking back on his time investigating Islamic State crimes.
The new prosecutor can certainly build on the policy developments Bensouda has set in place – on dealing with children, and on sexual and gender-based crimes. Her team was also working on a benchmarking system to enable assessment and closure of preliminary examinations. Khan has shown himself also an aficionado of policy papers with two issues under his tenure as head of the UN Investigative Team to Promote Accountability for Crimes Committed by Islamic State (UNITAD), on trauma-informed investigations and use of technology. "Technology can't replace the human aspect," he says, but it's part of being "in the 21st century" and "an important resource to facilitate and accelerate the work that we have to do". Such creativity with investigative methods may be one of the "sort of fields in which he can leave his footprint," says Pues.
"This guy understands the art of deal making with states"
As the court undergoes the reform process it will – as always – be hoping to get some more cash. Both Khan's predecessors have argued for more resources. "Maybe he'll charm them," says Whiting, "maybe he'll persuade them with his energy and ideas. But I think he has to expect that states are not likely to expand the budget significantly and think about how you succeed with what you have." Heller points out that the Expert Review has many really good suggestions for how to increase the number and quality of personnel "without actually needing a larger budget", by encouraging member states to lend prosecutors and investigators and analysts, borrowing staff from UN agencies, encouraging NGOs and universities to lend experts to the court. "Khan is going to have to be creative to get the people that he needs to accomplish the ends that he sets for the office," says Heller.
Bensouda's own identity as an African played a part in helping to calm the court's acutely disturbed relationship with African states, but that's "still a very fragile thing," says Pues, while musing that Khan's identity as Muslim "might allow more identification with, say, a more diverse community".
Since Khan was elected in what was a contentious process, there's been a notable enthusiasm about him within much of the international justice practitioners' community and some hope for his ability to bring about change. But his election victory did not convince others. "It's very difficult to trust Karim Khan," says Kegoro referring to the time he was defending Kenya's top men from allegations of crimes against humanity, "he was condescending, he was domineering, he bullied people while playing victim". Khan's role not only as a defence counsel, but apparently as a close confidant of the inner circles of the Kenyan government is his albatross. "This guy understands the art of deal making with states," says Kegoro. "He's done one with Kenya. He can be trusted to do more with a broader number of states. He becomes prosecutor in the eyes of very many people as a continuation of that insider relationship with governments that has landed him in the office of prosecutor. Very, very unlikely journey, but a journey that nevertheless succeeded. He made the impossible possible when having been excluded from the shortlist of candidates. So it's very difficult for him. [But] there's nothing he can't do."