"Mrs. Rubiela, I regret having caused the death of Edison Lexander Lezcano Hurtado, your husband. That he can no longer sing vallenatos to you in the morning". With these words and a faltering voice, retired major Yair Leandro Rodríguez acknowledged on June 27th that, two decades ago, he ordered the murder and forced disappearance of a 23-year-old farmer, whom he and his army colleagues passed off as a member of the Revolutionary Armed Forces of Colombia (FARC), allegedly killed in combat.
Rubiela Manco, who had to raise a months-old baby and a two-year-old daughter on her own after her husband's death, burst into tears and took refuge on the shoulder of a victim sitting next to her. Rodriguez fell silent for a moment. "I'm sorry I fractured your home and I'm sorry for the suffering," he said, leaving his sentence hanging before ducking his head and returning to his chair.
His words shook the hundred or so people gathered in the coliseum of Dabeiba, a town in northwest Colombia considered a strategic corridor between the Andes and the Caribbean Sea, during the third public hearing held by the Special Jurisdiction for Peace (JEP) as part of its macro-case on thousands of extrajudicial executions committed by members of the security forces. In front of the families of their victims, eight former military officials publicly acknowledged their responsibility in a dozen murders and accepted the findings of the special tribunal, which charged them with war crimes and crimes against humanity. For the first time, two ministers representing the national government were also present.
In addition to bringing closure to the victims' families, these confessions could also put an end to one of the crudest disinformation campaigns directed against Colombia's transitional justice - born out of the 2016 peace agreement - by a political sector, which argued until now that Lezcano's murder proved the JEP's lack of rigour and its bias against the military.
Since February 2020, when Edison Lezcano's remains were exhumed and handed over to his family after an 18-year search, prominent politicians from the Democratic Centre claimed that Lezcano was a false victim and that the JEP deliberately distorted reality to accuse the security forces of his death. It has been a narrative promoted by the party's congressmen, including former president Álvaro Uribe (2002-2010) – under whose rule the largest number of these crimes, known to Colombians under the euphemism of 'false positives', occurred. Until just a month ago, they spoke of the murder of the young farmer from Urabá as "a set-up" and a "false false positive".
The secrets of the Dabeiba cemetery
The cemetery of Las Mercedes, located on the slopes of a lush hill on the outskirts of Dabeiba and close to the Llorona canyon that controls access to the town, is the epicentre of one of the biggest findings of the JEP in six years of investigations.
In August 2019, Sergeant William Capera was testifying in court about extrajudicial executions committed in Huila, another region 700 kilometres away, when he spontaneously mentioned the existence of a graveyard in Antioquia where dozens of persons were buried. His revelation opened a new line of work for the JEP. After a reconnaissance visit, the tribunal ordered precautionary measures over the cemetery and inaugurated a collaboration between two teams of its Acknowledgment Chamber, that of justice Alejandro Ramelli on the false positives case and that of Nadiezhda Henríquez on the Urabá sub-region.
Between December 2019 and March 2021, forensic experts from the JEP conducted four exhumations and found the remains of 49 persons, irregularly buried in 29 graves and one vault. To date they have identified eleven of them, including Germán Flórez who had been missing since 1982. The first person they were able to identify was Lezcano, whose remains were handed over to his family on 17 February 2020 in a crowded mass in Dabeiba's main square. The town's mayor decreed three days of mourning.
For his family, it was the beginning of the end of a nearly 20-year search.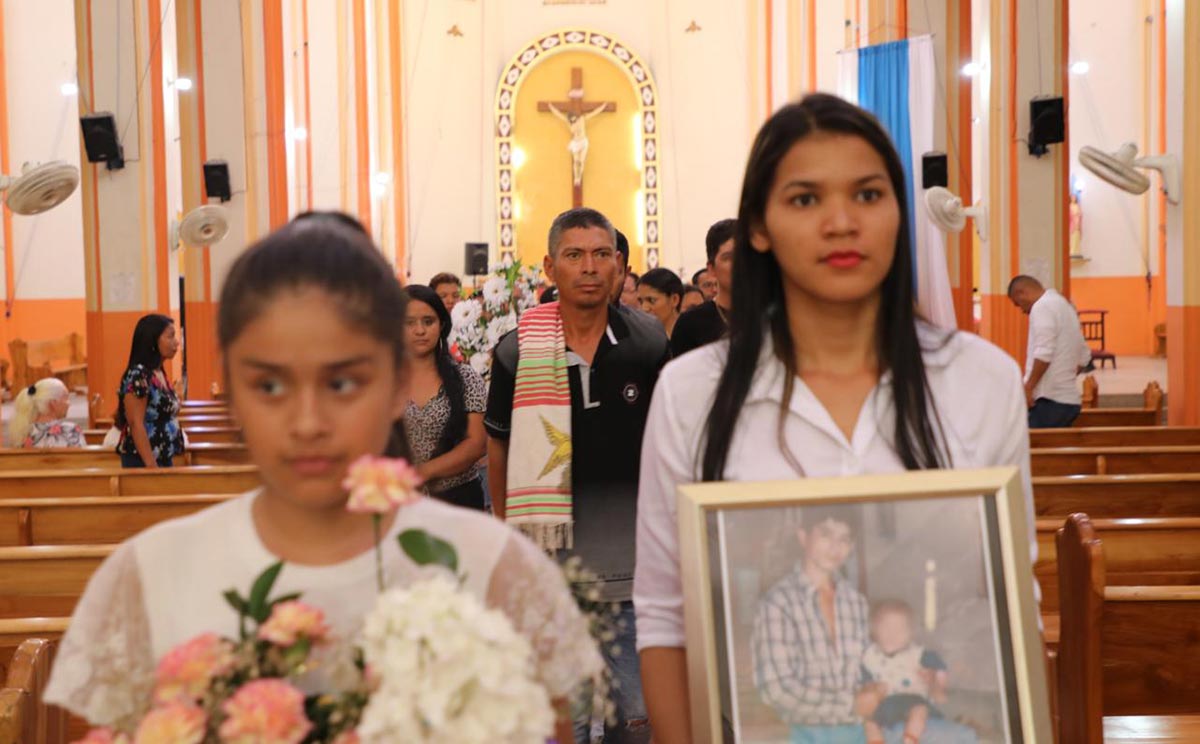 An assassination due to "insurgent prejudice"
Edison Lezcano's murder occurred, the JEP established, because of "insurgent prejudice". On 18 May 2002, he arrived at his in-laws' house in the rural hamlet of Alto Bonito in Dabeiba after working on a cassava crop with his father. A group of soldiers from the 26th Arhuacos Counter-Guerrilla Battalion broke into the house, threw its inhabitants to the ground and mistreated them, according to the indictment's reconstruction. They took four young men to a nearby school, accusing them of being rebels.
Despite his relatives' pleas, who insisted that Edison was neither a militiaman nor a FARC sympathiser, he was killed. For weeks Edison's relatives pleaded with the military to hand over his body, but denied having any information when - according to the JEP - they had in fact buried him as an unidentified person and donning military garments that were not his.
Two decades later, in July 2022, the JEP indicted ten former military officials from three army structures for this and other crimes, in a case that has led to threats against judge Alejandro Ramelli, one of his law clerks, two indicted military officials, a witness and a lawyer.
The JEP's Acknowledgment Chamber deemed Lezcano's murder an illustrative case of two of the three criminal patterns it identified in Dabeiba. On the one hand, it considered it to be representative of the murder of local farmers through what it described as "operational results that were known to be illegal, but considered in the private sphere to be legitimate because the victims were rebels and farmers", often in collusion with extreme right-wing paramilitaries. On the other hand, the JEP established that it exemplifies the modus operandi of hiding victims' bodies and burying them in a cemetery whose keys they managed at will, in what justices called an "improper administration". Military members of these structures were even involved in "beautification" work at the cemetery, such as planting trees and grass, which resulted in changes to its layout and further hid bodies.
So far, eight indictees have accepted the charges, which entitles them - if they continue providing truth and redressing victims - to receive a more lenient 5-to-8-year sanction in a non-prison setting. Two more, Colonels Jorge Amor and David Guzmán, will go to the JEP's adversarial track and - if convicted - will receive a prison sentence of up to 20 years.
The pro-Uribe version of the assassination
Two days after Lezcano's family received his remains in February 2020, a Democratic Centre congresswoman began circulating an alternative version of his death. In a tweet, then-House Representative Margarita Restrepo stated that Edison "was actually a FARC militiaman" killed in combat, whose body was buried with the knowledge of his relatives. She added that his family had sued the army and obtained compensation through legal channels. "He was not a 'John Doe' or die as a result of a false positive," she concluded, without providing any evidence. She simply said that "people who live in Dabeiba can testify about who this guy was, what he did" and attributed the message to information that "reached me".
An expanded version of this story appeared in November 2020 in two different sources. First, journalist Salud Hernández-Mora wrote a column stating that "Edison Alexander Lezcano was never disappeared", but - quoting anonymous inhabitants of Dabeiba - was "a FARC militiaman who died in a confrontation with the military". She described the JEP exhumation as a "set-up by justice Ramelli" and a "web of lies", suggesting that they "falsify the truth" to "whitewash FARC crimes at the expense of the army". Two days later, the late journalist Herbin Hoyos - a victim of FARC and for years the host of a radio programme for kidnapped victims – also argued that Lezcano couldn't have been a disappeared person because his family knew he was buried in the cemetery and received compensation from the state for the murder. They then did a programme together, on what they called the JEP's "spectacle".
Several Democratic Centre politicians immediately gave credence to both sources. Uribe shared on social media the column and the video, as did senators Paola Holguín, Paloma Valencia, Santiago Valencia and Carlos Felipe Mejía.
In February 2021, a year after Lezcano's identification and just as the JEP established the figure of 6,402 false positives that occurred during a time period that largely coincides with Uribe's government, his current political party spread this narrative massively. Senator Paloma Valencia stated that "they set up false positives in Dabeiba" and accused the JEP of an "evident political bias" thanks to which "leftist organisations pass on the stories they want". Senator María Fernanda Cabal - the most virulent against a tribunal she calls the 'JEP-stapo', in reference to the Nazi secret police - spoke of "justice Ramelli's set-up" and of "34th front militiaman Alexander Lescano, killed in combat and falsely turned into a victim in Dabeiba" to "promote a false narrative against the security forces". Similar messages of a "JEP set-up" were circulated by Senators Ciro Alejandro Ramírez and Carlos Felipe Mejía.
The Democratic Centre itself, then the ruling party, posted a thread on its institutional Twitter account on what it called "fake news about mass graves and false positives". In messages with Uribe's silhouette turned party logo, it questioned whether Lezcano was a victim of extrajudicial execution and said that Dabeiba was a "fake grave". "If Lezcano was not a FARC member, why was his body next to an active guerrilla?" it asked.
"A disinformation and delegitimisation campaign"
Pro-Uribe politicians' tweets and TV appearances suggesting that weren't isolated. Replicated and amplified hundreds of times by supporters of Uribe and the Democratic Centre, they were part of a broader effort to question the tribunal's findings, which researcher María Paula Rincón described as a "disinformation and delegitimisation campaign".
Rincón, a digital communications expert at the NGO Transparencia por Colombia, analysed 602 public messages of that kind and concluded that they were not spontaneous, but came from a "robust and organised machinery" in which politicians accounted for only 5 per cent of the disseminators. According to her analysis, they tended to concentrate on specific dates, with the highest peak of digital activism matching the JEP's announcement of 6402 extrajudicial executions. The tweets about Dabeiba, she concluded, were part of an initiative seeking to install the ideas that the JEP was created to exonerate FARC and inflate the figures of crimes by state agents based on information provided by leftist organisations. "Beyond a coordinated and specific attack on the discovery of false positives in Dabeiba, they sought to attack the JEP, distorting historical memory, diverting attention from those implicated and hindering the search for the truth by generating a halo of mistrust around it," she wrote in an article published in a Spanish academic journal.
The Dabeiba hearing and a subtle shift in discourse
It wasn't only major Rodríguez who spoke about Lezcano's murder in Dabeiba coliseum a fortnight ago. Major Hermes Alvarado, who admitted hiding his body and obstructing investigations, offered to "cleanse" his memory because, in his words, "he was a farmer, not a rebel". Colonel Edie Pinzón, who admitted giving the order for the murder as battalion commander, described him as "a truly innocent peasant who had nothing to do with a combat that took place very close to his home". They thus joined soldier Richard Barroso, who had already confessed to pulling the trigger and wasn't charged as most responsible of the crime.
On June 28th, Uribe wrote on Twitter that "it hurts and mortifies me that they denied false positives, we believed them, and now they accept them". He added, in a cryptic and fragmentary mea culpa, that "even the deceased Herbin Hoyos defended a case in Dabeiba, prior to my government, and we supported that". A day later, Uribe underscored in another tweet that among the Dabeiba false positives "there are cases dated before my government", including that of Lezcano, which occurred three months before he assumed the presidency.
His political party adopted a similar position, noting - using his name - that "the life of any Colombian hurts us, including that of Édison Lezcano, whose crime occurred in May 2002, prior to [Uribe's] government". In an official communiqué it then underscored that "of the 11 victims identified in the Dabeiba hearing, more than half of the murders took place before the government of former president Álvaro Uribe", describing the others as a "painful stain".
However, neither Uribe nor his party have deleted their past tweets about Lezcano or offered apologies to his family. Nor have their political allies. Asked by Justice Info, neither Margarita Restrepo - the first to spread the alternative version of the death of the missing 23-year-old farmer - nor Paloma Valencia - one of the most vocal disseminators of the false narrative - responded to whether they would consider deleting such messages in the face of the new evidence. With their half-hearted retractions, disinformation targeting transitional justice is not fully defeated, even by the public admission of four authors of a murder.