"We can make progress if we cooperate [...] on the basis of a sincere process of examining the past," the South Korean president said in late September at the UN General Assembly. While Moon Jae-in did not explicitly mention Japan, the message was clear: in the growing historical and trade conflict with its former colonial occupier (from 1910 to 1945), Seoul has no intention of lowering its guard.
This conflict was exacerbated when Tokyo decided in July to impose restrictions on exports to Korea of Japanese chemical products crucial to Korea's thriving semiconductor industry. These reprisals were prompted by the Korean Supreme Court's decision in October 2018 to order two Japanese companies to pay compensation to eleven Koreans who were victims of forced labour during the Second World War.
Nationalist tensions
Seoul responded to Japanese restrictions by imposing its own trade retaliation measures and cancelling a major military intelligence-sharing agreement with Tokyo at the end of August. South Korean civil society, furious, has launched a massive campaign to boycott Japanese products. In September, South Korea also asked the International Olympic Committee to force Japan to reverse its decision allowing the Japanese imperial flag in the stands of the upcoming Tokyo Olympics. This flag, a red sun shining on a white background, is seen by South Koreans as a symbol of militarism and Japanese colonialism, and is often compared to the Nazi swastika.
History therefore remains firmly at the centre of nationalist tensions that are burning on both sides of the Sea of Japan - or the East Sea, as Seoul calls it. Some historians estimate that as many as 800,000 Koreans were victims of forced labour in Japan, and as many as 200,000 were Korean "comfort women" forced to work as prostitutes for the Japanese imperial army (see box).
Japan considers that the issue of compensation to Korean victims of forced labour during the war has already been settled by the normalization treaty signed with South Korea in 1965. At the time, Tokyo provided $880 million in grants and loans to its neighbour. While this sum played an important role in reviving the South Korean economy after the Korean War (1950-1953), nothing has been paid directly to the victims.
2015 agreement scrapped by Seoul
For Tokyo, the Korean Supreme Court decision in October 2018 - upheld by a Court of Appeal in December - was the straw that broke the camel's back. The Shinzo Abe government was already angry after President Moon Jae-in cancelled an agreement signed in 2015 by his conservative predecessor Park Geun-hye on the painful issue of "comfort women", an accord described by both countries at the time as "final and irreversible". This cancellation was an election promise by Moon, who was elected in 2017. The South Korean left has never accepted this deal, which was negotiated without consulting the victims. In particular, the text allowed Japan to avoid the term "sex slave", which is an important point, as the Abe government refuses to recognize the coercive aspect of this human trafficking.
"The 2015 agreement was problematic because it was not very clear what exactly the Japanese government was apologizing for," says Cho Si-hyon, a researcher at the Centre for Historical Truth and Justice in Seoul. This lawyer points out the lack of consensus between the two countries on historical facts. An appropriate agreement, he said, should first have "established the facts". This would be a first step, which should then make it possible to "prosecute the surviving perpetrators. Victims must also receive reparations and compensation. Finally, people must be taught about these crimes to prevent their recurrence. History teaching is part of the solution," concludes Cho Si-hyon.
Japanese apologies deemed "insincere"
In 2015, Japanese Prime Minister Abe orally apologized and expressed regret in a telephone conversation with former President Park, but these regrets are considered not "sincere" by the South Korean left, which points out that Abe has never met the surviving victims and has never sent them any apology letters as they have demanded. At the end of 2018, Moon therefore dissolved the victim support fund provided for in the agreement and cancelled it, causing Tokyo dismay. Japan had already been furious since the October ruling by the Korean Supreme Court. The Korean government replied that the judiciary was independent of the executive. Tokyo proposed an international arbitration procedure, without success. Seoul then suggested establishing a joint victim compensation fund. Japan refused. A few months later, Japan took its first trade retaliation measures, and the conflict flared up.
Electioneering?
In Seoul, the most vocal members of the Conservative opposition accuse Moon Jae-in of stirring up these tensions to send signals to its electoral base and improve its popularity. Moon is indeed going through a difficult period: the South Korean economy is flagging, and the inter-Korean dialogue has been bogged down since the 2018 summits. But Moon, a former human rights lawyer under South Korean military dictatorships, is a progressive man who since his election has made many efforts to improve the rights of women, workers and the most disadvantaged. His policy can also be understood in a general context of democratization and better listening to individual demands in South Korea.
The fact remains that stirring up anti-Japanese sentiment which is always ready to catch fire is an easy way for South Korean politicians to close ranks and give their electoral base a guarantee of nationalist respectability. In 2012, to restore popularity damaged by several scandals targeting his relatives, former Conservative President Lee Myung-bak - now in prison for corruption - travelled by helicopter to the Dokdo islets, a South Korean territory claimed by Japan.
Witch hunt
This feeling began to take on the appearance of a witch hunt this summer: the leader of the ruling Democratic Party, for example, was publicly accused of drinking -- sake in a Japanese restaurant! --, an outrage that the accused hastened to deny. Politicians and editorialists have described all those suspected of pro-Japanese sympathies as "chinilpa", or collaborators.
In this context of heightened nationalism, it has become difficult to express opinions that go against the grain. In 2017, South Korean historian Park Yu-ha was fined $9,000 (prosecutors had requested three years in prison) for "defamation", after the 2013 publication of a book in which she questioned the assertion that the Japanese colonial government was officially involved in organizing the system of "comfort stations".
American responsibility
However, Seoul seems to be on the way to winning the image battle: never before have the international media covered Japanese colonial crimes so much. This all makes Japan appear as a country capable of triggering a devastating trade war because it refuses to compensate victims of forced labour, who are now in their 90s. And the Abe government continues to stoke the flames: on August 15, it sent an offering to the Yasukuni sanctuary, a symbol of Japanese militarism. The 1993 apology by Chief of Staff Yohei Kono for comfort women seems far away.
South Korea and Japan are, however, two natural allies in a context of growing regional instability. In the Far East, they are, along with Taiwan, the only liberal democracies, faced with an increasingly authoritarian China that is becoming militarized and a North Korea that is now nuclear. The United States, the military ally of Seoul and Tokyo, played a mediating role between its two allies in the name of common strategic interests during the Obama era. Since the arrival of Donald Trump, they have let the crisis get out of hand. Historian Alexis Dudden recalls in an editorial in the New York Times that the United States wanted as early as the 1960s to avoid its Japanese ally having to apologize for its colonial crimes. She refers to the 1965 treaty, which Japan now raises to justify its refusal to offer compensation to victims: "If the deal was problematic from the outset, that is partly because of Washington's preferences and decisions. Eager for a quick resolution, it pushed aside some of the thorniest issues, such as whether Koreans could seek compensation for forced labor."
Half a century later, expectations have changed, South Korean society has become more democratic, and the duty of remembrance can no longer be so easily swept under the carpet.
THE SEX SLAVES OF THE IMPERIAL JAPANESE ARMY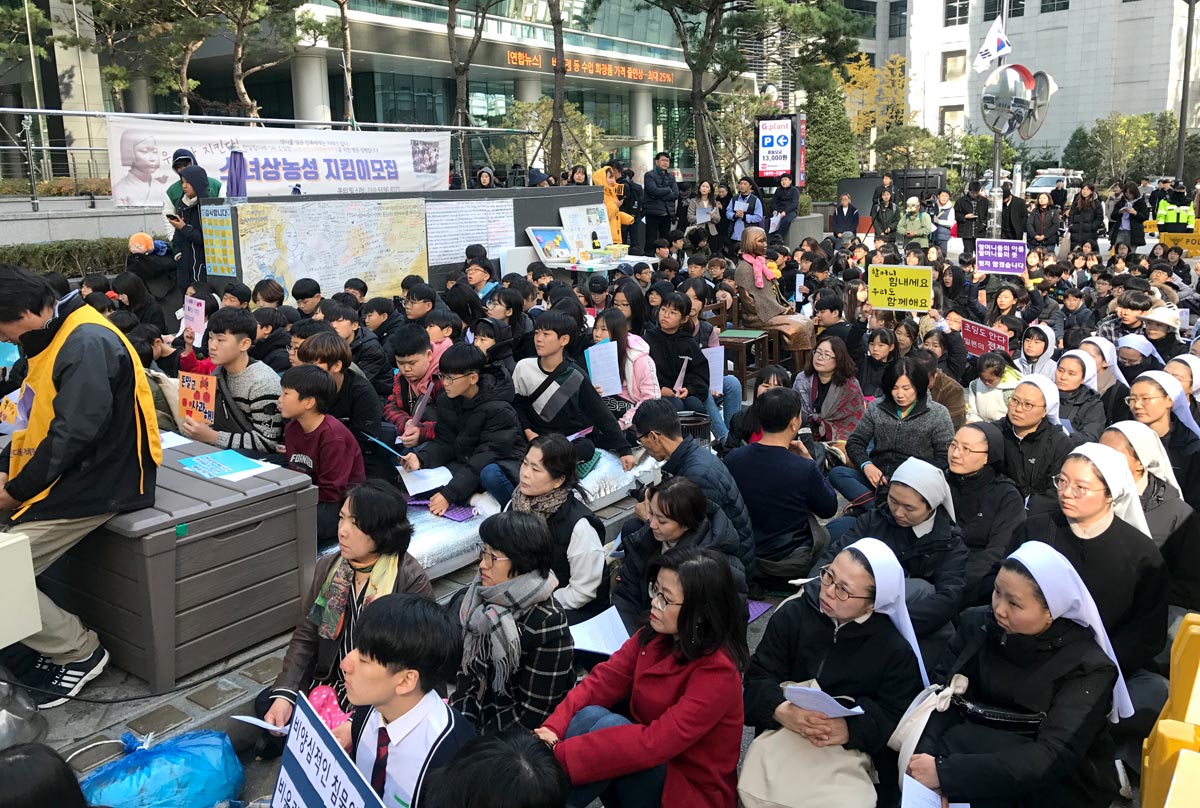 "Comfort women" is a euphemism – rejected by the victims and South Korean activists – referring to the tens of thousands of mainly Korean women forced to work in closed houses of the imperial Japanese army throughout Asia during the Second World War.
This tragedy was kept silent for decades: former victims have often been rejected by their own families. The first public testimony of a Korean survivor dates back to 1991. Many women followed her example. For more than 20 years, victims' associations and supporters have demonstrated every Wednesday outside the Japanese Embassy in Seoul to demand a "sincere" apology and reparations from Tokyo.
"The Japanese are trying to escape their responsibilities. They say they didn't organize this sex trade. They say I went to China during the war of my own free will. And they claim that what we say is a lie," said Lee Ok-sun, 92, in an interview in Seoul in January. Her story was the subject of a shocking book, "Grass", by Keum-suk Gendry Kim.
In order to put pressure on Tokyo and pay tribute to the survivors, the activists erected a statue representing a young victim in front of the Embassy in Seoul. Similar statues have flourished all over the world, provoking the wrath of Tokyo, which is using all diplomatic means to remove them.