For 22 years, the primary asset of Gambia's former dictator Yahya Jammeh in winning elections and prolonging his stay in power was fear. But in 2016, that fear was met with fearlessness. At the forefront of that change were women, including Fatoumatta K. Jawara, today a lawmaker. They paid a heavy price for it.
On April 14, 2016, Jawara was among 26 people who were arrested for protesting in support of "proper electoral reform". The group was led by Ebrima Solo Sandeng whose death in state custody due to alleged torture would eventually lead to president Jammeh being forced out of power in January 2017. "I was blindfolded and taken into the torture room. They took my scarf and strongly tied up my face to the point that I could hardly breathe. I was stretched on the table and they poured cold water on me," said Jawara before Gambia's Truth, Reconciliation and Reparations Commission (TRRC) on October 22. "They hit me repeatedly for an extended period with something that felt like a baton because it was hard. I couldn't see them but there could be about twenty people hitting me. They tortured me and took me out of the torture room to face the panel."
"If you don't talk, we will ask these men to rape you"
Seven former senior members of the National Intelligence Agency (NIA) are currently being tried for the murder of Solo Sandeng and the torture of Jawara and others. The case is about to enter the defense stage. Various testimonies before the TRRC have established that torture was customary for detainees in Jammeh's Gambia. Alagie Martin, a serving general in the Gambia army, who reportedly tortured several detainees, put it this way before the Commission: "Of course, if you are not forthcoming with the truth, we deal with you." (Martin was suspended from the army after his testimony.)
Fatoumatta Jawara did not say that she was raped but she did say NIA agents threatened to rape her. Before the "investigation panel" that Jawara faced after being tortured, she heard the voice of Sheikh Omar Jeng, an Operations Commander at the NIA who is among those currently standing trial for Sandeng's murder. "He [Sheikh Omar] told me: if you don't talk, I will ask all these men here to rape you", testified Jawara. "That was the time I fell down again because I could not stand, due to intense pain and injuries. When I regained consciousness, they started beating me for a short period."
Jawara said she still hears her tormentors calling her in her dreams. "I sustained a lot of injuries on my body including my back, my buttocks and my thighs. These injuries are still hurting me. Sometimes when the pain starts, I do not sleep at night. A few months ago, I was admitted at the hospital in Banjul on two occasions," she said.
Physical evidence
In custody with Jawara was Fatoumatta Camara, a member of the United Democratic Party (UDP), the leading opposition party under Jammeh. Now 46, Camara appeared before the TRRC on October 24. At the NIA headquarters, she said they were asked who sponsored them and whether their party leader Ousainou Darboe was part of the protest. But any truth that was not "their truth", she said, was dismissed. "They beat me until I fainted. When I became unconscious, they poured cold water on me. When I regained consciousness, I found myself lying on the ground, somewhere within the premises. I heard them saying 'oh she is alive'. And they came again and began beating me," Camara testified. As a result of torture, she said she had to use a wheelchair to go to the restroom. She could not walk. "I was urinating only blood for 15 days," she said.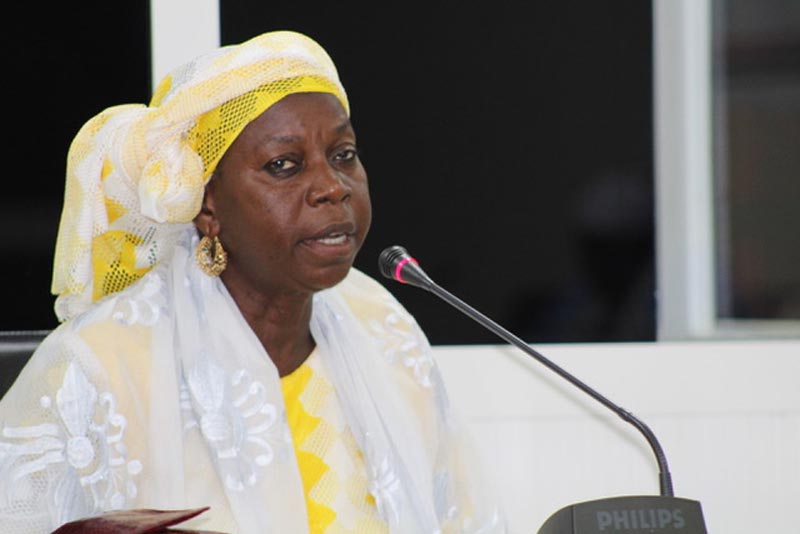 Gambia's TRRC began probing gender-based violence on October 14. It heard several cases of torture of women in detention and cases of alleged rape, or suspected rape like in the case of Jawara.
Sainabou Camara was involved in the April 10-11, 2000 protest, when fourteen students were gunned down by security forces for protesting the alleged rape of a student, Binta Manneh, and the alleged murder of another, Ebrima Barry. Sainabou Camara went to school that day without any knowledge of the protest. After she learned about it, she joined the other students. She was arrested by paramilitary officers. "When they captured me, they started beating me with their batons. They slapped and kicked me," she said, as they "dragged her" to the camp. Upon arrival at the paramilitary camp at Westfield, about 15 minutes drive from Banjul, Sainabou Camara said they took her to a room, tied her hands and legs and started stamping on her, including her private parts. After some time, she became unconscious.
She regained consciousness a week later at the Edward Francis Small Teaching Hospital. "My face and my private parts were swollen," she said. She was not able to say if she was raped. However, the wounds on her thighs and sexual organs, inside and outside, were consistent with rape. "I don't know what caused the injury in my private part," she said. "I am still living with the pain."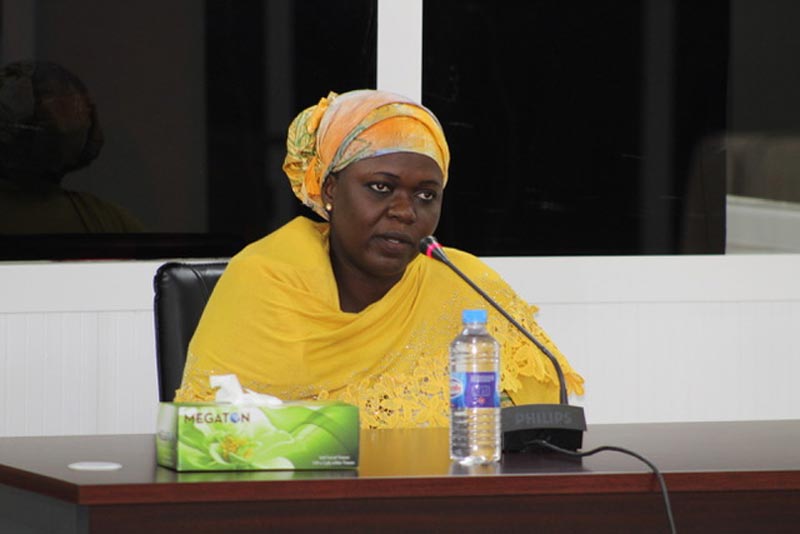 Next suspect, Jammeh himself
Bintou Nyabally, a UDP supporter, was arrested twice in May 2016. The second time, on May 17, she said she was taken to a small room by two paramilitary officers who raped her. She could identify one by his surname, Sanneh. "They both forced themselves on me and both of them wore masks," said Nyabally before the TRRC. "The next day I was vomiting and we were released to go home," she said.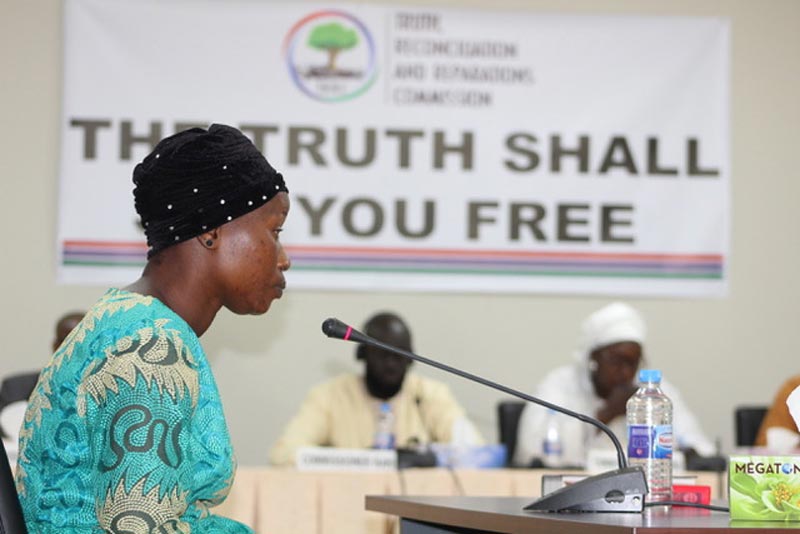 The TRRC is also expected to hear about direct allegations of rape against former president Jammeh. Last June, human rights organizations issued a report that charged Jammeh with such allegations. It included the testimony of Fatou Toufah Jallow, a former Gambian beauty queen who is expected to testify before the TRRC. The report also alleged that Jammeh used protocol officers to sleep with several women.
Yusupha Sanneh was an orderly to Jammeh for ten years. He was arrested in the United States in December 2017 for his involvement with Jammeh's hit squad. Before the TRRC, Sanneh did not confirm any rape allegation but he said he saw several girls being brought to Jammeh's place. "He would invite some girls for grills. Some would also come to do green tea. Normally when boys cook attaya, we would collect it and give it to the stewards. But when it was ladies who brew the attaya, they took it to him. He would say we should not escort them. Sometimes they were there between 30 to 40 minutes," said Sanneh. Some of those girls were soldiers and protocol officers, according to Sanneh. He listed nine names whom he said were involved in brewing attaya for Jammeh. "Sometimes, we would receive girls at the residence [in Kanilai, Jammeh's village] at night. Sometimes this would happen at 2, 3, 4 or even 5 a.m," said Sanneh.
TRIAL AND DENIAL ABOUT A POLITICAL MURDER

Edward Singhateh, once the second most influential person in the military council that ruled Gambia after the 1994 coup, has denied involvement in the killing of former Finance minister Ousman Koro Ceesay.
In June 1995 Koro Ceesay's charred remains were found in a car along the Jambur highway. He had reportedly been killed after seeing off president Yahya Jammeh at the airport. Testimonies before the TRRC have tied Singhateh, who was then the vice-chairman of the Armed Forces Provisional Ruling Council, to the murder. On February 28, a former soldier, Alagie Kanyi, confessed to killing Koro Ceesay. He said the crime scene was the house of former Local government minister Yankuba Touray and that the architects of the murder were Edward Singhateh, his brother Peter Singhateh, and Yankuba Touray.
Touray appeared before the TRRC on June 26 but refused to testify. He was immediately arrested and is currently being tried for the murder. Peter Singhateh is yet to appear before the Commission.
Mustapha Marong, Justice minister at the time, testified last April that he believed Koro Ceesay's death "was connected to the $35 million dollars that Captain Ebou Jalo negotiated on behalf of the government with Exim Bank of Taiwan." He explained that it was unusual and not in accordance with proper procedure that such loan agreement be negotiated by Jalo and not the Finance minister. There are suspicions that Koro Ceesay would not have approved how the money was going to be used.
Two orderlies of Edward Singhateh, Lamin S. Marong and Lamin Fatty, also testified they had dropped their boss at Yankuba's house on the day of the murder. Ahmed Jangom, an orderly of Yankuba, said he saw Edward Singhateh at Touray's house on that day. Lamin Ndure, Touray's driver, also said he dropped Touray's wife at Edward Singhateh's house, suggesting the "crime scene" was being cleared for "murder".
Last week, however, Edward Singhateh denied any knowledge of Koro Ceesay's death. His alibi was that he was at home, back from the airport.
Singhateh's denial left several people unimpressed. Madi Jobarteh, a leading human rights activist, said Singhateh should be arrested for attempting to mislead the TRRC.