When Ismaila Jammeh, 48, appeared before the Gambia's Truth, Reconciliation and Reparations Commission (TRRC), the first few words that got to him were: "lying is a no-go area." In response, Jammeh just nodded. Sitting right across him was Essa Faal, a man in a blue suit who from being a little-known international lawyer rose to fame in the country as the lead witness cross-examiner of the TRRC. "You have to be absolutely truthful," warned Faal.
This is a standard procedure at the Commission for anyone who may have a crime to confess. It is an offense to lie under oath and to lie before the TRRC – and Faal would not miss the opportunity to remind Jammeh. Four meters to his right, Jammeh could also read a promise on the wall. "The truth shall set you free," said the Commission's mantra.
The truth eventually set some people free. But Ismaila Jammeh and one of his former colleagues, Alieu Jeng, were not among them.
Four are released, two remain in jail
Under the regime of president Yahya Jammeh (1994-2017), members of Gambia's Republican Guards had formed an elite team in charge of protecting the head of state. They transformed into a group of infamous and feared hitmen known as the "Junglers". In January 2017, Yahya Jammeh fled into exile in Equatorial Guinea after enduring a shocking election defeat. Several Junglers left the country, including their operational commanders. Six of them – Pa Ousman Sanneh, Malick Jatta, Omar Jallow, Amadou Badgie, Alieu Jeng and Ismaila Jammeh – stayed. They were immediately arrested by Gambia's military chief.
The six men acknowledged at least some of their crimes while in detention but from July to August 2019, their confessions became public when they appeared before the TRRC and admitted to several unlawful executions. After their testimony four of them – Pa Ousman Sanneh, Malick Jatta, Omar Jallow and Amadou Bargie – were released from prison in August 2019, despite widespread condemnation from victims of the dictatorship. Ismaila Jammeh and Alieu Jeng, however, remained in jail at the Yundum Barracks, a military encampment 40-minute drive from Banjul, Gambia's capital city.
On May 25, 2020, Bully Jammeh, a younger brother of Ismaila, went with his mother to visit his brother. "We are asking why these people are being detained up to now," he told Justice Info.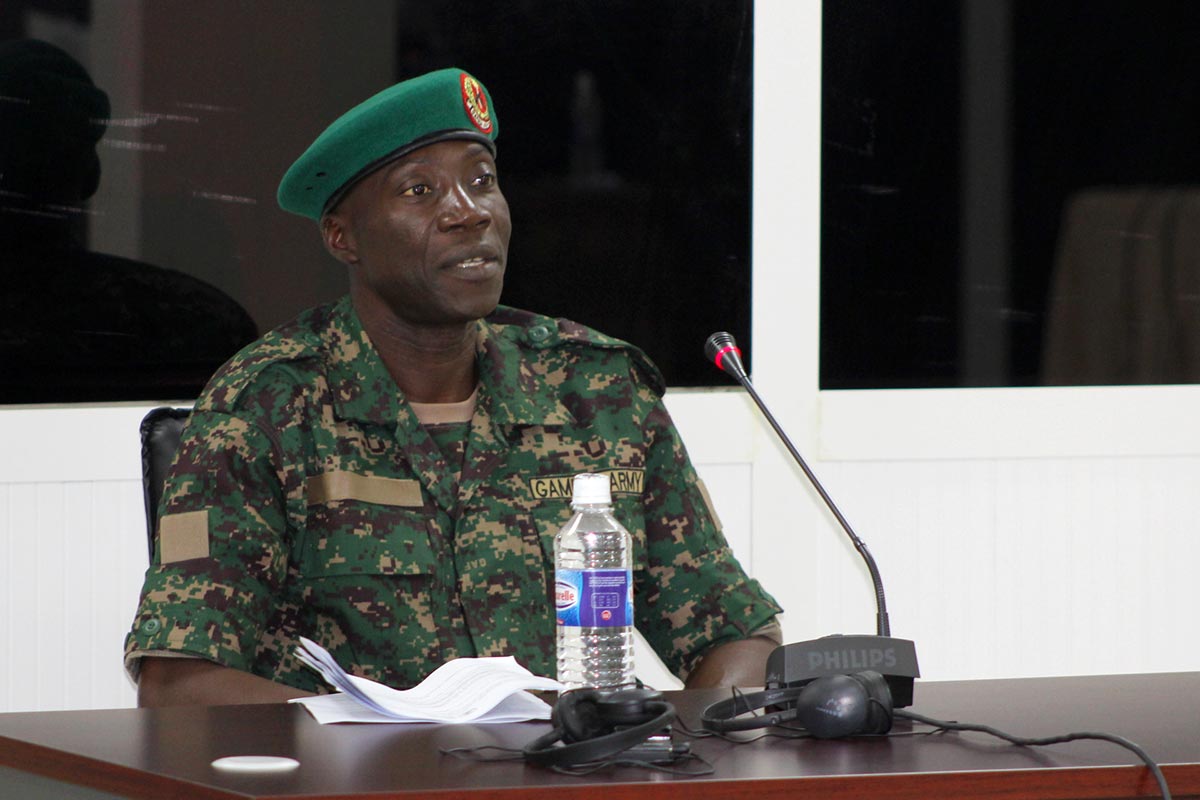 The Ministry of Justice decides who is honest
The arrangement between the Justice Ministry and the Junglers was never made fully public. The Justice Minister Abubacarr Tambadou would not respond to Justice Info's questions.
However, in August last year, following the release of the four Junglers, Tambadou met with some victims of Jammeh's regime. He essentially indicated that he may need the confessed killers in future cases and that they may be an incentive for others to come forward. Tambadou said he agreed they would be granted temporary release – it wasn't an amnesty, he warned – pending the outcome and final recommendations of the Truth Commission. In turn, the Junglers were to tell the whole truth to the TRRC – an assessment that was made by the Justice Ministry. Hinting at the fact that two of the Junglers had not been released, Tambadou said that these two were not truthful. "If they cannot help the victims then I am sorry we cannot help them too. They have had two years to think about it. They have been reminded constantly to tell the truth," the Justice Minister said. "I have decided that the test of outrageous dishonesty will be based on a number of factors. It will be based on the evidence adduced so far before the TRRC, the nature or gravity of the human rights violations, the alleged role of the perpetrator, and the materiality of the dishonesty."
The TRRC claims no role in this. "The TRRC has nothing to do with the release of some Junglers or the continued detention of other Junglers," Baba Galleh Jallow, the TRRC executive secretary, told Justice Info. "The Commission was neither informed nor consulted prior to the release or the continued detention of some Junglers. We heard the news like everyone else. There certainly was no recommendation at all from the TRRC in these matters."
Allegations against Jammeh and Jeng
Ismaila Jammeh is a native of Bwiam, a settlement about two-hour drive from Banjul. He joined the army a year before the July 1994 military coup that brought Yahya Jammeh to power. In his testimony, he said he was of the same ancestry with the former president. Following the coup, he was deployed to State House from mounting a guard post at Gambia's Central Bank. He would later serve as an orderly to the military leader. Ismaila Jammeh has been implicated by his former comrades in several killings, including the murder of Almamo Manneh in 2000, Daba Marenah and six others, as well as the torture of some military officers following a 2006 foiled coup against president Jammeh. He was also named in the killing of Ndure Cham, a former Gambian army chief suspected of leading the 2006 foiled coup.
Alieu Jeng, 41, who hails from Banjul, faces equally murderous allegations. He joined the army in February 2001. He was accused of participation in close to fifty unlawful executions. One of his former colleagues, Malick Jatta, put Jeng at the center of several executions including the killing of prominent journalist Deyda Hydara and Dawda Nyassi. Jeng denied firing at Nyassi. However, he admitted involvement in the killing of Hydara. Jeng was also allegedly involved in the unlawful execution of Ndongo Mboob, Haruna Jammeh, Daba Marenah and 5 others as well as over 40 West African migrants. In 2003, Jeng was deployed to Kanilai, President Jammeh's home village, where he became a member of the patrol team, a product of the Junglers, according to Jatta. Jeng denied it.
"Have you been told that you are going to be a member of a killer squad?" asked TRRC Lead Counsel Essa Faal on August 8, 2019.
"No," replied Jeng.
"You see, this is the problem. You don't want to be part of that killer squad. You want to try to extricate yourself from all the activities that made you know that you are going to be a member of a killer squad."
"I am not trying to extricate… Malick Jatta cannot speak on my behalf."
"But some people died and you were there, only that you wouldn't have the courage to say you were there."
Illegal detention?
Both Alieu Jeng and Ismaila Jammeh were generally perceived to have been not truthful before the Commission. The reactions to their testimonies in Gambian social media sites were clearly different than to the testimonies of their four fellow Junglers.
The main issue today is about the legality of their detention. According to Bully Jammeh and several other sources, their detention has continued without any court order – which would be a clear violation of their rights. "The Ministry is not the authority to decide the detention of a citizen beyond 72 hours. That power lies only with the courts. If the Ministry wants to keep them beyond 72 hours then it must go to court. Since these detentions are already beyond 72 hours then their continued detention is a violation," said Madi Jobarteh, a leading Gambian rights activist and head of a local advocacy team called the Jammeh-to-Justice campaign. "It is the TRRC who should determine the truth or falsity of testimonies and then recommends what measures to be taken against them," Jobarteh added.
Ismaila Jammeh's family has not hired a lawyer. They can't afford one, said Bully Jammeh. Early May, he however visited the National Human Rights Commission to lodge a complaint over his brother's prolonged detention. A week later he was informed that the Commission had written to the Justice Ministry over his brother's issue. "A letter was written to the army and the Justice Ministry as to whether the two [Junglers] have been officially charged. We want to be updated on their status," confirmed the Chair of the National Human Rights Commission, Emmanuel Joof. "We also want to know, if they are not charged, what is the position of the Ministry or the army on their case. If they are charged, why are they holding them?" added Joof, who said the 5-member Commission would meet the Attorney General over the issue.