At the foot of the podium, Cecilia Arenas placed a portrait of her brother Mario Alexander Arenas, murdered on January 21, 2008. "It has been said that we are hideous. Yes, I am hideous because I am the truth. It has been said that we lie, that we are crazy, that we are vipers," she said. "No, I don't have to forgive. My mother died without seeing justice." She then called to the podium each of the other 12 members present from the Mothers of False Positives Association of Soacha (MAFAPO), a town an hour's drive south of Bogotá. Each one came to join her, carrying the photo of a murdered son or brother. Eleven mothers, two sisters. They were the first to mobilize and publicly denounce the scandal.
They have been waiting for 14 years since 19 young men - 14 from Soacha, and 5 from the Colombian capital -- were murdered by state agents. Fourteen years of struggle, threats, insults and denial as they tried to get society and the Colombian authorities to recognize the terrible truth of the "false positives": extrajudicial executions carried out by the army in the 2000s, in 31 of the 32 departments of Colombia and disguised as losses inflicted on the guerrillas to inflate the statistics. There were officially 6,402 victims. According to a modus operandi that the mothers describe tirelessly, a "recruiter" came to promise a job to the young person, who was then taken more than ten hours away, north to the department of Santander to be murdered and then presented as a member of an armed group killed in combat.
After the mothers, three former military personnel - a general, a colonel and a sergeant - took their turn at the podium, holding a small flowering plant. Each of the women introduced herself with the name of the loved one they lost. "They were not criminals. They were not guerrillas," the colonel confirmed, praising the resilience and persistence of the mothers, while the general placed a plant in front of each of them. "This is a very important step for us and for society. We are here to recognize the 6,402 victims. This is not the final step, but it's an important step for the country to hear your names and the names of your brothers," the officer adds - "innocent people we murdered," the sergeant says.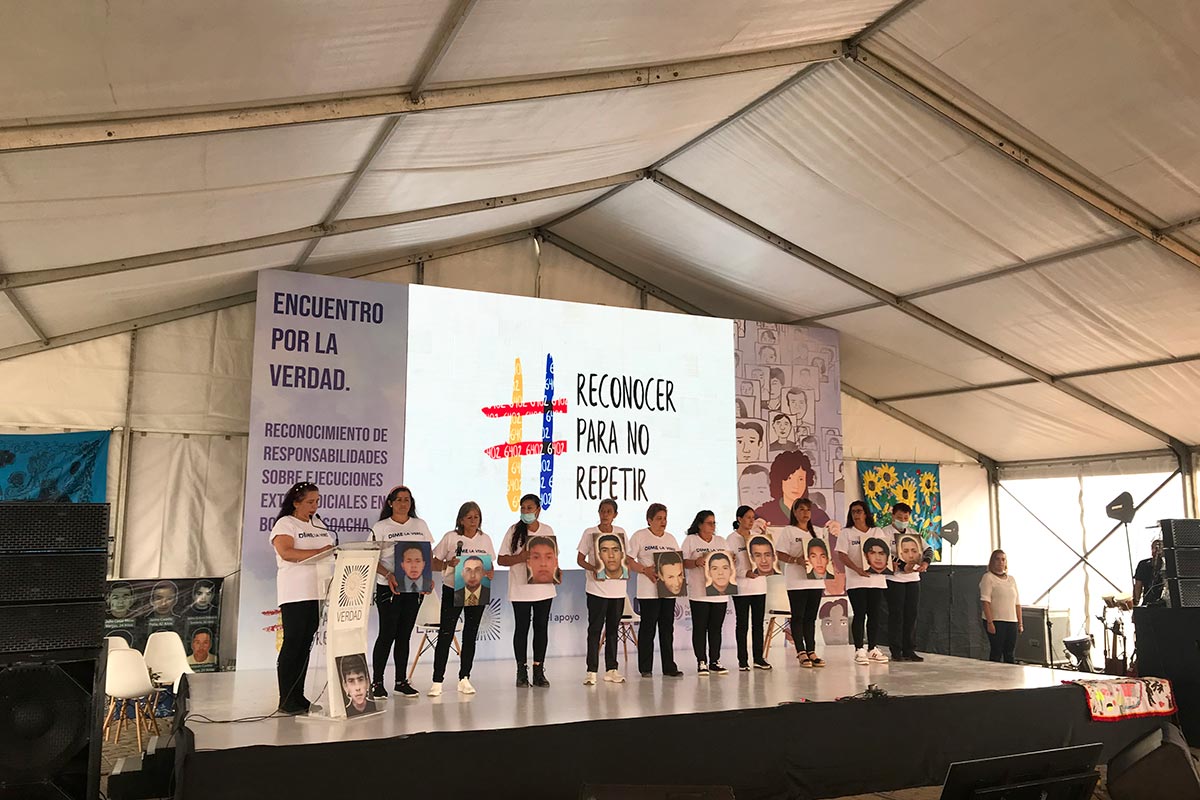 Extrajudicial executions: "A government policy"
In the central square of Soacha, a large tent was erected to host the event on May 10. This was the last major public hearing organized by Colombia's Truth and Reconciliation Commission, which is due to issue its final report on June 28. It was held in the middle of a presidential campaign, in a tense political climate, an atmosphere of crisis within the Commission and an upsurge in violence.
"It's not easy for the victims or the perpetrators or for us, but it's a first step to reconciliation," explained TRC commissioner Alejandro Valencia, his voice clear and steady but with hands shaking and clutching the lectern like a rudder in a storm.
He described these extrajudicial killings as war crimes and crimes against humanity committed "within the framework of a government policy", for which "the main perpetrator" is "the national army", but in which state and parastatal structures, including part of the judicial system, were involved. The victims, carefully selected, were mostly young men from disadvantaged backgrounds or considered to be left-wing sympathizers, he said.
"Truth is more important than the institution"
The first of the repentant soldiers to speak was General Paulino Coronado Gámez, former head of the Santander-based forces. "The Fifteenth Battalion is responsible for the death of your sons," he says. "I have not done enough. A sergeant denounced what was happening in December 2007. I opened an investigation. I should have created a special commission to check it out. I was the highest military authority and I should have acted immediately, but I didn't do it. It was a mistake. I accept responsibility for it."
Gámez spoke of pressure on the command to show results and named the then Chief of Staff of the Army, General Montoya. "We confused objectives with statistics. We failed in our duty and we must correct it. The truth is more important than the institution. Everything [the mothers] say is the truth. The truth hurts, it hurts a lot and it is hard to accept. I'm here before you to [accept it]. I was supposed to guarantee security. I preferred to believe my soldiers, not the NGOs. (...) These are the women who embody courage, valour, it is thanks to them that we are here." He addressed them to say "thank you for what you have done". He then told the truth commission: "You have shown us how to change the institution."
The senior officer shows concern for his legacy. "How will I be remembered? I tried to communicate with the community, to have a more open army, to include human rights in the training, and today I am stigmatized as a violator of human rights. (...) I am here with remorse and I want to earn your forgiveness. This is not the last time we will meet," he said. "The work continues. We must change the behaviour of those who run these institutions."
"You are responsible for so many deaths"
Victor Fernando Gómez Romero, who had completed his military service, was killed on August 25, 2008, "18 hours from here," says his mother Carmenza Gómez. "He was not a criminal, as Uribe says," she continued, referring to Alvaro Uribe, Colombia's president from 2002 to 2010 and main critic of the 2016 peace accords and transitional justice process. The first applause burst from the audience. The first time Carmenza Gómez went to meet with these three military men willing to acknowledge the facts, she wanted to "kill them", she said, but "today I can talk to them".
Flor Hilda Hernández remembers that it was in this very square that she used to come to eat ice cream with her son, Elkin Gustavo Verano, who was murdered on January 13, 2008. "You can't imagine the pain of a mother who mourns her son every day," she said to the three soldiers, thanking them for their courage while telling them: "We need more truth. You are responsible for so many deaths..."
She catches her breath, looks to the sky to contain her emotion and better speak of her "resistance", her "fight" in the face of "a river of blood". Her voice makes the tent vibrate, in this resonance of anger and pain that is so particular. She holds up "the last gift" that her son gave her, a letter dated May 5, 2007 for Mother's Day. Since then, she has never been able to celebrate that day, she says. And it is with this letter that she wants to say "to all Colombia, to the whole world: my son was not a guerrilla".
Without letting go of her son's letter, she calls each of the three soldiers to come back to the podium to look the women in the eyes and tell them again: "It is a shame that the army has soiled its uniform". She has a little card to give them so as they remember. "I am not angry enough with you. You will always remember my voice. You will always keep it in mind. You will always keep the image of that crying mother." Then she suggests to them that they should not pay alone, but also their superiors. "Bring them to us," she tells them. From somewhere near the tent we hear an onlooker shouting "Uribe!"
I am not ready to forgive. To get forgiveness, you have to be even more sincere. Was it an omission? No, you knew. We need an army that doesn't kill us. We need a police force that doesn't kill us. I don't believe in your request for forgiveness.
"We want to know who gave the orders"
Then it was the turn of Soraida Muñoz, mother of Johny Duvián Soto Muñoz, murdered on August 12, 2008, to speak. "I am not able to reach out to these people. I am not ready to forgive. To get forgiveness, you have to be even more sincere. Was it an omission? No, you knew," she said in a voice that was paradoxically gentler than the other women, who were more accommodating to the repentant. "We need an army that doesn't kill us. We need a police force that doesn't kill us. I don't believe in your request for forgiveness," she said to applause.
Then came Ana Páez, mother of Eduardo Garzón Páez, murdered on March 5, 2008. "I went crazy, I took medication, and I am still crazy. I have no resources, I have been threatened, destroyed," she said. "We want to know who gave the order. We won't stop!" There was renewed applause and the sound of protest from the audience outside the tent. In the following minutes, a protester hidden by part of the tent rode around on his bike to the other side, where the three soldiers were sitting, protected by a double security fence. From about ten metres away from them, he could heard shouting "murderers!"
But Ana Páez called the three soldiers to join her on the stage, and shook their hands, one after the other.
"They were good young people with dreams"
Then Colonel Gabriel de Jesús Rincón Amado, commander of the Fifteenth Brigade, addressed the hearing He recalled two and a half years of work with the Commission's psycho-social team and previous private meetings with families of the victims, "where we were able to drop the masks", which allowed this public event to take place. "There was pressure to show results," he said. "As a commander, I helped organize fake combat casualties. I submitted false documents. It's a responsibility I've carried and it's been a source of pain for 14 years. It was a mistake, it was wrong, but it happened."
Father Francisco de Roux, president of the Truth Commission, stands and seems to be collecting himself. The officer wants to name again all the young people of Soacha who were killed. "None of them belonged to an armed organization. They were good people, young people with dreams. And we are the ones who were allowed to continue living."
He too stresses that the road does not end here. These officers now have an appointment before the Special Tribunal for Peace, known as JEP, the criminal branch of Colombia's transitional justice system. This court provides lenient sentences, without prison regimes, for defendants who commit to full cooperation with justice. "Maybe forgiveness will come one day. I have to ask my family for it every day. I have to live with this shame every day," said the commander. "And I hope for reconciliation one day because we need it so much. Thank you very much for this space that you have given us."
"Your struggle was worthwhile"
Sergeant Sandro Mauricio Pérez Contreras belonged to the same battalion of Santander. He seems different from the two high-ranking officers accompanying him in this momentous encounter. There is no mask, he seems freer of the sense of authority, and there is something more intimate in his relationship with the mothers. The tone of the sergeant's speech is more direct and it stands out because of the emotion in it. "I am responsible for the pain you have suffered. We destroyed families, lives. I am responsible for the murder of your loved ones. It is true that I tried to hide it along with colleagues. Your struggle was worthwhile and I felt the goodness in your hearts, which gave me the strength to be here. Your sons were innocent and they still live in your hearts, even though we killed them. It is too much to ask for forgiveness. I ask it every day. I have acknowledged before God that I committed a crime. Now I do it before men -- I murdered innocent people. It is not easy to admit it, because this truth offends many people. But these crimes are real. We shattered their dreams; we took their love from their mothers."
The general slipped away, for medical reasons we were told. After these speeches, the sergeant and colonel resumed their seats in the front row on one side. Suddenly, a crowd of cameras formed around the two soldiers. They were in conversation with Flor Hilda Hernández. And in a furtive but firm moment, the mother, who on the stage had not reached out to those responsible for her son's death, shook hands with the sergeant.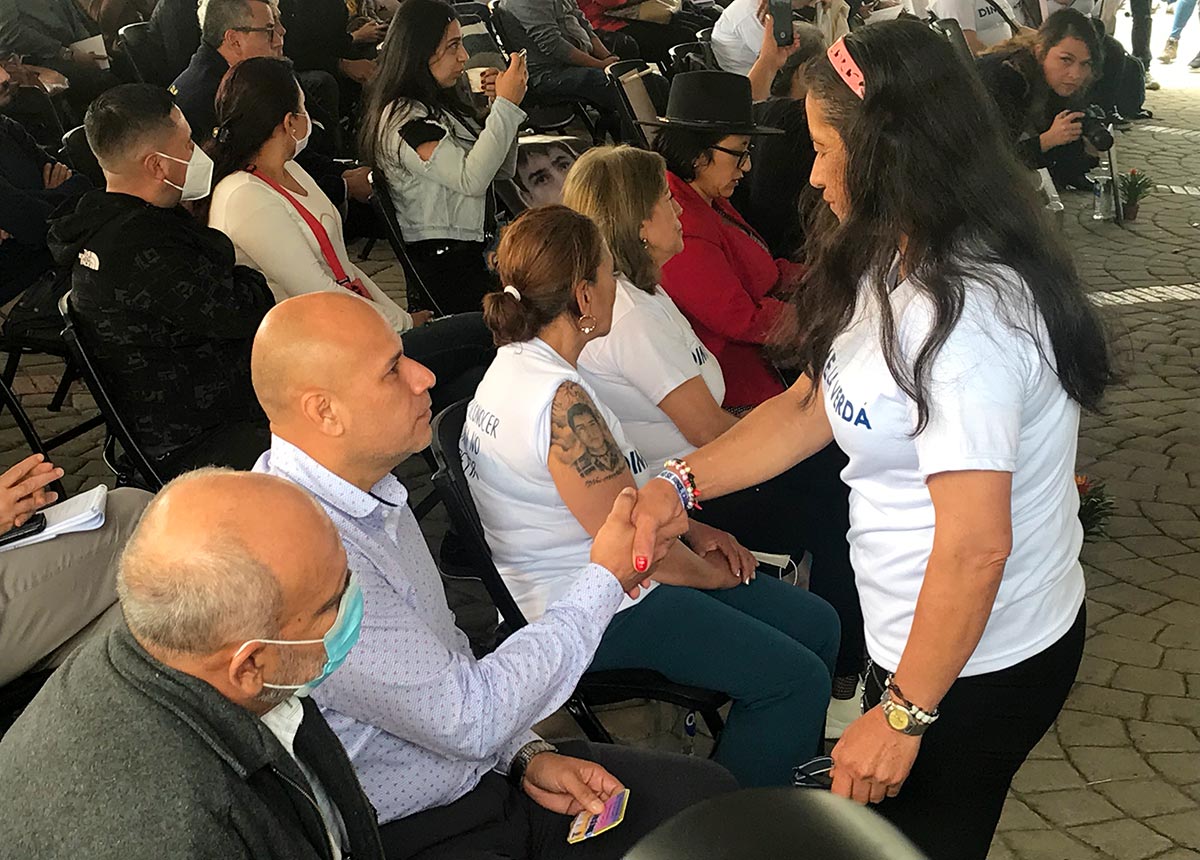 "I don't hate you"
There was a final moment of hope as Cecilia Arenas returned to close the hearing. At the opening she had described the slow destruction of the families after the death of a member. Now she thanked the three officers who came to repent. "We must learn to forgive," she said. "It's never too late for a second chance. Never forget that; it is the hardness of the heart that keeps us from moving forward. I speak as a sister. I don't hate you. I don't hate anymore, for my heart no longer allows me to. One minute of reconciliation has more merit than a lifetime of friendship. We show that if we keep talking we can heal our hearts, shake hands and look into each other's eyes. I forgive you because I ask you to forgive me. Because I have judged you as I have been judged."
The fight is not over. For 14 years, these women have been asking to commemorate together their dead in this square. They have never been given permission, and the municipal authorities did not come to the hearing. "Thank you for bringing us to this square today. I'm not giving up, damn it!" Arenas concludes, her fist raised to the sky, from which comes a few minutes later a sudden shower of rain.